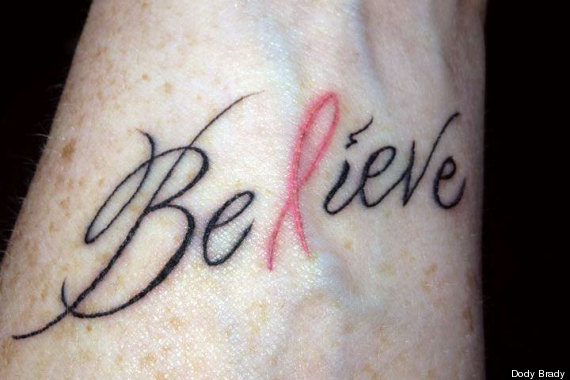 "Day 9 down..! Saw Dr. G today, we just reviewed some fields.. I asked questions like I always do.. I found out that my pelvic area has like six more spots! Boy they say God only gives you what you can handle ... My cup is getting pretty full! Lord in heaven bless my day as I need a little extra strength...! Amen!!"
When I read those words in my Facebook News Feed last month, I immediately felt compelled to do something to help. This was the third day in a row that Dody had posted from the Department of Radiation Oncology in my hometown, and I had to take action. I couldn't do much, but if I could lift her spirits even for one day, that would be something.
I decided to send Dody a private Facebook message and offer to donate my paycheck from a recent commercial to the organization of her choice. I have a day job in New York, but to make some extra money, I took a small role in an upcoming Nike spot. There was no doubt in my mind, though, that the money could go to better use if I donated it somewhere on Dody's behalf.
It didn't matter that I hadn't seen Dody since I graduated high school in 1986. It didn't matter that even back then I didn't know her very well, since she was in my sister Erin's class and I was a few years older. And it didn't matter that my family could truly use the money that I decided instead in that moment to donate to Dody's cause.
What mattered was Dody had breast cancer that had metastasized into her bones. That she was a single mom with a 10-year old daughter. And that even after 22 tumors and 33 straight months of chemotherapy, she was staying positive through daily challenges and pain. It really hit home, and I had to do something for her.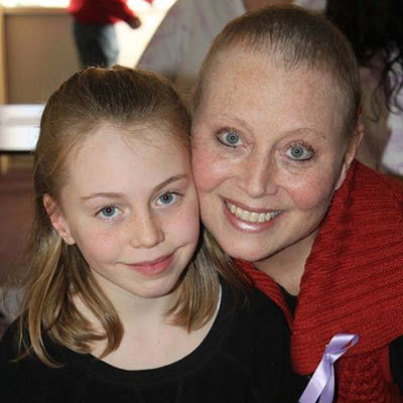 Dody and her daughter Pyper. Courtesy of Dody Brady.
Right away, Dody told me about Moments House, a non-profit facility and community in our hometown of Pittsfield, Mass., for people and their families affected by cancer. It was started by a mother-daughter team and Dody has been involved as a board member. Moments House offers programs and services that make an impact in people's daily lives, whether it's yoga, art therapy, group workshops, counseling or help with putting on and taking care of their wigs after losing hair from chemo. This seemed like a great way to help Dody and others, so I agreed to make my check out to Moments House, which is trying to raise money to buy the building it's in and expand its location.

The more I learn about Moments House and the people involved, the more I admire about it. I started to reach out to more people and organizations that might want to contribute and help Moments House grow. The Anabel Foundation committed to match my donation, and after a reporter from the local paper wrote an article about our story and people shared that on Facebook, even more people got involved. One friend even agreed to give $5,000. It's amazing to see how something good can spread like this.

Dody's positivity through her battle with cancer has really stood out to me, and I think it's what has inspired others to join in to help, even if they don't know her. Like I said, I haven't seen Dody in 27 years, but seeing her post in my News Feed really struck me. Now we message each other nearly every day. I check in to see how she's feeling and we both do what we can to lift each other up and support one another on a daily basis. Because of Facebook, Dody and I have a connection we otherwise would have never had.
Hopefully the takeaway is that more people will do things like this for people. It's not hard. All I did was use my fingers to type the message to Dody and tell other people about this cause. It doesn't really matter if someone gives $5 or $5,000. If people can look at the world and see someone in need and reach out to them and make them feel better, that's what matters.

For me, and what I'm trying to do for Dody and Moments House, this is definitely the beginning, not the middle or the end.
Learn more and donate to Moments House by visiting their Facebook Page.
Related
Popular in the Community