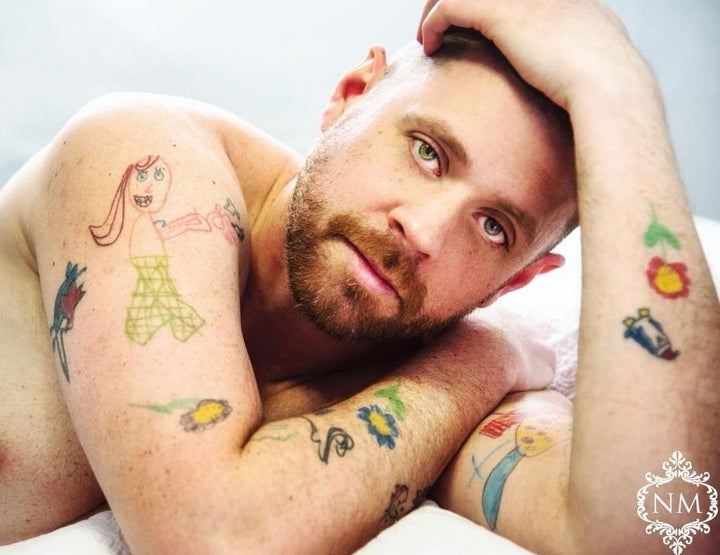 "Do these underwear make my butt look good?" I asked my wife as I went through the outfits I was packing for my "dudeoir" shoot.
I don't have that many pairs of underwear to begin with, but I'd been asked to bring some not-too-baggy, solid-colored underwear and I didn't want to make a bad first impression.
"Do I have a good side? Like what parts of my body should I try to show off? Is it weird that I'm doing this? Should I shave my face? Should I shave my chest? Should I shave, umm, anywhere else?"
It's amazing how many directions your mind can head when you are about to be barely clothed (or not clothed at all!) in front of someone you've never met.
I have a lot of tattoos, many of which are of drawings my two daughters have made for me, so they are both pretty and sentimental. I've always talked with my partner about wanting to get good photographs of them. It was this wish that led her one day to send me a link to a local photographer calling for men to take part in what was being called a "dudeoir" session to help build her portfolio. When I clicked on it at my desk, however, pictures of my tattoos were not the first thing that crossed my mind.
A "dudeoir" shoot is essentially a boudoir shoot for men. And a boudoir shoot is generally defined as a photo shoot where you strike sexy poses while wearing no clothes.
When I read the advertisement, I first thought of all the parts of my body I have traditionally had problems with. I thought of my chest, which I find too lumpy, and my stomach, which seems too short and too wide. I thought of the stretch marks that line my sides, and my skin that seems to redden too easily. I wanted to like my body, and I thought these pictures might help.
I also thought about what people would think of me doing a shoot like this. Our society has a knack for putting people into boxes that reflect our archaic ideas about what men and women do ― starting with the archaic idea that there even are just these two categories of "men" and "women." Then there are our ideas about what men are allowed to do based on their sexual orientation. My boudoir shoot was meant to challenge this idea that we are supposed to navigate life in our own narrow lanes.
At this point in my life, as a 39-year-old man, if I'm uncomfortable with doing something, I want to know why. I want to know if it's my issue or the issue of those around me.
I decided that going through with a dudeoir shoot, and then showing off my results to the world, would be a good way to find out.
So, on a Saturday afternoon, I packed a few nice shirts, a pair of shoes and a lot of underwear into a small bag and drove to my boudoir photo shoot.
The drive gave me plenty of opportunity to freak out. I was mostly worried that I'd get the pictures taken, share them and get confirmation from everyone else that the way I saw my body was the way others saw it, too.
When I was in high school, I was a tall and lanky kid. So I worried about being too skinny and having weird-looking hips. When I moved on to college, I gained 50 pounds and my concerns shifted. I worried about my hips still, but I also worried about a chest that bounced when I walked and a stomach that now sported stretch marks. At the age of 30, I lost 50 pounds as the only man in my Weight Watchers group, which reminded me that men face a totally different set of pressures when it comes to managing our bodies.
Only seconds after meeting the photographer, I felt much better. Maybe it was my quivering hands or the sweat pouring down my forehead, but she could tell I was nervous. She had me pose fully clothed at first, leaning on a table in an I-mean-serious-business type of pose.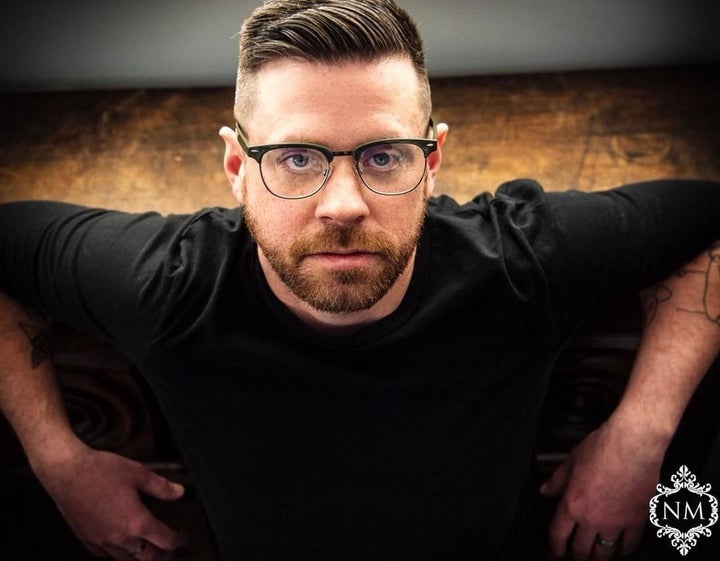 Then we moved to the bedroom, where my shirt came off and I started hugging a pillow and looking sensually into a camera inches from my face. And then came the big moment ― the shower shots, where it was me, the photographer and my underwear.
I admit, I'm not used to trying to be sexy. I'm not used to trying to look lustful. Men are told they look good in business suits leaning up against a bar. They are not told to hug a pillow and show off their kid-drawn tattoos. Men aren't supposed to care about their looks or arch their backs to show off their bodies. But I wanted to feel sexy and I wanted others to see me that way, too.
So I posed, she instructed, and we talked about getting men involved in these kinds of shoots and the reasons they often don't. The simplest reason, she explained, was that men just don't feel like they are "supposed" to pose in this way. They aren't supposed to want to feel sexy. And so they don't initiate these types of opportunities to feel good about themselves.
We also talked about how men are typically photographed when their shirts are off. Where men would normally be shot in dark lighting, with shadows all around, we took my shots in well-lit, softened spaces. I was presented as soft, not harsh.
She gave me tips on ways to display my body, too. We didn't focus on hiding any part of me. Rather, we focused on showcasing the things that make me unique. I posed in ways that showed off my tattoos, and I posed in ways that, I was told, "made my butt pop."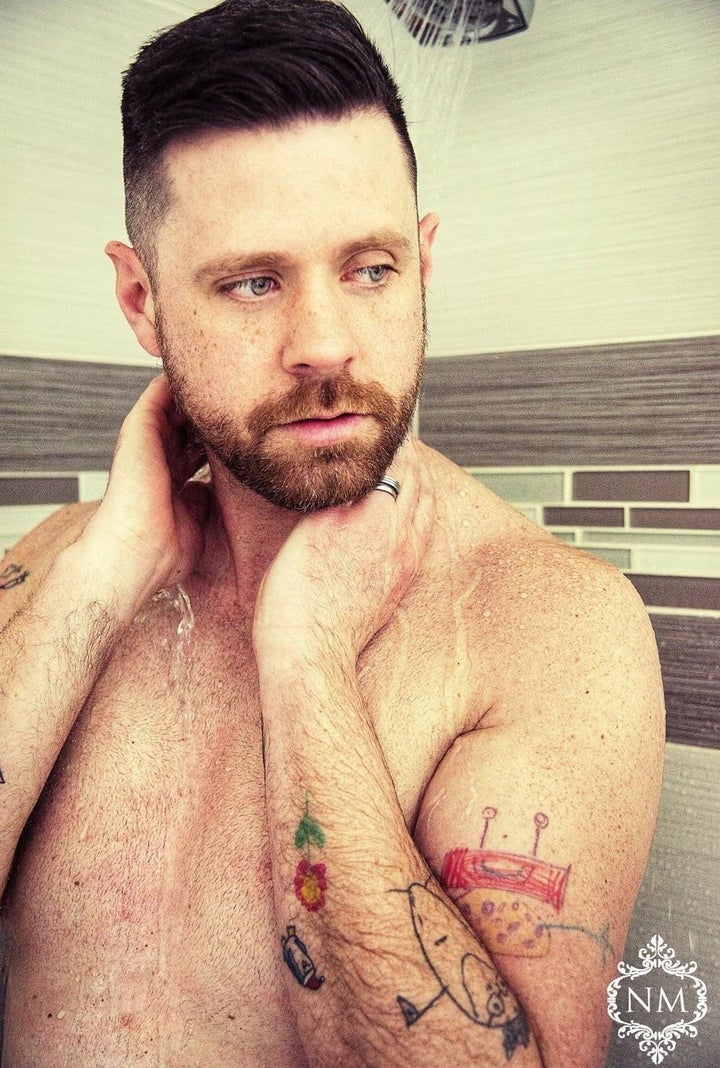 At one point, by request, I sneaked off to send a few friends and my partner a behind-the-scenes picture. I found some good light in the bathroom, took a long hard look at myself in my underwear, and took my own selfie. I guess it was my own way to keep a record that I had actually gone through with this.
And then it was done. And you know what? I got my softly lit pictures back and loved the way I looked. I don't have rippling muscles or a perfectly symmetrical body. But I look good and I look confident. I like the way my eyes look. And I like the way people reacted to my photos.
I posted them on Facebook, Twitter and Instagram as a way to show people that I can celebrate my body ― but also as a way to show other men that there's no one right way to want to be seen.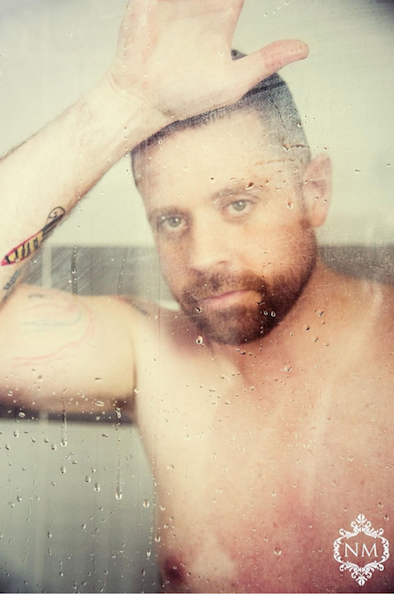 For the first time in a while, I was able to shift my idea of what my body looked like. Having people congratulate you for doing something and getting heart-face emojis is a really good way to feel confident.
The shoot and reaction to my pictures was a very good learning experience for me when it came to pushing my own boundaries with regard to masculinity. I realized I carry a lot of fear of appearing to want to be sexy. But people showed me so much support that it helped me show myself support.
Men can want to be seen in this way and desired this way. It is OK to say to yourself that you love your body even as you work on it. We need more flexibility in our masculinity. We need to break down the invisible barriers that prevent us from feeling good about ourselves. Maybe this isn't a dudeoir shoot for all of us, but something that makes us understand that our bodies, in whatever shape they are, can be beautiful.
Popular in the Community