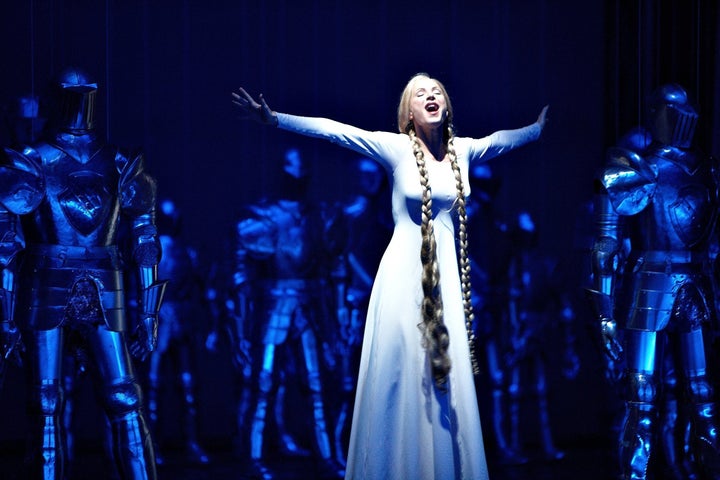 Our month-long cross-country search for next season's singers has drawn to a close. There were plenty of nervous auditionees, ten thousand miles on planes and trains, a dodged hurricane, many memorable people and much great music.
Along the way, we gave our 500 auditioning singers the chance to fill out an anonymous survey while they waited. I expected a couple dozen takers and was surprised to end up with 73 completed forms. Today, in a follow-up to my "So You Want to Be an Opera Singer" post, we learn a little more about what makes some of these smart, compelling and indefatigable young people tick.
The Question: Why did you decide to be an opera singer of all things?
My Italian grandfather would listen to opera and cry his eyes out. An old coal miner from Kentucky, hardened and calloused, he would just let it all go in front of God, the world and everyone. This is why I do what I do; to transport people to a safe place where they can cry and laugh and forget who they should be and become who they are.
I loved how alive I felt when I sang opera. Having been raised in the Caribbean, I've sung reggae, soca R&B, calypso -- but I love the pairing of music and drama in opera.
When I found that I had a voice that could sing this incredibly beautiful music, I couldn't imagine doing anything else.
It's all because of Gene Kelly. I started tap dancing because of Singin' in the Rain, ended up going to school for musical theatre, and then my teacher introduced me to classical singing. I was hooked.
Opera singing is truly the only thing that makes me happy. It's the only type of music that comes naturally from within me.
In my life, bullying was rampant. Then I started to learn music in school, and my problems began to melt away.
This career takes all of my traits -- positive and negative -- and accepts them all.
The authenticity of the art form sucked me in.
My family has always been musical, but no one else has pursued a professional career. My great-grandfather was courted by a traveling performance group, but his mother wouldn't let him do it because part of their show was burlesque.
I planned on becoming a lawyer, but I decided to focus on what made me happy (because writing and arguing did not...)
I thought that I wanted to be a music teacher. I taught two years, and during that time I joined the local professional opera chorus (New Orleans Opera) and rediscovered my love of performing.
I lost my job to budget cuts & went to grad school for a musicology degree. I instead finished an M.M. in voice. I've learned that if it's something you're destined to do, it finds you.
In high school I saw a performance by José Carreras and couldn't believe the live, challenging, unaltered, beautiful music.
Handel's Messiah sparked my desire to sing classical music. Every year in high school we put on the entire work. Once I learned "Every Valley" there was no going back.
Singing makes me feel alive like nothing else I've ever done. It's become a calling rather than a choice.
I didn't choose this, it chose me.
The Topic: Tell us about a crossroads in your journey so far. What keeps you going when times get tough?
In my second year of auditions I got no offers. I went home and let the field lie fallow, played banjo in a bluegrass band and forgot about opera for a few months. The next year I was very successful, and grateful for my time off!
I had a baby during the first year of my graduate degree. People thought being a mom would hold me back, but it fuels me.
I was stuck in a top-tier graduate program with a teacher who was legitimately hurting my voice. I made the choice to leave the program and get a job to pay for lessons - in the end it all worked out for the best.
I have had some serious health issues, but singing is what got me through and gave me solace and strength.
I weighed over 400 pounds and decided to stop using it as a crutch and dropped a lot of weight. My love of the art form and desire to be part of it kept me going.
I developed a vocal cord injury as a result of poor instruction and over-singing. I went into vocal therapy for months and had to relearn how to sing.
An successful audition resulted in having the time I needed to work on key parts of my technique.
Not getting cast taught me that I sing because I love it and need it, not because someone told me I was good enough.
I'll be back next week with the last of the survey highlights -- tricks of the audition trail, from jumping jacks and hair curlers to pantyhose and Zicam. See you then.
Calling all HuffPost superfans!
Sign up for membership to become a founding member and help shape HuffPost's next chapter