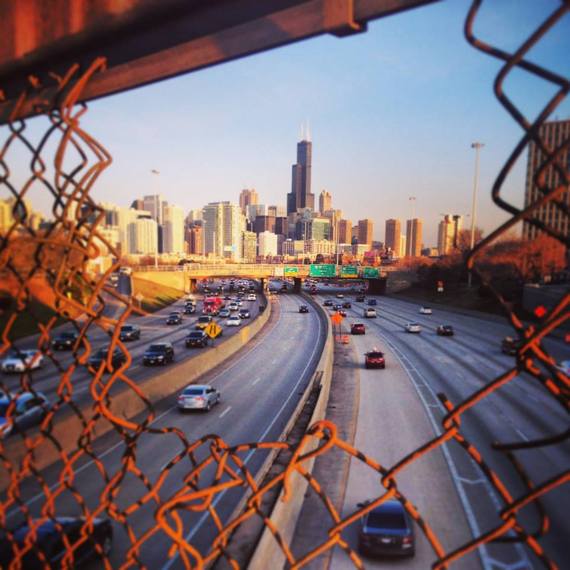 When my parents visit Chicago, they often make fun of themselves for being the "country folk" in the "big city." They've asked not entirely jokingly if I'm embarrassed by them because they don't know the ropes of high-class city life and they walk around in blue jeans and tennis shoes with sweatshirts tied around their waists. I always roll my eyes and brush it off, but now I'd like to respond in full.
Embarrassed? Yes, I'm embarrassed.
I'm embarrassed that, unlike you, I no longer say "excuse me" when I run into someone.
I'm embarrassed that I worry about the clothes and makeup I wear and the impression I'm making.
I'm embarrassed that I'm constantly on edge when things don't happen fast enough or on my schedule.
I'm embarrassed that I can't take a moment to stop and smell the perfectly pruned city roses.
I'm embarrassed that I'm always reaching for something greater when what I already have is great.
I'm embarrassed that despite loving the patchwork quilt of humanity surrounding me every day, I don't take the time to talk to many outside my social circle, let alone welcome them into my home.
I'm embarrassed that I don't give money to the homeless as a "rule of thumb," even though you taught me to always give to the less fortunate.
I'm embarrassed that despite my being a self-proclaimed liberal from a progressive generation, you're more accepting and less skeptical of new and different experiences.
Mostly, I'm embarrassed that you somehow believe I am a step above you in this world because I live and work in a thriving, metropolitan setting.
Because, in reality, my simple upbringing in a simple home was the richest and most life-changing experience I've ever had. The outpouring of love, the focus on others and the humility I experienced in my "boring" and "basic" childhood was the greatest blessing I have ever received.
You raised me with the encouragement that I could do whatever I wanted. You fully supported me as I moved to this city. And now you're taking the time to visit me and get to know my incredible home, all while reminding me of the beauty of where I came from.
Embarrassed? Quite the opposite. I couldn't be more proud to call you Mom and Dad.