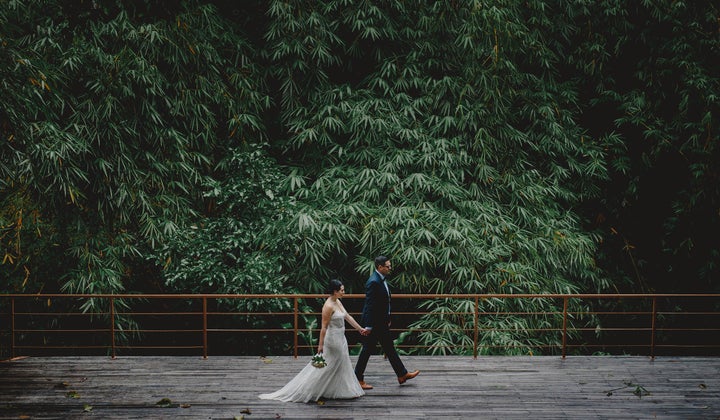 Instead of having a wedding, my husband and I eloped and took a month off to travel Southeast Asia.
I recently read Aziz Ansari's latest book, Modern Romance. In it, he references the work of Esther Perel, renowned relationship expert and author of Mating In Captivity. Here's what Esther Perel had to say in her recent TED Talk on the concept about the past and present meaning in the institution of marriage:
Marriage was an economic institution in which you were given a partnership for life in terms of children and social status and succession and companionship. But now we want our partner to still give us all these things, but in addition I want you to be my best friend and my trusted confidant and my passionate lover to boot, and we live twice as long. So we come to one person, and we basically are asking them to give us what once an entire village used to provide: Give me belonging, give me identity, give me continuity, but give me transcendence and mystery and awe all in one. Give me comfort, give me edge. Give me novelty, give me familiarity. Give me predictability, give me surprise. And we think it's a given, and toys and lingerie are going to save us with that. Ideally, though, we're lucky, and we find our soul mate and enjoy that life-changing mother lode of happiness.
I've always walked to the beat of my own drum. I was never one of those girls who daydreamed about having a wedding. I've always known I wanted to get married and have always known that someday, I would be someone's wife. I recall doodling gowns in journals and writing about crushes from the ripe age of 5, but I never had any preconceived ideas about a wedding. It just wasn't something I saw in my future.
When I met my now-husband in college, I knew it was going to be something special. We fell in love all at once, then sort of continuously after that, and a little more all the time. We talked about our future together regularly ― the vacations we'd take, the restaurants we'd travel to, the furniture we'd buy, the dogs we'd raise. Six years later, he proposed in a hotel room in San Francisco.
The questions started within hours of telling friends and family about our engagement. "When's the Big Day?" "Where are you going to have the wedding?" "What kind of dress will you wear?" When wedding ideas would come up (a small venue in Big Sur overlooking the ocean, a backyard ceremony at my parent's house in Santa Cruz, an afternoon ceremony in Seattle), my immediate reaction was literally to recoil. It wasn't anything about getting married or reservations about the man I was planning on marrying — it was the wedding.
I never liked a lot of attention. At 6, I boycotted in the locker room because I didn't want to show off my handstands in front of judges in a dim, padded gymnasium. At 11, I stomped out of ballet class because I wouldn't perform in the Nutcracker. Throughout my life, I'd had performance anxiety and basically tried everything I could to not put myself in situations where I'd need to exist in front of people. My future husband is shy; a bit of a wallflower who also marches to the beat of his own drum.
As the weeks went by into our engagement, the questions became more frequent, and I kept dodging them. In the privacy of our living room in Seattle, we discussed ideas of eloping and taking a long vacation. The idea was so intriguing, but the questions began to flow through me like a raging river — how would I get married without my family there? Would they be upset/angry? Will I be upset having such a big life event without them? Will I feel like I missed out on having a white dress? Will I regret not having photos of the day we got married? Will I be upset that I'll never experience the "first look" that everyone talks about? Am I considering this because of some deep-seeded psychological issue with commitment or family or this man?
The answers to these questions about deciding not to have a wedding were resolved by one simple truth: all I wanted to do was to marry the man I love; it didn't matter where, when or how.
When I told my family about our plan, they were a little upset, but very supportive of our decision. I prefaced by stating that we had discussed every scenario possible and one thing that would make us the happiest would be traveling for a month instead of having a wedding; we eloped.
On November 10, 2016, we got ready together in a hotel room in downtown Seattle. I wore a white lace dress from Forever 21 and a black leather jacket. I bought a bouquet from Pike Place Market an hour before. At 4:30 p.m., we took an Uber to the Seattle Municipal Court. We didn't have witnesses, so we asked two strangers to sign the legal document. We were married on the roof top of the courthouse with just the judge. It was the happiest moment of my life. The judge — bless his heart — even took pictures of us on the rooftop as the sun dipped below the Sound. He said it was one of the most memorable, intimate ceremonies he'd had the pleasure of officiating.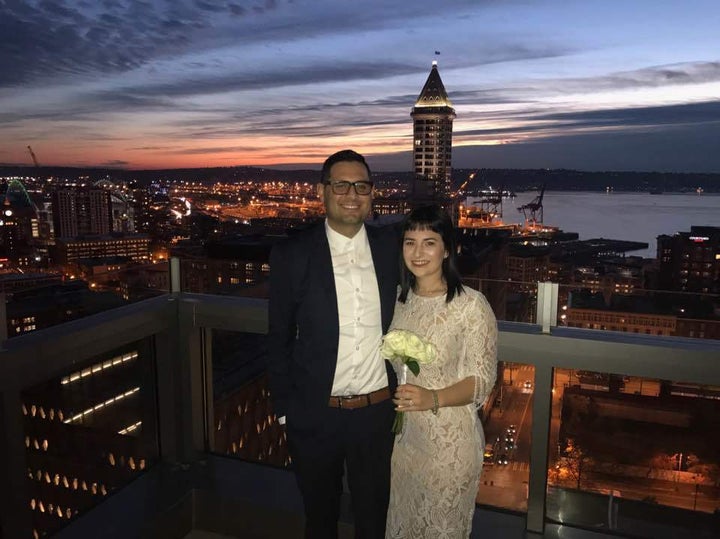 The next morning, we left for a month. First, to Bali, Indonesia, then to Thailand and Cambodia.
Instead of one "best day of my life," I got a month of it. We relaxed, explored, ate whatever we wanted, went on walks, stayed up late, went to sleep early, slept in, got up early, went shopping, went to the beach, went on day trips to ancient ruins, took a lot of plane/boat/taxi rides and spent an entire month of loving each other and enjoying each other's company for less money than a wedding would have been. The memories I gained from the month we spent together were far more important to me than a single day. We also hired a local wedding/engagement photography company, Terralogical, to take "elopement" photos to make sure we still had photos to share with our family (and so I could still wear a white dress).
Today, marriage in many parts of the world has a different meaning than it used to. Modern love-seekers are more focused than ever on finding their soulmate, instead of just a companion. I'm not saying eloping and taking a month off to travel is a great option for everyone, but I am saying that it's an option if you want it to be. The "traditional wedding" or "small, intimate wedding" or "wedding for everyone else" doesn't have to be a rule. Make your own marriage rules.
We are currently living "happily ever after."