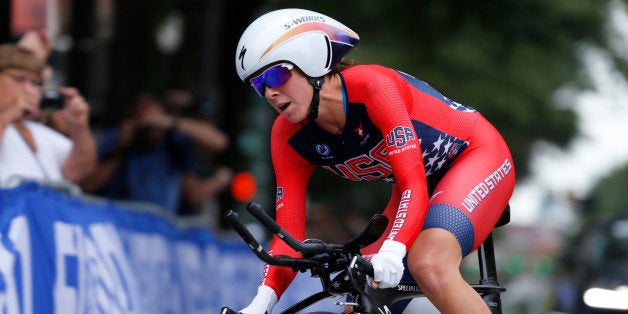 From Lehman Brothers, On The Road To Rio
Study hard, practice hard, get into a top college, land the right job. Work hard, get promoted, keep fighting up the ladder. Growing up the fourth of five kids in Acton, Mass., I found myself filled with unfocused grit. I buzzed with energy but due to my severe speech impediment I often kept my thoughts to myself and did as I was told. When I sunk my teeth into an activity, I went full bore. Endless hours training for soccer, running or tennis, I lost myself in the pursuit of getting better.

At 25, my resume was headed down the traditional path. Dartmouth grad, former Lehman Brothers investment banker, current mezzanine fund associate, with a gap staring at me for what was next. I found myself at a cross-road. Overworked and pounding a few Diet Cokes a-day, I wondered if this was it.
My current path entailed long days at my desk, pre-dawn rides in Central Park, and the overwhelming feeling that I wanted to break free. My friends and coworkers were plotting their next step up the corporate ladder. Strategy in house at a company, business school to pivot away from finance, and the bold but few i-Bank lifers. All of these options seemed viable but failed to strike a chord when I thought about my eventual day-to-day.

I had no mortgage or tether holding me to New York. In the fall of 2007 I went to visit my sister Angela in San Francisco and she signed me up for a cyclo cross race. I had no idea what I was doing and was terrible, but I loved it. I returned to NYC and bought my first road bike. In the beginning it sat in my apartment and was often a rack for my clothing. Yet in June of 2008, I was encouraged to participate in a clinic for women's cycling in Central Park. I made my way to Central Park at the curious hour where some people are starting their day and others are finishing theirs. I had no idea how much my life would change from that one morning.
To simplify, I fell in love with riding and a racing a bike. Quickly and much to my surprise, I found myself winning and then winning some more. Fast forward one year and my life had become bike-focused, everything I did was to better myself on the bike. I came to a point in my career, do I go to business school, do I stay at my current job, do I find a new one or do I just jump off the high dive into the unknown?

I thought heavily about my decision and mostly turned to my gut feeling (not sure I would have given anyone the advice to do what I did). My boss put me in touch with Connie Carpenter who walked me through what the life would look like. Long days on the bike alone, living out of a suitcase and constantly in a hot room with teammates. All of that was clear but the feeling I could not shake was the one of my flying up a hill, passing my competitors while watching them crack as I hammered the pedals. It was simple, when I got on a bike, I felt free. That feeling made all of the other issues sound like white noise. Ever-present but easy to ignore.

During my banking days I lived in a modest apartment with sparse furnishings and a necessary but not excessive wardrobe. I never fell into the trap of over spending and had saved up enough to take a chance. I was also one of those lucky kids whose parents paid for my college so I wasn't burdened with college debt (thanks mom and dad!) I gave myself a year and figured after one year of jumping off the "path" I would hop back in and keep my career going.
Yet here I am 7 years later having traveled the world racing my bike. In year 7 of my career, the travel is still tough, the rooms hot and crowded, and the long days on the bike exhausting. Yet, when I am on my bike, I still feel my best. The feeling I get from pushing myself to new limits and watching my competitors crack is still what drives me and brings me satisfaction.

I'm older, hopefully wiser and a lot more confident on the bike. I am thankful for everyone who gave me advice, food, shelter along the way, and grateful for those that told me I was making a mistake. Throughout this experience I have learned to trust my instincts both on the bike and off. The desk and suits will be there when I am done, but having the ability to compete and beat the best in the world is finite. As I look towards competing in my second Olympics, it's easy to forget the little steps along the way that brought me to my current position.
Yes, there were bold moves where I gave away my furniture on the street in New York and headed West, but the smaller steps are the one I remember more. My first time riding in Central Park and the freedom I felt, having coffee with Connie Carpenter as I thought to myself this is what I was meant to do, and every time on the bike I thought I've reached my limit, only to dig deep and find another gear.
To learn about all Olympic hopefuls, visit teamusa.org. The Rio Olympics begin August 5th and will be streamed live on NBCOlympics.com and the NBC Sports app. The Rio Paralympics begin on September 7th and will be steamed live on TeamUSA.org