I was born and raised in the most European of U.S. cities, New Orleans. Apart from a few years at college and brief experiments with other cities after that, I spent the first 30 years of my life there.
It was an odd place to grow up, but only in retrospect. What I remember is the city's beauty, its architecture. I remember the matte off-white of magnolias, clear skies, sumptuous breezes and delicious food. As an adult, I learned that the city is more than the quiet, lovely place I knew, that it was hot in more ways than just its climate and sweaty in more ways than its climate caused. It was a loose city with loose rules, loose lips, and sometimes even looser morals.
Recently, I returned for my nephew's graduation from Tulane. I'd been back on occasion, for Mardi Gras or Jazz Festival, but this time it felt like an ordinary weekend -- except this was the first time my parents and sisters and I had been there together in decades. We didn't stay under the same roof, since my parents sold our family house a long time ago when they moved to Santa Fe. Instead, one sister's family stayed with friends, the others stayed with my parents at a cousin's house, and I stayed at the gorgeous Avenue Inn Bed and Breakfast on St. Charles Avenue. A strange thing, staying in a hotel in your own hometown.
The city reestablished its hold on me within moments, as powerfully as a fragrance recalls a memory. One step off the plane and I was slapped with air thick with humidity. It felt like walking into foam, like every step was a fight forward.
The city isn't different, but it's not the same either. Time changed it. Katrina changed it. It changed itself, as it's known to do, morphing into something more modern and more antiquated at the same time, as if it, too, has been fighting to take steps forward.
One afternoon, we ate at District, a laid-back wonder of a restaurant on Magazine Street near Jackson Avenue. District offers doughnuts and sliders, all made on-site, every morsel too delicious for words. Best thing I ate: the cinnamon roll, about 16 inches square, with brown sugar on top that's bruléed with a blow-torch when you order it. The sliders were amazing, too. Beef, chicken, catfish, you name it.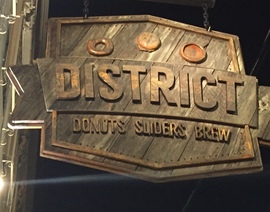 We had dinner one night at Superior Seafood, which lived up to its name in every way. My sister and I split a wedge of cornbread dowsed with rich crawfish étouffé, then I had shrimp with shaved tasso in a cream sauce over grits. Oh my.
Both restaurants exemplify the new New Orleans. District's area on Magazine Street, which used to be lined with dank, decrepit storefronts, has exploded with fun, quirky shops and thrilling new restaurants. A couple miles uptown, Superior occupies the old Copeland's restaurant location at the corner of Napoleon and St. Charles. Copeland's was dark and slick in an 80s way; Superior is classic New Orleans, with low-hung mirrors (so you can see who's nearby even if your seat faces the wall) and faux antique fixtures.
For my last lunch, with a dear friend, the choice was the Camellia Grill on Carrollton Avenue. An uptown landmark since my mother was a young girl, the Grill was an insanely popular diner. The line usually started outside, and you were ushered in to sit on banquettes, sliding forward as people were seated. Eventually you got a stool at the counter. This time, my stool was wobbly. Worse, the restaurant seems worn out, with none of the verve it used to have. Whatever sizzle it had is in my memory.
I needed to buy a few local food items to bring home, so I looked for one or two of the old grocery stores. They're all gone, replaced by bigger, shinier ones. Miraculously, though, Langenstein's, the tiny neighborhood grocery I used to visit all the time, is right where I left it on Arabella Street. It's just the same except for modern products on the shelves and a card-swipe console at checkout.
Also unchanged are the mansions along St. Charles Avenue. They still stand so stately, their leaded-glass front doors sparkling at night from the lights inside. Laid out before them, in a broken ribbon of concrete slabs, the sidewalks still buckle where the roots of magnificent oaks have torn them up, little by little every year, turning easy strolls into treacherous exercises in ankle-twisting avoidance.
After the disappointing Grill, I needed something good. I returned to District for dinner, to meet a kid I grew up with. He's grown now, a successful man. We weren't friends as children -- the opposite, actually -- but we're friends now. It was the first time we'd met in 40 years. Now we were face-to-face with our past, except it was very much the here and now.
Such is New Orleans, a simmering gumbo of past and present. The changes I saw were startling, but just as startling was what hasn't changed. The city is still a great comfort, its rhythms familiar, and my memories of it flow easily. More than 25 years ago, I moved north and settled in Lawrenceville, N.J., near Princeton. When people ask where I'm from, I don't say Lawrenceville. Even now, I say New Orleans. The truth is, my body lives in Lawrenceville, my soul lives in Santa Fe, and my heart lives in New Orleans.
The places my family has chosen to live are all "new." New Orleans. New Mexico. New Jersey. All new -- yet all very old, too, each in its own way. If I were still in New Orleans now with my kids, they would be sixth-generation natives. Maybe one day they'll move there. Maybe one day they'll even call it home, as I still do.