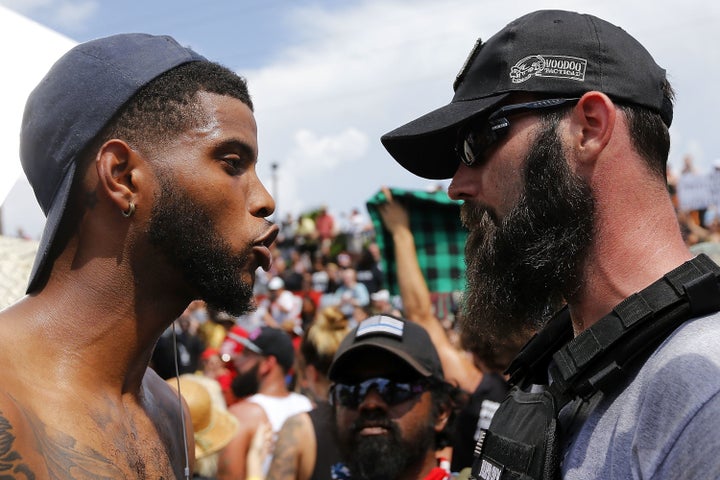 It was October 31, 1998. I was a 21 year old student activist at Morehouse College and head of the National Youth Connection, a young-adult led civil rights organization. My team and I organized a large counter-protest at a highly-publicized Ku Klux Klan rally in Gainesville, Georgia where the Klan had a strong presence. We collaborated with one of my mentors, the late Reverend Hosea Williams, a fearless and iconic civil rights leader. We far outnumbered KKK rally participants.
The occasion was well-documented by local and national media outlets. We marched and chanted and sang. We prayed. Our bullhorns were louder than theirs. Our voices drowned theirs' out. We checkmated the Klan as we out-organized, outnumbered and out-rallied them at their own rally. In that moment, we felt accomplished - proud. I felt a deep sense of compensatory fulfillment for standing up to those hooded cowards who had tormented and threatened and traumatized my mother when she was a little 'colored' girl growing up in Stone Mountain, Georgia where Klan members often marched past her home carrying torches similar to those that burned last week in Charlottesville, Virginia. Yet, almost immediately, I began to contemplate how effective we had been at thwarting or even sufficiently chastising the sickness and evil of bigotry.
The KKK had significantly more members and supporters at their subsequent rally in Gainesville. It then dawned on me that perhaps our counter-protest on Halloween day in 1998 had given the Klan a mobilization tool to stoke the lowest common denominators of society. We had brought potency to an otherwise impotent and nefarious gathering. Without us, they would have gone largely unnoticed and looked upon as irrelevant and irascible ignoramuses. Our counter-protest gave them platform.
If nothing had changed or even had the possibility of changing, was this really activism?
Furthermore, no one's heart or ways of being were changed. Not a single KKK rally participant had changed their minds nor had any of their sympathizers. They'd heard nothing we'd said. How could they since we were all yelling at one another? I pondered, if nothing had changed or even had the possibility of changing, was this really activism? Was this an effective and affective manner of combating prejudice?
Members of hate groups that are rooted in racism, ethnicism and bigotry must be treated as ill patients in need of curing and healing and not merely as unsalvageable reprobates to be demonized and damned. The dangerous and deep-seated evil of hatred we are witnessing in this hour must be addressed forthrightly and without vacillation in ways that actually promulgate lasting solutions.
Two decades of experience in public advocacy and the maturity and wisdom I've acquired have taught me that effective activism must be measured, strategic and solutions-driven in order to accomplish the mission of freedom, justice and equality for all. I have led many demonstrations in order to bring awareness and attention to social justice causes. I will continue to do so but will never again participate in a counter-protest. I empathize with those who take to the streets to stare-down bigots. However, hate groups are not worthy of the credibility and coverage that accompany the offering of a public face-to-face "counter" demonstration. Our nation will overcome this dark moment in history only if Americans unite to proactively repudiate bigotry in every facet of our daily lives. White supremacists and neo-Nazis should never be given the moral authority (or social and political capital) to call forth our assemblage especially when doing so might further their dastardly interests.
Dr. Martin Luther King, Jr. suggested, "Darkness cannot drive out darkness; only light can do that. Hate cannot drive out hate; only love can do that." Mother Theresa said, "I was once asked why I don't participate in anti-war demonstrations. I said that I will never do that, but as soon as you have a pro-peace rally, I'll be there."
Social justice demonstrations must always reflect the light, peace, love, and equality we profess to seek. That won't happen by attending a hate rally as a participant or as a protester.
REAL LIFE. REAL NEWS. REAL VOICES.
Help us tell more of the stories that matter from voices that too often remain unheard.