As enormous turmoil surrounds us and our LGBTQ family we watch with anguish and distress as daily, the news reports, moves towards discrimination's and the stripping of our hard fought for rights. We will not be pushed back into the shadows, afraid to be who we are, instead we will shine a light on our love and renew our wedding vows very publicly this month!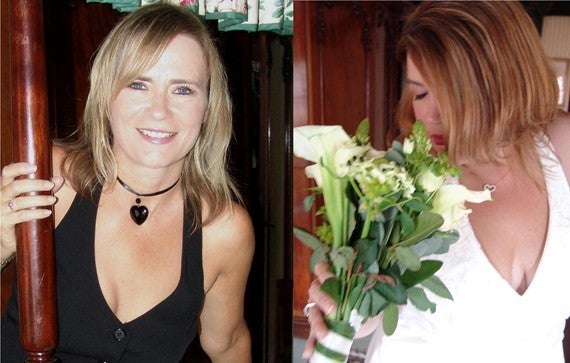 Our marriage is built on love and commitment, just like anyone else's, but we fought for our right to have our marriage recognized. Laurie and I met in 2005 and we have had to overcome some extremely difficult hurdles, especially because we are a bi-national couple, I'm British and Laurie is American. We could have fallen many times, but our bond was stronger than any of the problems thrown in our path. Our proclamation of love this month is our statement to the government, that our marriage matters and we will fight loudly and proudly to continually prove we deserve that right.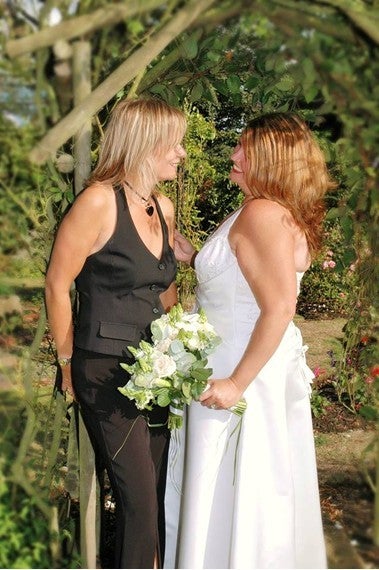 Growing up in the '70s and '80s, I went through so much internalized torment, I was completely afraid to be me, burying myself deeply in the closet, feeling overwhelmingly that I would be ostracized if I dared to came out. Jump forward to 2005, after a failed heterosexual marriage and the loss of my sister, I felt I had to step out of the shadows if I was ever going to having a life that resembled real living. I was so lucky to find the love of Laurie, she made me feel what I'd only ever dreamed of, being loved for exactly who I am. She listened to what others had never heard and loved me even more.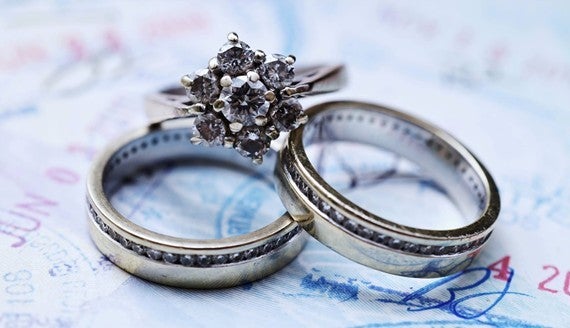 We married in Massachusetts, July 29th, 2006, where our marriage was legally recognized by the state, we then had a civil partnership in England on August 18th, 2006, so that our friends and family on both sides of the pond could be witness to our lifelong commitment. At that time, the US federal government did not recognize our marriage, this led us to the battle of our lives when I was going to be denied entry back into the state where I married and where we shared our family home. People told us to leave the US, give up our home, family and friends we had there, go and live in Canada or back to England. But that wasn't what we wanted to do.
We stayed, we fought and had incredible support from people around the world.
From politicians and celebrities to straight and gay allies, who believed our human rights were being violated. Of course, we celebrated in 2013 when Edie Windsor won her case at the Supreme Court and DOMA (Defense of Marriage Act) was struck down, we never stopped advocating, even though Laurie was able to finally sponsor me for a green card. We celebrated again in 2015 when Jim Obergefell won his case at the Supreme Court and nationwide marriage was the law of the land, again we never stopped advocating. We knew an army of anti-gay extremists were fired up to fight back and they are, they are waging a war against us, our community, love and same-marriage. They trumpet that "God Hates Gays" from a strange bible I've never heard of, one where hate seems the prominent word to be spread.
In the great words of legendary LGBTQ activist Harvey Milk "coming out is the most political thing you can do" which is still true today in the current political climate, we also believe getting married is one of the most political things you can do as an LGBTQ couple. So, for the third time we will marry each other, we will keep being visible, keep showing the validity of our right to marry and we will do it along with more than 60 other women in Provincetown next week. With all that said, the biggest difference with our marriage this time is, that it is recognized in the eyes of the federal government.
As Laurie and I celebrate our 11th wedding anniversary we will profess "I do promise to love you, I do promise to be faithful and I do promise to fight for our marriage for as long as we both shall live!"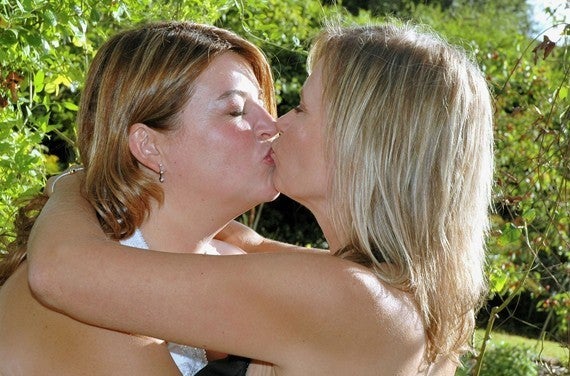 Calling all HuffPost superfans!
Sign up for membership to become a founding member and help shape HuffPost's next chapter