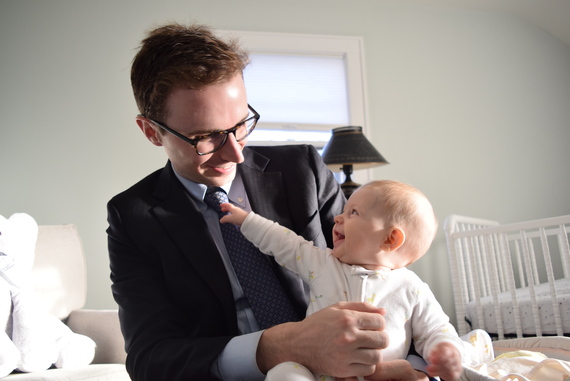 I had a strong idea of what my baby would look like before she was born.
My husband and I are both light skinned with green eyes and long, pointed noses. He has a wide forehead and an angular jawline. I have naturally thick eyebrows and funny teeth. We both have dirty blonde hair that was practically white as toddlers. Up until the moment I gave birth, I envisioned our baby being a perfect blend of our features; half me, half him. But the instant she was on the other side of my stomach I found myself staring at a complete stranger. Who is this? I thought to myself. She wasn't the bald, chubby-cheeked little girl I had expected.
With a unique look all her own at birth--big, intense eyes and reddish hair--nobody could draw close comparisons between me or my husband and our daughter. But almost six months later, she's resembling him quite a bit. Now, people who don't even know us that well will point out how much Rowan looks like her dad. She still looks nothing like her mom, but this doesn't bother me one bit. In fact, I actually prefer that she looks like my husband.
For starters, I got to know this baby very intimately for nine long months when I was carrying her. This was time that my husband didn't have with our daughter. He couldn't pat his belly and know she was on the receiving end of some soothing vibrations. He couldn't feel her every kick and hiccup. It was for the better part of a year that we shared every physical and emotional feeling together. We had an extraordinary connection, one my husband could never have with her for obvious reasons. But now, he has something special with her, too.
Being a girl, my daughter already has a substantial characteristic in common with me. We'll likely go shopping for prom dresses together, talk about navigating the sometimes uncertain waters of friendships and other female-focused stuff--all things I did with my own look-a-like mother. My husband will have his own bonding moments with her, of course--like the chess games and camping trips that I did with my dad, but there are certain topics and occasions that will be just ours, so I'm fine that it's not about me looking in a mirror.
I actually adore looking at a baby that resembles my handsome husband. (After all, I actively chose to look at that face for the rest of my life, right?) And the fact that our little one was named after him is just extra cognitive assonance. It all feels natural and right.
On a much deeper and more serious level, I don't ever want to be possessive of my baby, or for there to exist the expectation for her to be like me in any way. She will be her own distinct person and have her own preferences and passions. If she were a mini-me, I could easily see friends and family making comparisons. As she grows into a young girl she should be discovering who she is on her own terms without "just like your mother!" ringing in her ears.
I was completely wrong in what I thought my little girl would look like, but as it turns out, I don't mind that my daughter ended up looking just like my husband--in fact, I love it.
Photo courtesy of Whitney Harris
This piece was originally published by Whitney Harris on Mommy Nearest.Whitney C. Harris is a freelance writer living in Westchester, NY. She had her first child--a daughter named Rowan--this past August. Find her at whitneycharris.com.