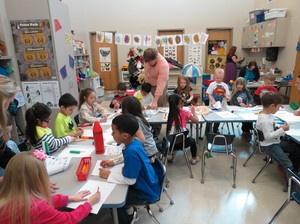 There are so many teachers (more people work as teachers than in any other job category except retail sales) that when 16 percent of the force either moves schools or quits the profession, that represents very large numbers indeed. The latest figures from the National Center for Educational Statistics indicate that of the 3.4 million public school teachers in the country, 271,900 moved schools and another 259,400 left the profession in the 2012-'13 school year.
It's hard to quantify the cost of such attrition, but scholar Richard Ingersoll has put it at somewhere between $1 billion and $2 billion a year. And that's just the money spent on recruiting and what personnel people call "onboarding." It doesn't even get to the disrupted instruction and social cohesion of classrooms and schools -- particularly high-poverty schools, where attrition tends to be a bit higher than average.
We know from a lot of surveys and other research that one of the keys to stabilizing the profession and providing greater continuity in schools is what teachers call "supportive leadership."
But what constitutes supportive leadership is still a bit murky in many people's minds.
Today I thought I'd give an example from a school I visited recently in Kansas.
To give you a little background, Ware Elementary, with more than 700 students, is in many ways a tough place to teach. Located on Fort Riley, it serves the children of infantry troops who have been deployed, redeployed, and relocated for many years. Students, 79 percent of whom qualify for free and reduced-price meals, come and go as postings change. As many as 60 percent of students turn over during a year.
In 2001 it was named one of Kansas' first "schools in need of improvement," which is when Deb Gustafson became principal. It took a few years, but for many years now it has been a top-performing school in the state and was recognized with The Education Trust's Dispelling the Myth Award in 2007.
When I visited a few weeks ago, I was interested in talking with teachers about why they would choose to teach there rather than in other schools nearby that don't pose as many challenges.
One new teacher I spoke to said interviews in other schools felt "uncomfortable and judgmental," but that when she walked into Ware, she immediately felt that she was "part of a community conversation" about instruction and how to help kids achieve.
Another said that the first time she walked in the building, she felt that "even though it's a big and overwhelming school, there were people who cared" about her.
That teacher's sense that people cared about her was not simply because she happened to encounter caring colleagues; it was part of a carefully developed leadership plan by Gustafson.
Each grade level in the school has a lead teacher who is in charge of ensuring that any new colleague is immediately incorporated into professional conversations and has a guide to the school's culture and practices. One of those lead teachers, Erin Taylor, told me that the philosophy of leadership at Ware is: "I have to take care of you before I take care of myself."
That system, by the way, is replicated in classrooms, where all new students are immediately assigned a group of buddies who act as guides, sit with them at lunch, and incorporate them into their activities.
Brian Scruggs, who is the kindergarten team leader, said that when he first arrived 10 years ago from a small town in Kansas, Ware "seemed very scary." He added, "I don't think Ware is a place for everyone. We have a unique clientele with a lot of poverty, a lot of mobility, and a lot of developmental issues. That can be daunting."
But, he said, "I had an amazing team helping me," with common planning times allowing regular, deep professional conversations about instruction that continue outside the school. "My team have become my closest friends," he said.
Scruggs credits Gustafson for developing the systems that both ensured that he was supported as a new teacher and helped him become a better teacher. "I would not be half the teacher I am now if I didn't have the team."
But even more than that, he said, "I don't know if I would still be a teacher."
Ensuring that teachers develop strong professional relationships immediately upon entering school is only part of what makes up "supportive leadership," but it is a concrete example of how a school leader like Deb Gustafson not only helped a teacher like Brian Scruggs begin practicing a profession that, by all accounts, he is really good at but gave him a reason to stay to make a career.
Related
Popular in the Community