Yesterday, Uber had a really unique opportunity to pitch top investors in NYC during an UberPool ride. From the hours of 11-2, in all five boroughs, you could get 7 minutes of face time to sell your business. The best pitches would go on to compete live that evening and could walk away with cash for their business.
The concept of allowing any and everyone to have an opportunity to connect with key funders resonated with me deeply, as it aligns with my personal and professional mission to create pathways for more people to have access. So many businesses with great concepts and investable ideas don't move forward or are significantly slowed in their progress due to a lack of access.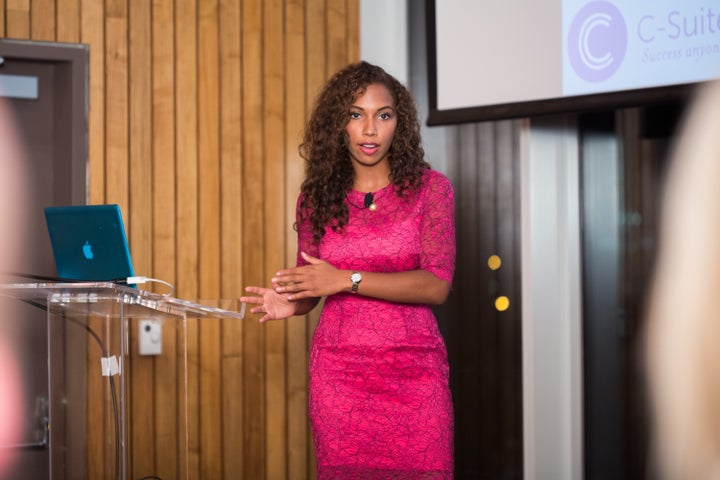 It is undoubtedly easier to build a business when you have access to strong networks and other financial resources. Beyond the psychological benefits of having a safety net to catch you if you find yourself falling, starting off with cash flow makes a huge impact. You can develop quicker, you can pay for work to be outsourced versus doing it all yourself. You can give your business 100% of your focus because you have no concerns about where your rent or meals are coming from. Starting a business when your pockets are deep and you have reserves, means your tolerance for risk can be very very high.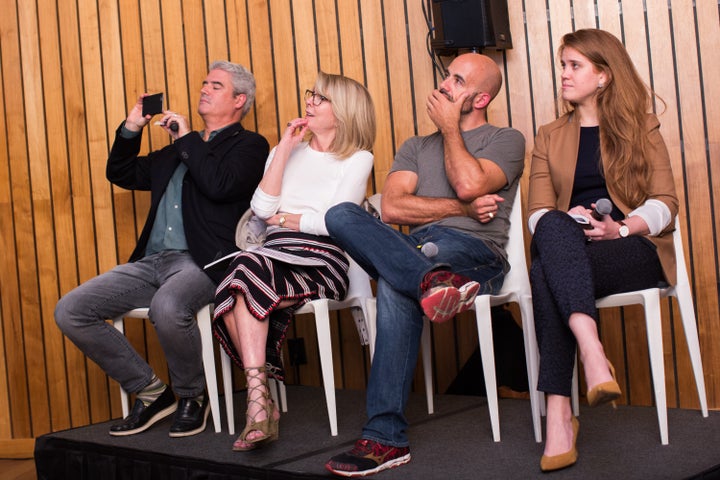 These are great odds to overcome and why savvy entrepreneurs from underrepresented backgrounds have to find creative ways to win. Having less resources requires persistence, discipline, and a hunger for driving innovation. You can't afford to be mediocre when you don't have deep pockets or reserves. Not if you want to win. There is power there. So yesterday, I employed this power to pursue an opportunity to pitch to some of the most notable investors in the industry.
Two people in my circle shared the opportunity with me the night before and it was obviously very compelling. The lesson in that for me, is tell everyone what you are up to. Too often, we entrepreneurs guard what we are working on. Maybe it's because we fear the accountability of saying it aloud, maybe it's we fear our ideas being replicated or stolen, maybe we fear the condescending nods from our 9-5 friends who think we are bat-sh*t nuts for leaving benefits behind. While it may seem like a safe play to keep your work to yourself, it's actually dangerous, especially if you are starting with fewer resources. You are missing out daily on connections, opportunities, introductions, and more by not shouting from the rooftop that you are working on something big. I'm grateful to have learned that early on and yesterday was a case of someone in my circle wanting to make sure I was aware of "something that might help my business." Without that I would have never known this was going on.
I planned the next day out and left myself free time for the entirety of the event. The competition was supposed to be in all 5 boroughs so I imagined it would be fine if I requested an Uber from my workspace in Harlem. At 11 am, as soon as the pitches started I got a notification that no investors were available. I tried over and over to request an Uber. So did my friends, my team at C-Suite Coach, my bae, etc. I had everyone on a mission with me, requesting an Uber from my location. 90 minutes later, we still had no luck. The opportunity was only available for another 90 minutes.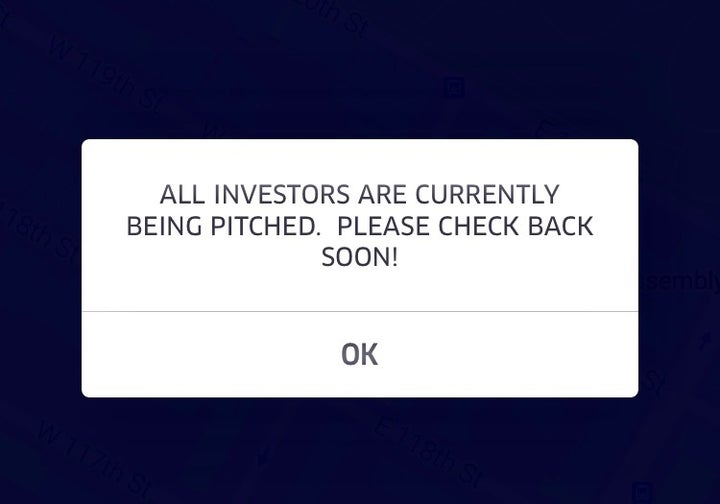 After checking Twitter, and seeing the Twitterverse all complain they weren't getting Ubers, I was beyond disappointed and feeling discouraged. Then right after 12:30, we noticed two different women tweet they got one and they shared their locations.
Both were near Chelsea or Union Square (about 30 mins from where we are located). It was now almost 1 pm and the competition was over at 2. Building a business is like a non-stop complex game of math in my head. I'm always weighing costs, measuring opportunity, deciding the value of time. After focusing on this for 2 hours and feeling like it might not pan out, I wanted to go back to my other plans for the day. Besides I had been requesting for 2 hours with no results, what if I went downtown and got no investor there either?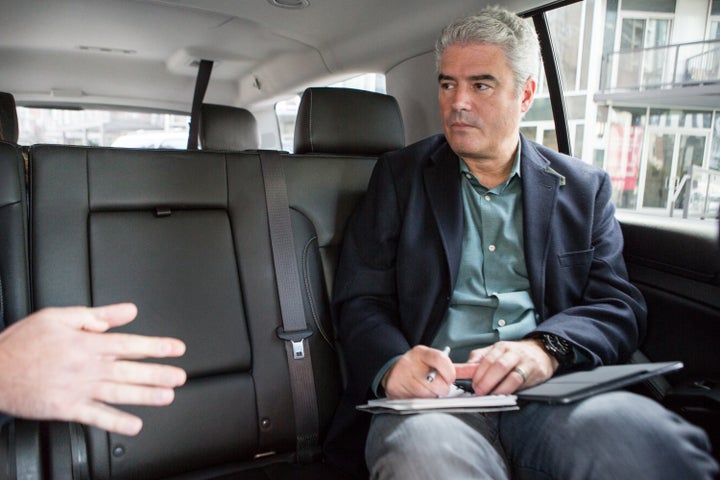 Sometimes, you have to talk yourself out of your head. And that is what I quickly decided to do. I could look at it as losing another hour for nothing or I could miss out on a chance at a meaningful conversation and pitch feedback. I took the 30 min trip downtown, and my team started requesting immediately before I even made it all the way to my stop. I was two stops away and I got a text "You have an Uber! We got one. It's coming in 12 minutes. Can you make it?" Man, talk about timing.
I hopped off of the train with barely a moment to spare, reviewed my pitch and put my game face on. I was matched with Charlie O'Donnell, Founder of Brooklyn Bridge Ventures, and we jumped in. I was incredibly lucky because he 'got it.' He understood the transformative nature of coaching and I was able to skip explaining background stuff and jump to my solution. He offered really useful feedback and I got out of the Uber feeling grateful and accomplished. Whether or not I made it to the next round, I had spoken to a funder of major platforms like GroupMe, Canary and Refinery29.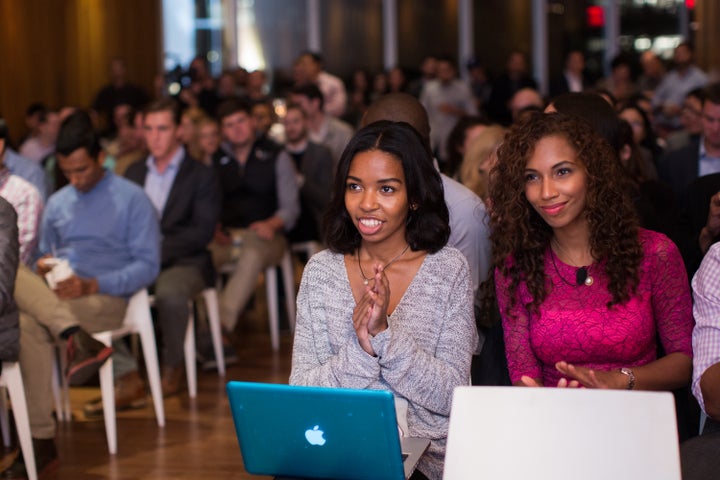 Over 800 people tried to request a "POOLPitch" and only about 100 actually got one. Just 3 won the opportunity to compete further in a live 7 minute pitch. I was thrilled to be one of them. Later I learned that the other companies who made it to the top 3 also employed some hustle. Another business also traveled to increase their odds of getting an Uber. The other had both of their founders get separate Ubers and they each pitched to increase their opportunity for feedback and being chosen. There is something to that.
I pitched C-Suite Coach alongside two really innovative and exciting companies, Kudzoo and Dog Parker (whose pitch reinforced my puppy fever) and we all walked away as winners, and for the first time I walked away, as not only a finalist, but also the 1st place winner. I've lost many competitions and been rejected almost weekly from meetings / opportunities that I desperately wanted. As heartbreaking as it can be, you have to keep showing up. Access continues to be a challenge for women and people of color and we undoubtedly need more programs and opportunities to change those dynamics. Nonetheless, when opportunity and access aren't coming to you, never pass on a chance to go to them.
Related
Popular in the Community