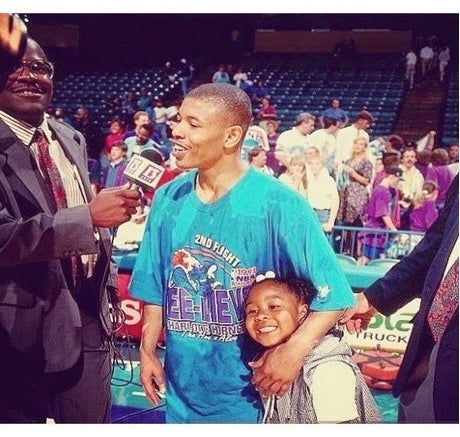 I used to tell people I was born in an arena. Sometimes I feel like it's actually true. Basketball has been a big part of my life.
My dad is the shortest player ever drafted into the NBA the year I was born: 1987. Tyrone Bogues had been a star at Wake Forest University before joining the NBA Charlotte Hornets. The nation knew him as "Muggsy" or one of the stars of "Space Jam." I just knew him as my dad.
My dad's fast pace play was fun to watch. He blocked 39 shots during his NBA career, including one on Pat Ewing, who, at 7 feet tall, had a bit of an advantage over my 5'3" father. For years, Dad led the NBA in steals and assists.
I've lost count of how many times someone has asked, "What's it like having a famous father?" Over time, I've honed my response to be humble while still giving people a little of what I think they want. "Well," I'll say. "It's probably similar to your experience growing up … except for a few perks."Then I might mention having a private birthday dinner at Puff Daddy's restaurant and having him show up or having Vince Carter or Magic Johnson over for dinner.
And then, even I realize that my childhood was different.
But having a famous last name doesn't inoculate you from life's hard knocks. In fact, I think it may magnify them. Bruce Willis' and Demi Moore's kids didn't ask to be famous, but every misstep was reported in the press. I've encountered plenty of people who wanted to be my friend because of who my dad is. Over time, I've learned to tell the difference between someone who wants to be my friend and someone who wants an all-access pass to an NBA celebrity.
But even an NBA star dad couldn't shield me from trauma.
People who don't know me well have said, "Your life is perfect. What could you possibly complain about?" They may equate my dad's fame with his kids getting to lead the easy life.
I wonder what people would say if they knew at one point I feared for my life. My ex-boyfriend had choked me. He admired me, always said and did the right things so I didn't think it was possible, but he did it and I had to leave. Did you know that 1 in 3 women will be a victim of domestic abuse in her lifetime? Every day, in the U.S. at least three women are murdered due to domestic violence. Every 90 seconds, a woman is being abused.
I still deal with the effects of that 2007 trauma today.
Did I immediately come forward and tell my parents? No, I was worried about protecting them from my terror. I was worried about what people would think, which happens in most domestic violence cases. But I also worried about what this could do to my father's image. I kept silent for over a decade until finally opening up. My parents were hurt at first to hear the news, because we're close, but with time they understood and are very supportive.
Speaking up has led me to want to help other abused women escape their abusers. Fortunately, my dad also modeled what an engaged and responsible citizen looks like. He's been involved with his own non profit helping disadvantaged youth, NBA Cares to list a few and helped demonstrate to me the old adage President Kennedy used to repeat: To whom much is given, much is expected.
So, I've been fundraising and creating awareness with Safe Alliance, a Charlotte, N.C. nonprofit that serves victims of domestic and sexual violence. That work has opened my eyes to the epidemic – and that is not too strong a word – of domestic violence. It has brought me peace to know it wasn't my fault. In fact, domestic violence is never, ever the victim's fault.
Growing up Bogues was both ordinary and extraordinary.
Which sort of describes what I want to be. I like it when friends describe me as down-to-earth. (And I thank my parents for keeping me grounded.) Yet, having a famous last name may be able to help the causes I'm interested in. Like educating women about how to tell they're in a potentially abusive relationship.
My ultimate goal is to form an organization for children of NBA players, similar to the NBA Wives Association. I want to establish a chapter in every NBA city and perform community service projects to benefit local nonprofits similar to those in my hometown.
I may have a dad who's a celebrity, but it doesn't mean my own life has been free from pain. But I can turn that pain into something useful. I've learned that the most fulfilling life is one devoted to serving others.
REAL LIFE. REAL NEWS. REAL VOICES.
Help us tell more of the stories that matter from voices that too often remain unheard.