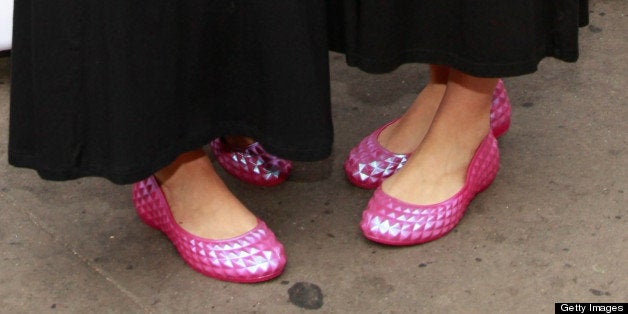 I discovered Crocs when I was in my 30s. I would wear them to walk the dog or to work in the yard and even to my children's bus stop, where other young mothers stood in more fashionable footwear. And though I did understand that my shoes were not the epitome of high fashion, I also knew that what they lacked in sex appeal they made up for in comfort. And frankly, I just didn't give a damn. I had so much else going for me: thirty-something bouncy, thick hair; a young mother's plump complexion and nary a grey hair in sight.
As I moved into my 40s, I began to wear my Crocs more often. I discovered that I could walk an entire amusement park from sunup to sundown and I would still have happy feet. While my kids complained that they were tired and their feet hurt, I would brag that my feet were just fine and suggest that we stand in that long line for the roller coaster one more time. I learned that I could explore new cities by foot for days on end without a complaint of fatigue ever crossing my lips.
When I entered my 50s, I began to notice that my hair did not look 30-something anymore and that my plump complexion was gaining some creases. In an attempt to ward off my panic, I began to read about how to be "50 and fabulous." Unfortunately, fashionable shoes seemed to be part of the deal.
I did some research and discovered that my beloved plastic shoes now came in different styles. So, I ordered four pairs. I made sure to buy them all in black so that I could be a sophisticated 50-something. I bought a few that had little straps, which made them look more like sandals and I even found some that had no holes! When they arrived in the mail, I modeled them for my young-adult children, who of course know all of the latest shoe trends.
"Look at my cool shoes!" I said. "They're black and clunky, which makes them look hip and retro when I wear them with my jeans, don't you think?"
"No, mom" they said. "They are plastic and everyone makes fun of them. You really shouldn't wear them."
Then I began to read terrible things about my shoes:
"They're bad for the environment!" "They can't be recycled!" "They will cause your arches to collapse!" And worst of all, I began to see cruel Facebook posts about them. One particularly heartbreaking one went something like this: "Wow, that's a nice looking pair of Crocs. Said No One Ever." I began to feel bad about my shoes.
Recently, my husband and I explored a new city. I wore stylish black flats to walk in during the day but by evening, my feet were not happy. And neither was I. But still, hoping to be "50 and fabulous" I wore suede boots out to dinner, but on the walk back to the hotel, I slipped and fell in the middle of the street and I broke my foot.
"This never would have happened if I'd been wearing my Crocs!" I screamed.
My husband helped me out of the street and the next day, the doctor gave me an air cast to wear on my left foot for at least six weeks. He told me to wear a supportive shoe on my right foot to balance the weight, but I didn't think that would look very fabulous.
This was not good timing. I had a beach trip to go on with my girlfriends from high school. It was bad enough that I had to go in an air cast, so I was determined to wear a nice-looking shoe on my good foot. I did look pretty cute hobbling around in one great shoe, but it gave my foot no support, so by the end of the trip, both of my ankles were blown up like balloons from walking around with uneven weight. I know without a doubt that this would not have happened if I had worn my Crocs.
I've decided that holey, plastic shoes were sent to Earth from the shoe Gods and that I would be kicking a gift horse in the mouth if I did not graciously accept. So, as I move into the remainder of my 50s and into my next decades, I will proudly and gratefully wear them and I will feel good about my shoes. My feet and I will be happy, and that will make most everything fabulous.
REAL LIFE. REAL NEWS. REAL VOICES.
Help us tell more of the stories that matter from voices that too often remain unheard.