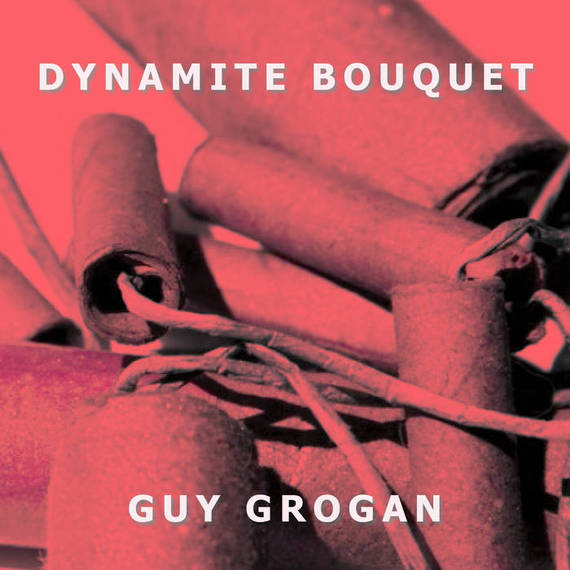 I was listening to the album Dynamite Bouquet recently released by the indie folk artist Guy Grogan, a Santa Fe modern one man band. His cover art shows him as the modern girl's dream - Have you seen the bespectacled folk singer in a bar before?, I asked myself - and I realized as I listened to the album that it fit the arc of a dating cycle.
Long story short, I fell in love with Guy Grogan.

It starts out uber simple: "My Own Way Out" is forgettable and feels simplistic, as if he's learning how to play the guitar in front of us. Like we met in a bar, and everything jived but maybe not the best. A dismissable meet cute. Likewise, "Metafixation" sounds like it was never played live, but the overly simplistic chorus can get stuck in your head after being played on repeat. The backup track of his own vocals - like that on another track, "River Like A Cry" - isn't always in sync with himself. Grogan's vocal training feels weak but ambitious: if this was a date, it was a second, the kind where you both try really hard, but it's just not jiving yet.
Two songs feel like the middle of a relationship. "Now I'm From Me To You," reminds you of Bowie - and how you could be listening to Bowie right now. If your eyes wander the room to the other CDs, let them linger far away.
You know how cats lay in the sun? That's what the next track, "Moonbird," sounded like: a peaceful slow jam that lulled me to sleep, the comforting shoulder you lay against on Saturday mornings. "Letting go means falling," entreat Grogan's lyrics, and it's this gentle pull that makes you want to stay with him.
There are some definite low points in our relationship: "Nowhere Is Paradise" felt whiny and sad but not in the fun way, like a Bob Dylan knockoff of Grogan not challenging himself enough: easy melody, easy lyrics, and unfortunately, no payoff. Likewise, "Waterfalls" has too much of a on the nose simplistic melody. We get what he wants, but it sounds like a freshman effort that isn't up to what he is capable of - it's a dismissable, overly simplistic misstep.
"Pseudo Euphoria" has a strange mix - it feels like the blank pauses aren't so much meant as they are a track mixed weirdly where a loop was left in pre export by accident. Once you get past that, the song itself is fine, albeit dismissable, like a song you won't look up at a cafe.
Perhaps it is at this point that we broke up, Grogan and I.
And that's when things got good.
Have you ever lingered in a breakup? This is the music that makes Grogan exceptional in this album. Namely, in the tracks "A Ghost Too Soon" and "What If I Told You."
"What If I Told You" breaks your heart with its simplicity. Grogan feels it, and like a good folk artist, he conveys that in this track that isn't over remixed, that isn't overly complex: it's an acoustic breath of fresh air that you could see live. Snuggle up with his heartache: it's a gentle rain of a song.
The gem of the whole album is melancholic "A Ghost Too Soon." Adele lovers or those who like to linger in the waste of sad memories will enjoy a good emo cry; it evokes an outtake of a movie you'd want to watch, when the characters are at their lowest point, but you hope they'll get back together soon. Yes like the other tracks, the chorus is simplistic ("a ghost too soon / you're a / a ghost too soon"), but in this case, it feels. The tiny melody playing underneath supports the simplicity like a kind net holding it up.
Maybe we broke up, Grogan, but we had good times: can't wait to see what comes next for you.
Calling all HuffPost superfans!
Sign up for membership to become a founding member and help shape HuffPost's next chapter