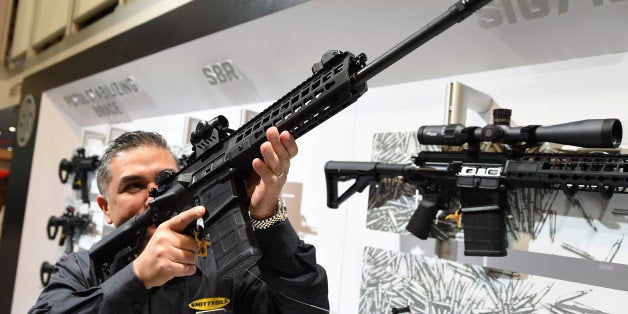 A few months ago, after the shooting that occurred at Umpqua Community College in Oregon, I wrote about gun control for this site.

It wasn't a scholarly or data-driven piece, but instead a compilation of my feelings. I admitted my lack of expertise on the issue, and explained that I didn't grow up with guns and so don't understand gun culture.

I was trying to make the point that -- my own liberal inclinations aside -- I felt disheartened by the lack of civilized debate surrounding gun safety in this country, a feeling I experienced again recently watching the over-the-top backlash from Republican presidential contenders after President Obama took executive action to introduce gun safety measures.

When I published my piece, it received over 800 comments; the majority came from gun owners who were outraged about the post and my perceived idiocy. One commenter listed my home address and asked others to leave something on my doorstep. The "something" was not pleasant.

Others goaded me. "Try and take my guns away!" they wrote, or snidely suggested that I go to a shooting range, I might like it. I wasn't totally surprised by the viciousness that pervaded the majority of those comments. After all, I'd admitted that I didn't "have much use for the second amendment."

Still, the response was unquestionably overblown (as if often does with this particular subject, on both sides of the argument). I'm a wife and mom, and freelance about family life in my spare time. My message was tame, considering the impassioned tone surrounding this discussion in the national arena. Why were these people so angry with me?

Most disappointingly, I'd written about the lack of a civilized debate and the commenters had swiftly proven my point.

But something really good happened, too.

I ended my story by saying that I felt the only way to move forward in this debate was to talk to people who did get the gun thing. That I wanted to understand the other side because, truthfully, I'd never tried to before.

A handful of gun owners -- individuals with political views very different from my own -- apparently read all the way through. They got the sentiment and took me up on my request and wrote to me. Because I'd prompted the discussion, I realized I needed to follow through, so I wrote back. And we've been talking.

I'm not claiming that I've begun some sort of revolution. The back-and-forth is slow going, but we're communicating. In some instances, the conversation has remained focused on gun policy, while other email threads have morphed into discussing personal life beyond the issue at hand.

Writing to gun owners humanized the issue for me. After feeling so hopeless, the emails made me feel better. They were the only thing that did. Talking to people who owned guns and were willing to discuss that with me in a reasonable and respectful way had some immediate, and surprising, results.

I began to get "the gun thing," as I'd dismissively termed it. A few who wrote to me pointed out that when you live in a rural community and calling law enforcement does not necessarily result in a prompt response, owning a gun for personal safety seems prudent. I'm a product of East Coast city life and -- naively, shortsightedly -- had never considered this.

Personal stories, told with words that weren't accusatory, inflammatory or insulting, prompted me to get off my soapbox, repeatedly proclaiming that I couldn't understand why someone would ever own a gun. The simple reality was that I hadn't talked to actual gun owners. Now I have, and it's changed my outlook.

I still believe what I believe.

I know that despite the upsurge in mass shootings, our gun violence rate is lower than in years past. Still our country, when compared to similar countries, has a gun problem. I believe that when faced with an ongoing problem, it's unwholesome to do nothing to correct it, regardless of whether or not that action will prove the perfect solution at first.
I don't believe that more "good guys with guns" in public places is a sensible idea and I still think our gun laws are far, far too relaxed. I know many of you disagree.
Shouting matches are easier than real engagement. But fear of "the other" shouldn't disable a discussion that is far too important to ignore.
Aggressive gun enthusiasts -- who will probably spread anger throughout the comment chain of this post, too -- no longer represent the opposition for me.

I'm grateful for that, and now I know that deadlock isn't the inevitable result of a conversation that many of us are afraid to have in a real way. I was. But not anymore.
REAL LIFE. REAL NEWS. REAL VOICES.
Help us tell more of the stories that matter from voices that too often remain unheard.