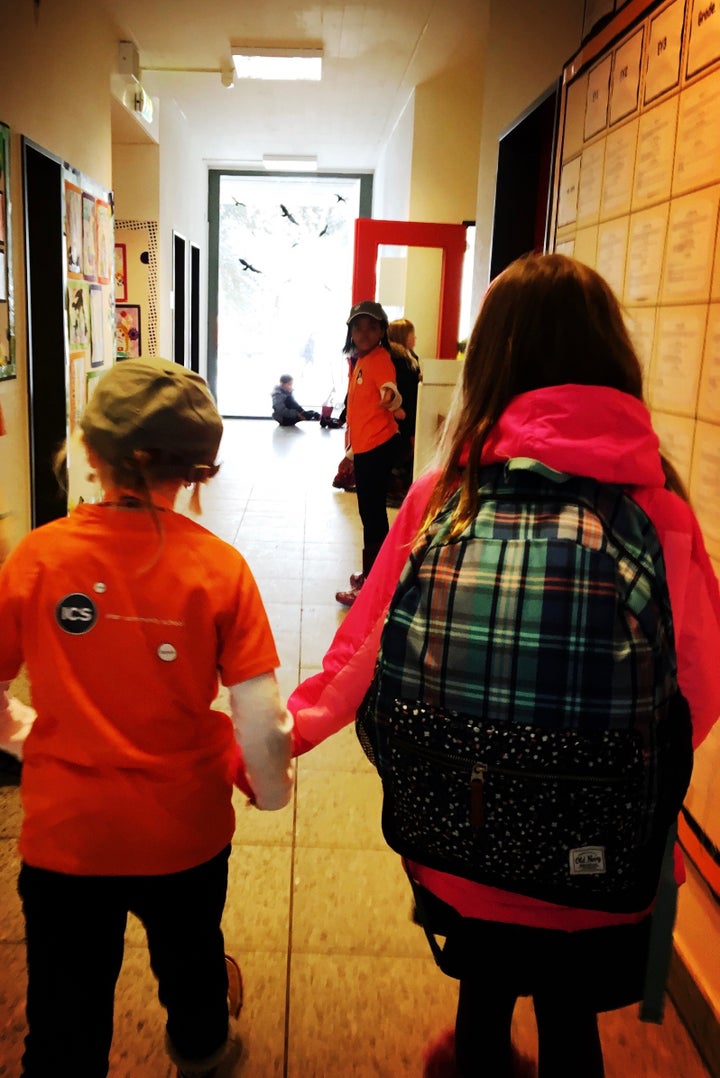 "We've decided that we're going to do it. We're moving to Switzerland." I said to my kids as if we were having just another weekend morning. My husband and I sat at our breakfast nook where Connecticut autumn leaves colored the background. Two of my three kids had never even traveled abroad. One was recovering from depression so severe that he'd barely been able to leave our house for months. We'd pretty much finished a year of hell.
"Noooo!" proclaimed my 8-year-old daughter. "Really?"
"It'll be an adventure, I said. And we have to go — for Daddy's work." Plus I thought, I need a change.
I needed more creative inspiration for my kids, more diversity, more global awareness, more unique learning opportunities. I needed a school for my oldest son who'd been homeschooled by specialists because the U.S. public and private schools had failed him. He has ADHD, anxiety and many qualities of Asperger's.
"I needed a school for my oldest son who'd been homeschooled by specialists, because U.S. public and private schools had failed him."
So we put our house on the market. We ditched our cars, packed the house, dogs, cats and geckos. We bid farewell to friends, and by mid December — we were off to our new home.
Thousands of miles overseas and three weeks later I stood in a parking lot in Switzerland. "Here's your new school!" I proclaimed. What have I done? I thought. A gray sky shadowed the slippery surroundings of the International Community School of Zurich. The white-topped Alps in the background looked majestically intimidating. We'd arrived.
"I miss Connecticut, Mom. I'm nervous," shivered my oldest. He stared at his pale reflection in the tall doorway. His last school had been disastrous, catapulting him into depression. I didn't think he could handle another disappointment. But here he'd come, across an ocean, willing to try something new.
"I'm a little nervous too," I replied. "But I think you're going to love this school."
I was hopeful, even if terrified. On the streets of Zurich, I'd discovered that though almost everyone knew English, they mostly spoke German, which I didn't understand; so generally I felt bewildered. People locked their shopping carts with strange keys, tracked their own parking times with personal paper clocks and precisely obeyed speed limits. Even the dogs behaved.
As we walked into our new bright orange trimmed school, I wondered if I needed to become perfect, too.
One of my kids started to whimper. "I want to go back home, Mom."
I tried not to picture all that could go wrong, but my nervous mom brain reminded me about moms, churches, communities, political parties, countries unwelcoming, even adversarial toward those who look, talk or think differently from them.
I thought about kid cliques, mom cliques, sports cliques. I thought about the special needs schools that had rejected my son and the public schools that had denied him appropriate educational aide. I thought about exclusion of kids of different races or economic status, or kids who don't conform to local definitions of normal. I knew about feeling like an eternal outsider.
Then I saw the line of children at our new school— all different ages and heights and colors and shoes and clothes.
"Welcome!" They chirped in different accents. They were talking to my kids.
One-by-one, a child took the hand of each of my children whose stiff cheeks blossomed into relieved grins.
"Don't worry," moms and administrators greeted me. "We know what it feels like to be new. We're here to help."
Tears tried to come as it dawned on me that my child, and (therefore) I, were no longer outsiders. Our year of hell had finally ended. I thought about the moms and dads and kids around the world, some of whom I know personally, who still need to hear those words, Welcome. We're here to help.
Meanwhile the happy line of chattering children walked my kids to their classrooms with my husband and me trailing behind. We met the fifth grade, fourth grade and second grade teachers who knelt down welcoming each of our children, gently, like an old friend.
It was as if my whole family collectively sighed.
"Welcome!" I continued to hear as frequently as the Swiss church bells during the following weeks. I met moms from China, India, South Africa, Italy, France, Spain and Guatemala.
"Where are you from? What do you need help with?" They asked me to coffee. They invited my kids to playdates. I could barely keep up with the friendliness.
But things got even better.
As weeks passed, my kids came home from school excited to share what they'd learned.
"At this school they like us to ask questions." My 10-year-old paused. "So we know why we're learning." He described the inquiry-based style of learning at his new school.
"And it's easy to make friends here," he added proudly.
At home, my daughter hummed a song in German while constructing a pulley over our stairwell out of cardboard, string and a basket. "This is a simple machine. Here's the lever," she explained.
And as the inevitable fourth and fifth grade teasing and social media challenges reared their ugly heads, the school demonstrated ways of dealing with conflict that seemed healthy. They didn't brush problems under the surface. They didn't vilify one or two students. They dealt with situations in community, in small groups. They transformed classroom conflicts into opportunities for learning science, art, language, empathy, kindness, and what they call "global citizenship." They demonstrated that understanding human differences, that taking responsibility for one's own behavior and attitude, is critical to the health of an entire community.
"Can I take the bus to school alone? Can I walk to the store and get groceries?" My oldest boy asks now. He attends a dual enrollment program called Foundations for Learning that encourages his independence. They support him at his new school, ensuring success through specialists who help him take responsibility for his own learning and his social skills deficits. They respond to his needs at a pace appropriate for him and for everyone. They even encourage him to struggle at times, when they feel he can handle it. And he still struggles— a lot.
And me? I'm grateful. I expect more challenging days and years ahead. But finally we have a community and a school willing to work with our children and our family through our struggles.
"We've got to believe he will succeed," says Tim Crocker, the lower school principal in his warm British accent.
And maybe that's the trick. We've got to believe that each child is truly worthy of success, of goodness.
Support HuffPost
A No-B.S. Guide To Life
Related
Popular in the Community