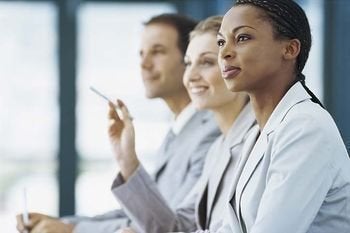 Statistics prove that finding a mentor can boost productivity, decrease delinquent and addictive behavior, facilitate raises and promotions, increase self-esteem and self-efficacy, improve relationships and quality of life, and lower stress.
But once you have located a mentor who is right for you, and s/he has agreed to serve in that role, you may find yourself wondering - now what?
The success of any relationship, mentoring or otherwise, boils down to one thing - good relationship-building skills. Here, we will discuss seven key steps you can take to make the most of your opportunity to work with a mentor:
Break the ice

: Don't rush past the "getting to know you" phase in each mentoring meeting. Initial pleasant chit-chat about the weather, current events, movies, weekend plans, pets, hobbies, houseplants....this type of conversation may occupy only five or ten percent of your time together, but it sets the stage for trust-building that must precede deeper kinds of sharing. Plus, you never know when you will discover a common interest that may pave the way for quality discussion around the reasons you sought your mentor's help in the first place!

Set expectations and parameters

: Lay the groundwork by deciding as a team how to be in contact (in-person, phone, email, etc), how often to be in contact (daily, weekly, bi-weekly, monthly, etc), and your basic goals for time spent together. Knowing what is and isn't possible gives each partner a better idea of where the mentoring match fits into the framework of their daily life and goals

Activate your curiosity

: We all love personal stories, and chances are this is exactly why you gravitated to your mentor in the first place - because something in their story resonated with your dreams and goals. Ask your mentor questions about how they got to the position they occupy now, what obstacles they encountered and how they overcame them, and what they know now that they wish they had known when they were starting out. And don't hold back - sharing your own story is a great way to facilitate discussion about how to navigate pitfalls and make the most of opportunities that come your way

Give your relationship some structure

: Choosing a book, movie, workbook, or course to work through together gives the partnership a sense of purpose, tangible goals, and a framework for asking and answering questions that arise as you work your way towards your goals

Take small steps forward

: Patience is a virtue in building a mentoring partnership that will grow and last. Relationships don't respond well to force - but they bloom beautifully when given space and time to unfold naturally. So start slow and small - ask your mentor one question, and see how they respond. Share one issue you are facing, and listen carefully to your mentor's input, practice the advice offered, and report back.

Do something together

: Visiting a local business or attending a skills-building seminar together may generate valuable conversation on business pitfalls and possibilities for a mentee who is starting a small business. Going grocery shopping or out for dinner together may help a mentee in recovery learn to make good choices around food and alcohol. Find something to do together that mirrors the goals you have for being mentored as a way to facilitate meaningful conversation and spark question and answer sessions that can yield helpful information

Make mentoring a priority

: Remember always that your mentor is donating their time to help you succeed. You can take it as a given that your mentor cares and wants to help. But it is up to you, the mentee, to make the most of the opportunity to receive your mentor's time, wisdom, and guidance!
Related