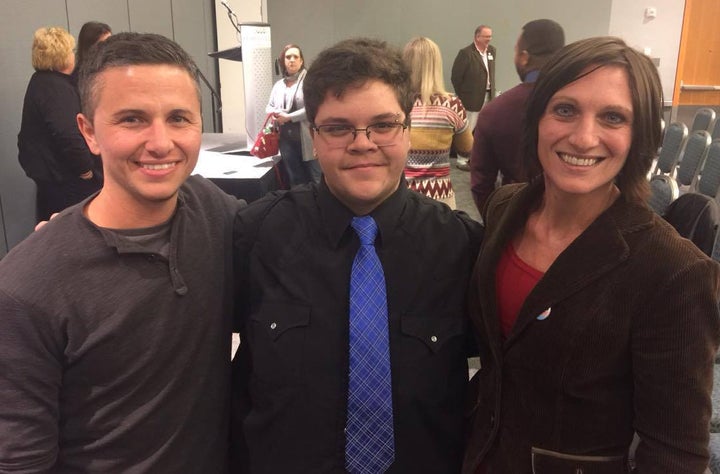 On Sunday, November 20th, I attended a Transgender Day of Remembrance event with my husband.
The entire event was both beautiful and painful. The names of those 26 Transgender Americans who had been murdered in 2016 were read aloud, while a video of their faces was played. It was heart wrenching to learn of their stories and the horrific ways in which they were killed, but the most unlikely of us all provide the most hope.
As he was introduced and the applause began to fill the ballroom, he slowly stood, gathered himself and took the stage.
Although he is only 17, from his poise to his perfect tie, he looked as comfortable on that stage as any adult I've ever seen. To think that he once suffered from debilitating Obsessive-Compulsive Disorder and Anxiety Disorder is almost unfathomable.
He gripped the podium with confidence, adjusted the mic and began to give a detailed account of the past few years of his life.
Gavin Grimm is no ordinary 17-year-old kid. He is a human on a mission. He has decided to open the doors to the most personal aspects of his life in an attempt to truly change the world.
In middle school, Gavin made an important and life-changing decision.
He came to the realization that his assigned sex differed from his gender. He decided to make his physical body match that gender and therefore began the process of transitioning from female to male. He cut his hair, came out to his close friends and his parents and began testosterone.
Life, for the first time, was beginning to make sense. He was living an authentic existence.
In 2014, As he started his sophomore school year at Gloucester High School in Gloucester, Virginia, Gavin approached his principal, Principal Nate Collins and requested to begin using the boys' bathroom. Principal Collins gave him permission and life went on as normal for seven weeks.
Soon, parents got wind of Gavin's transition and his bathroom usage become open to a humiliating public debate. Specifically, private parts of this minor's body were being publicly discussed and evaluated in open-to-the-public large meetings.
He was told by the school district the creation of unisex single stall bathrooms should serve to prove they did indeed care about him, refusing to acknowledge the implicit second-class citizenship this segregation clearly implied.
Gavin was not to be placated.
Although, he was aware he had a fight ahead of him and would be literally exposing himself to the nation, he decided to take a stand.
He has been successfully fighting for his right to use the bathroom that aligns with his gender ever since.
At this point, his case has now reached the U. S. Supreme Court.
After hearing his talk, I approached him and asked my most burning question first: "So, what are you doing in the meantime? Where are you using the bathroom?"
He looked me in the eyes and simply said, "I just try not to go. I just try to wait until I get home as often as I can."
I immediately pictured the numerous people who have come before Gavin to peacefully protest for human rights. These people took a stand, often alone, to oppose injustice and now this amazingly courageous kid is walking an uncharted path, as well. He has endured many hateful remarks, has been marginalized by many in his community, yet he marches on.
I began to consider the headlines we are sure to see in the near future, highlighting Gavin's bravery in the face of such a clear civil right's violation. I couldn't help but imagine my three sons reading about Gavin in their history books and feeling hope that his story will lead them to choose to live as authentically and unabashed as he has.
As we stood around chatting at the end of the event, one transgender woman approached Gavin, gently placed her hand on his shoulder and said, "You are about to change history."
To that Gavin replied with a shrug, "I really just wanted to be able to use the bathroom."
While I sit safely behind this computer reliving the beauty of the evening, I remain awestruck by Gavin's willingness to boldly stand alone on the steps of the U.S. Supreme Court, patiently waiting for his chance to be heard.
I must admit, If I was Gavin, as soon as I was welcomed in on that day, I'd head straight to the bathroom before entering the courtroom.
Popular in the Community