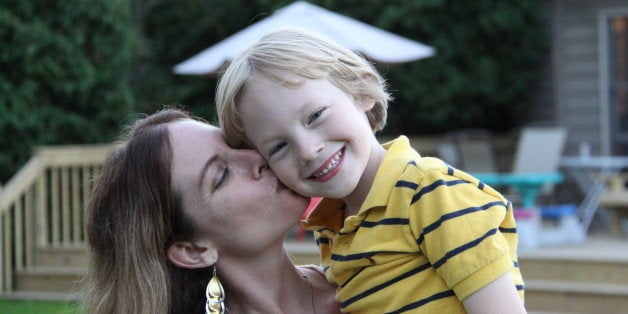 My 6-year-old son Brady Patrick has a rare neurological disorder called hyperekplexia. This disorder is so rare that he was the first case diagnosed at the Golisano Children's Hospital at Strong in Rochester, NY, back in 2008. Up until 2011, Brady was still the only pediatric case at Strong.

Then one day during a check-up with his neurologist, Dr. Jennifer Kwon told us that she had just diagnosed an infant with hyperekplexia. She thanked me because she said Brady's case allowed the neuorology team to diagnose this infant so quickly. Typically, the quicker a child is diagnosed with hyperekplexia and started on seizure medications, the better.

I was so moved by Dr. Kwon's news. My Brady's battle with hyperekplexia had helped another baby! All the EEGs, the IVs, the blood draws, the sleepless nights at Strong, the sleepless nights at home and the ambulance rides had a purpose beyond our own little world in Brockport.

My heart went out to the parents because the first two years of hyperekplexia are so hard. There is an increased risk of SIDS for infants with hyperekplexia, and babies can startle so hard they will stop breathing -- something that happened to Brady often as a baby. But my heart also felt a little hope. I was not the only parent in Western New York facing this. I had a "mother-in-arms," though I did not know anything about her.

I asked Dr. Kwon for the mother's name or email or town, but of course she couldn't tell me anything. I totally understood, but I kept wondering about that other family. I pined for another mom to talk to. I found one in Scotland via Facebook. It helped, but not enough.

Then one night, the wondering stopped. I was checking a hyperekplexia group on Facebook for any new messages when I saw one by a new member. She was the mother of a 9-month-old baby girl from Elmira, N.Y. She mentioned Strong Memorial Hospital. I sent her a message. Could she be? A flurry of emotional messages followed -- yes, she was the mother of "the baby."

Here is a snippet of a message Jess sent:
"It was so hard and since nobody has any idea about this, it made it that much worse! I want to hug you for having Brady and having him have it in a way."

We were so excited we forgot to even exchange basic information, instead jumping right into the nitty gritty of hyperekplexia that only another mother would understand. We both said we slept better that night knowing we were no longer on this journey alone.
That was in May 2011. Now Brady is in first grade and doing really well. Jess' baby Juliana is now a little girl. Jess and I remain Facebook friends and continue to give each other support. We hope to meet each other soon, and introduce Brady and Juliana, who both love animals and have dogs they are very close to who help them with their disorder.

Caurie Putnam is a columnist with the Democrat and Chronicle and stringer with Reuters. She lives in the Rochester, NY area with her sons Brady, 6, Brice, 10, and her boyfriend Eric.