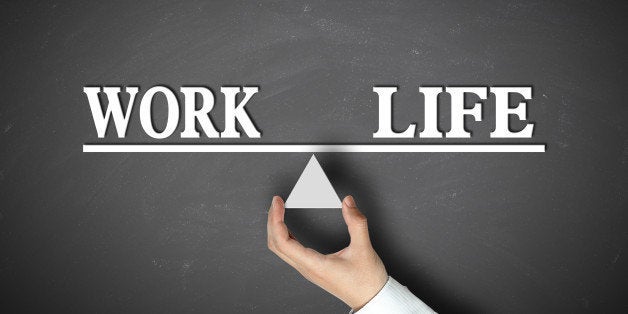 Finding my work-life balance has been an elusive goal since becoming a parent ten years ago. My world revolved around my career for a decade, and I always told myself that if I ever became a mother I would not let that change my course. Uh... that was one of many things that my 20-something self falsely predicted (staying in NYC to raise my family was yet another one).
I continued working in the corporate world of Fortune 500s throughout my pregnancy and early years of my first child. I felt apologetic every morning when I handed my baby girl over to her sitter. I headed home each night with guilt hanging over me for leaving the office when there was still so much work to be done. And I was overcome with remorse when I reunited with my baby after not playing with her all day. Despite this lack of balance, I still enjoyed my career and couldn't imagine my life without it. That feeling changed though once my second daughter was born, and I had two babies under the age of two with a husband working overnights in the ER. I also knew something had to change when my 1 year old added "Blackberry" into her limited 10 word vocabulary.
So just like that I went from being a full-time working mom to a full-time stay at home mommy, in a desperate attempt to find a better balance in my life. My world became absorbed with baby classes, play dates, and long walks with my double stroller. The chaos of around the clock kiddie care was exhausting and loud, yet still full of blissful moments that I cherished. My life had certainly become less stressful than working full-time while parenting babies, but something felt missing...I had lost myself.
After a couple of years as a "SAHM," I found myself once again seeking a better life balance and transitioned back into the working world as a self-employed entrepreneur. Starting a business and working alone proved to be an exciting and rewarding experience, but I found myself struggling with managing all of the necessary day-to-day tasks as a one-woman operation. So I made a few practical changes, which finally led to the discovery of my own work-life balance.
Here are a few tips that keep me productive... and a little bit sane:
1) I learned how to say "NO."
It sounds so simple, but it is not easy to say no to friends and family who come to you asking for help. I still don't say "no" to loved ones very often, (mainly because I enjoy contributing to their success and happiness), but I definitely do it now more than I used to.
I pass on work opportunities whenever my schedule becomes overloaded or if I suspect that the project/account will end up as a greater time investment than return on investment.
2) I stopped Multi-tasking.
I used to be consumed with doing this while doing that, but now I assign blocks of time for specific tasks.
I turn off my notifications, mute my phone, and exit out of email while completing a project until my alarm goes off to alert me that I can now move on to the next thing. Yes, I actually set my phone alarm or select alert in my iCal.
3) I dedicated a separate email address for business vs. personal.
Keeping messages under separate accounts prevents me from getting distracted with planning a kid's birthday party while I am trying to write a marketing strategy.
4) I replaced post-it notes and never ending to-do lists, which continually rolled over into the next day's tasks, with dry erase white boards in my office.
The key to implementing this is to hang the boards on the wall in an area where you cannot avoid seeing them.
I also use a color-coded marker system to differentiate clients from one another and identify deadlines that are approaching.
You may want to try one of the project management scheduling tools on the market for a more structured method to your madness.

5) I allocated time for planned activities exclusively for me.
I used to wait until I finished xyz before rewarding myself with any "me time." Now I just book things for myself and put them into my calendar as if it were a work meeting. This forces me to build my business and personal schedule around it.
After being a full-time working mom and a full-time stay at home mom; and after experiencing a rewarding career on both the Manhattan ad agency side and on the client side of corporate America, I have finally found self employment to be the right formula that fits my life. At least it works for me at this moment in time. But not everyone finds or even believes that this ambiguous concept of balance exists. Sheryl Sandberg, COO of Facebook, has argued, "There's no such thing as work-life balance. There's work, and there's life, and there's no balance."
Popular in the Community