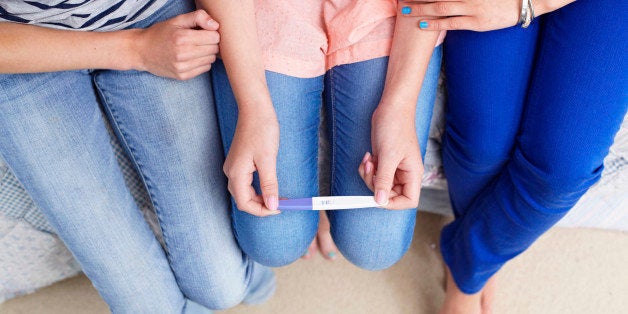 Throughout the next few months, HuffPost Teen is highlighting the way teens think and feel about sex through anecdotes written for our series, "Teen Sex: It's Complicated." All of the authors are teenagers who have agreed to be published anonymously. If you want to share your thoughts, join the conversation here.
The word "sex" is a strange thing. It's something that many girls need to be educated about, no matter how weird or awkward it may be. Society just needs to realize that. You can't look down upon teen sex and teen pregnancy, then at the same time, look down on pro-choice. That's just a fact.
My name is Erika. I'm 16 now, but I discovered I was pregnant at 14.
At ages 10 and 11, my mom was so insistent that I just wait for marriage (even though she had stated right in front of me that she herself would never do something so naive and stupid) that she just never said anything about sex. The only thing I knew about sex was from school, which still wasn't much, since they also said to just wait. So I didn't think it was a big deal.
I waited a few years, but one summer, there was a guy I thought I loved, and was very eager to have sex, so I agreed. I was only 12. I was so scared to tell my mom, I hid the fact for more than a year. But once she found out, as I feared, she was so angry and she didn't speak to me for a long time.
Fast-forward another year, we were still on bad terms and she had an abusive boyfriend. In an act to gain her attention, I started skipping school, doing drugs and sleeping around. I had met one guy and we both liked each other at the time. We had agreed to have sex, but because he worked a lot, and we never really got to see one another.
I found out I was pregnant on the last day of 8th grade, about two weeks after I had seen him last. I wanted to tell him in person, but even to this day, that was the last time I've ever seen him.
Eventually, my mom found out and she went crazy. She urged me to get me an abortion, but I couldn't do it, so she sent me to my grandmother, who was accepting of the fact that something needed to be done. She convinced me to go through with the pregnancy, and give the baby up for adoption.
We went through a few couples before we found one that cared about me and my story just as much as they did about being parents. I was seven months along when the father found out. He tried to convince me to move in with him and the three of us be a family. Me, being only 14, I was very conflicted and I didn't know what to do. But eventually, we stopped talking again.
I went through with the adoption, and even though it was hard, I wouldn't change a thing. The couple and I agreed that it would be an open adoption. Now, she's almost a year old and she's the best thing that had ever happened for me -- and for a lot of people.
Calling all HuffPost superfans!
Sign up for membership to become a founding member and help shape HuffPost's next chapter
BEFORE YOU GO
PHOTO GALLERY
Teen Quotes About Sex