It was a baby blanket that did it. A single silky blanket that wrapped around my daughter's tiny body when she came home from the hospital that she still slept with every night. I saw it in a stranger's hands and had to restrain myself from tearing it away.
"That's not part of the sale," I said sharply. "That's my daughter's blanket."
I didn't know what to expect when I posted the ad on Craigslist. "Moving sale, everything must go. Pay what you can afford," I wrote. I wondered whether people would line up to rifle through my things and whether anyone would pay for anything if they knew they could get it for free.
But I didn't wonder what it would feel like to have nothing left to ground me -- I was convinced it was what I wanted.
I was headed to a beach house in Costa Rica with gloriously impractical white furniture and a pool, and I imagined my children running barefoot through the living room eating mangos they picked in the backyard. Costa Rica was everything Seattle wasn't and I told myself that once I got there my husband would stop fighting me in court. I imagined him visiting our little beach house, captivated by the ocean breezes, and remembering he used to tell me I was a wonderful mother.
There was nothing simply and obviously terrible about my marriage. My husband didn't cheat on me or hit me; he proposed with a gleaming Tiffany ring on a park bench in Athens. He reminded me everyday how lucky we were to have each other, and I wanted to believe him. But most of the time I wasn't sure whether I even liked him.
He was many years older than me, balding and pudgy, and he filled my head with an endless stream of commentary about everything from politics to my character. He told me who and what I was, what was real and what was fantasy. He created narratives like spiders spin their webs and sometimes I liked his version of reality more than the ugliness I saw with my own eyes.
I wasn't happy, no matter how much I tried to be, and the more I tried to create my own space, the tighter he wrapped his web around me.
As I stood in the playroom, unconsciously cradling the baby blanket like I had cradled my daughter a thousand times before, panic clamped itself around my chest. There were strangers everywhere; a man was carrying out my Eames replica dining chairs, a woman was directing her husband as he loaded my living room furniture into a U-Haul, and a mother was trying on my clothes with her teenage daughters.
Strangers poked their heads into my cabinets, rifled through my drawers, and swarmed through my home like mosquitos; greedy, bloated mosquitos, looking for anything they could sell. There was little left by the end of the day, and I had a measly $200 to show for it. Only two people paid me at all, and one of them paid by a check she asked me not to cash anytime soon.
Giving away everything I owned on Craigslist was supposed to feel weightless and free, allowing me to finally escape my attachment to material goods but it felt like sh*t. There was nothing left in my bedroom but a mattress on the floor and one suitcase I packed before the moving sale.
It was filled with summery clothes for Costa Rica and a few tiny pieces of my old life: a jeweled camel I bought in Egypt, an owl souvenir from Greece. As I ran my fingers over them, slowly and purposely -- imagining myself back on the shores of Santorini eating a tomato that tasted like Plato's form of a tomato -- I reminded myself that I was leaving behind the attachments that chained me to misery.
"It's better not to be attached," I whispered to myself. "The nature of suffering is attachment."
My husband always told me experiences matter more than material goods. I liked to shop and he didn't, and he explained that I should spend my money on important things. Things that mattered. I took it to heart, squirreling away his judgment, afraid to admit that sometimes I loved things that were plastic, toxic, and probably single-handedly destroying the environment.
I devoted myself to living a natural, non-toxic lifestyle, and tried to be a hippie homesteading mama, but somewhere inside of me was a girl who loved makeup and Coach bags and spending money without so damn much mindfulness.
There was no room for that girl in my marriage, or any of the rest of me. When I became desperate to find myself again, I bought new makeup, flat ironed my hair, and put on something other than yoga pants and a hoodie.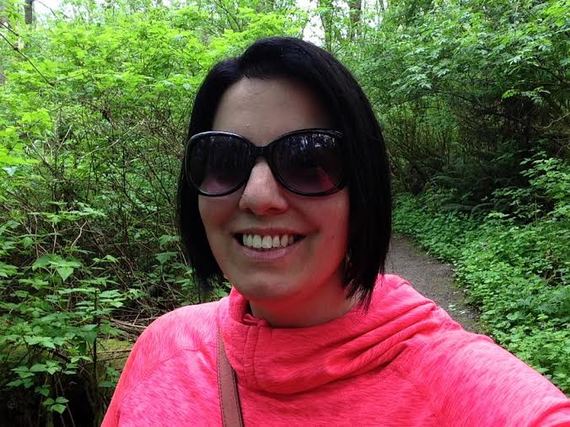 I looked in the mirror and saw beauty in my reflection, but my husband told me he liked me better without makeup. He began asking me if I was cheating on him and what I did at work. The last thing I wanted was another man in my life, but I didn't have the courage to tell him that I didn't want him in it either. I wanted to be free. I wanted to have space to breathe.
Our trip fell through only a few hours before our flight left for Costa Rica. Instead of boarding a flight to a new life, I had nothing but a few suitcases and credits on an airline that I couldn't use. I checked my kids into a hotel and called it a "staycation" while I began the painstaking process of finding a home and re-stocking it with all of the things I had just given away. It was my 34th birthday.
I didn't bother to decorate our new house very much. It was just a bump on the road, a place to take a breather. I dreamed of moving to a tiny house on a sustainable farm, or homeschooling on the road in an RV, and I even bought a travel trailer and took my kids on a month-long road trip through the western states. I imagined myself an old lady who lived nowhere, traveling from country to country, visiting my children and grandchildren along my way to another adventure.
When we got home from our road trip, I had another one planned. We were going to get right back on the road for another week, but something unexpected happened: I didn't want to leave. My bed was soft and warm after a month in a camping trailer, and I marveled over the convenience of a full-sized kitchen and my own washer and dryer. Instead of piling back into the trailer for another adventure, I decorated my living room.
There was beauty in the simplicity of sharing a camping trailer with my children, my daughters' legs tangled with mine as we slept, their breathing and the rain pummeling our trailer -- the only sounds I could hear at night. We played cards, read books by the campfire, and wondered at red rocks and fields of wild bison.
But as the days of new experiences stretched into weeks, I finally recognized what my soul craved wasn't new; it was a place to set down roots.
I don't regret giving away all of the trappings of a beautiful home. That expertly-curated home never felt like mine and I was ready to let go of that life and the lack of authenticity that came with it. As beautiful as my things were, they could've been in any home or magazine. They had nothing to do with me.
I don't even regret giving it all away for free. I needed to learn that when my boundaries are non-existent, I invite the world to take advantage of me.
I finally gave away the moving boxes that were stashed in my basement. My home is cluttered with stacks of child art that I sneak to the recycle bin when my kids are asleep, and it's always just a little bit dusty. It's small and cramped, with cats sleeping on the couch and dogs underfoot, but it's filled with people and laughter -- and beautiful, sentimental, impractical things.
More from YourTango: