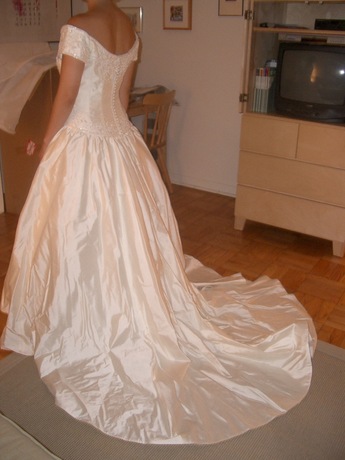 A month after returning to New York from a six-month work assignment in Paris, I find myself settling into my smallest Manhattan studio in the last ten years. After having taken painstaking steps to liquidate my previous studio and lighten my load before moving abroad, I thought that giving away and selling most of my furniture, housewares, books, DVDs, old race t-shirts, and hopeful items from my "last five pounds" collection were enough. But, boy was I wrong...
As I try to optimize the scarce living space, I continue to bump into one very large, imposing box preserving my unworn couture, silk wedding gown. Like an albatross around my neck, this beautiful dress has followed me all the way from San Francisco to every Manhattan studio for the past decade. It is the first thing I see when I come home, and the last thing I see when I leave.
Nearly fourteen years ago, my then-boyfriend asked me to marry him on the bench where we shared our first kiss. I agreed, surrendering my left hand, while burying the trepidation in my young heart. After all, wasn't the coveted diamond engagement ring, the brass ring for many women in America?
For nearly a year, I wore those three months of salary on my hand as we shuttled to and from various wedding related appointments. Proof that my fiancé loved me. Or that advertising works. It was a cold, glimmering 1.3 carat reminder that something didn't feel quite right.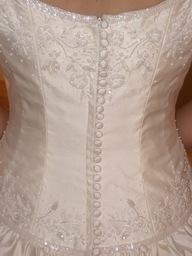 I was there physically, head-to-toe at all those wedding appointments, though my heart and mind do not tag along. A crystal comb sits atop my head, a custom veil in the works, slivers of cake tease my taste buds. My arms hug our friends and future in-laws at engagement parties. My hand adds china patterns and a panini press to our registries like I was on a shopping spree. Yards of ivory, shantung silk couture are like a glove on my body. Silk-covered buttons, boning, off-the-shoulder, drop waist, chapel length train. "My shoulders need to kill it at the wedding," I tell my special occasion personal trainer. I miss half the sessions.
I remember it all vividly. Recorded, as if I were watching scenes from a movie about someone who is getting married. In real life, I was suffering. The impending wedding and our future together weighing heavily on me. I was no longer able to avoid the trepidation in my heart. A month before the wedding, I revealed my feelings, setting off a series of events like a tragic misstep next to a world record domino attempt. To this day, I know it was the worst thing I ever did, but, in my heart, I know it was also the best thing I ever did. Yet, I don't know that anyone ever really understood.
How do you explain why you can't marry a guy who tried to give you the world? How do you explain yourself when all you had to do was show up in a month? How do you explain this to your sick mother? His parents? Our friends and family? How do you explain this to him? The quintessential it's me, not you. You can't. And so you stay together another year and a half. The PR story: a mutual agreement to postpone.
And eventually you move to the other side of the country. Alone. No job, no apartment, nothing to lose. But, somehow you bring with you a massive box preserving an unworn wedding gown, along with a custom veil, crystal comb, and fairytale silk shoes. For ten long years, you somehow find a space for the "wedding that never was" box in every Manhattan studio you live in, unable to find an organization or a bride to take it, on your own.
A foyer in a studio, the curb, or public storage is no place for this dress. I sincerely hope to find a deserving bride and allow her to have the dress of her dreams, my gift to her and to the kind of love I have yet to find for myself.
This is not just an exercise to free up precious physical space in a 300 sq. ft. studio, but an exercise to free up the space in my heart and mind from the wedding that never took place. And free the dress from its preservation box prison to adorn a beautiful, deserving bride on her special day.
Friends, I cannot schlep the "wedding that never was" box yet another step, and would love to find a bride who can wear it as she takes one of the most important steps of her life.
Might you know of a bride in need?