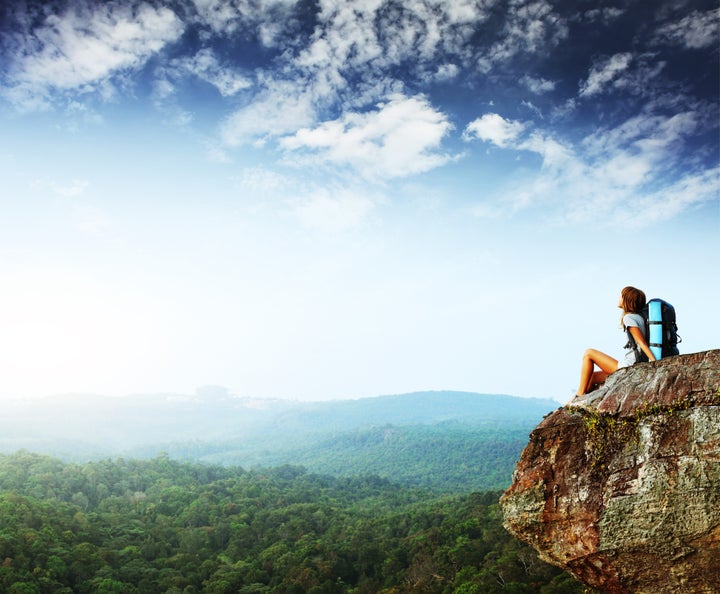 While reading "Looking for Alaska" by John Green a few years ago, I came across the last words of the poet Francois Rabelais: "I go to seek a Great Perhaps." The main character, Miles, states these words as his reason for going to a college away from home; he doesn't want to "wait until he dies to start seeking a Great Perhaps." Like Miles, my life is defined by the pursuit of my own Great Perhaps, which for me is a symbol of endless possibilities and fulfilled dreams. As an aspiring author and feminist activist, I'm guided by my aspirations. I'm on a quest to find out where these dreams will take me.
The pursuit of this Great Perhaps is what gives meaning to my life. I guess we all need a sense of purpose, a connection to a greater cause. Without it, life would seem empty and pointless. School and university and work would just be part of a meaningless routine. But my Great Perhaps, my dream of becoming an author and of helping women, infuses my life with a sense of direction and meaning, and it inspires me to keep on working.
Keeping the bigger picture in mind also helps me deal with the mundane, everyday tasks that I need to complete. I'm more likely to study and spend hours writing and rewriting essays knowing that by doing this I'm more likely to achieve what I ultimately want. I know that I have to pay my dues first. The road to success is often long and circuitous, and the groundwork is generally tedious, but it ultimately pays off. My Great Perhaps is what motivates me to try harder and stay on-track.
I'm aware that my journey is not fully mapped out and that there are no guarantees, but I try to keep a rough plan in mind. While my success partly depends on luck and forces outside my control, I try and take all the steps that I can to maximize my chances. As an aspiring author, I don't plan to immediately write a novel and then wait for a publisher to stumble across my work. Instead, I'm taking small steps that will ultimately (or hopefully) get me there: writing short stories first, reading extensively and critically, contacting published authors and asking for advice, getting published in magazines and newspapers, receiving objective feedback, and then improving on what I need to. I'm also aware that this dream might never materialize, but it's a chance I'm willing to take.
As a feminist activist, I'm committed to fighting against the sexualization and oppression of women. For a long time I thought that patriarchy was inevitable, but I've come to believe otherwise and am now working on changing the sexism that I see around me. I know it's going to be a long journey, but I'm glad that I have the chance to work for a cause that I feel so strongly about. Being an author is a personal dream, but working towards a more egalitarian society is my way of contributing to society. My involvement with feminist activism definitely makes my life more purposeful.
There are times when I feel disillusioned and discouraged, but I don't lose hope. Often, I'll spend days writing a story only to see it get rejected by the magazine that I send it to. A lot of times, I feel hopeless as a writer and feel like giving up. But these are just temporary setbacks, and I'll inevitably face a lot more obstacles before I get anywhere. As a feminist, I feel upset when I come across sexist ads, rape jokes, and gender discrimination -- all signs that society is still patriarchal. But then I look back and see how things have improved over the last century and how there's still a long way to go when it comes to women's rights. Obviously, I won't single-handedly eliminate patriarchy, and I might not even live to see a completely egalitarian society, but I'm still going to do whatever I can to make a difference. That's what the Great Perhaps is all about: it's about possibilities, taking chances, and rejoicing at how things work out in the end.
Against the mundane reality of everyday life, my Great Perhaps is my savior, my source of hope, my driving force. It's never a desperate chase though -- it's an ongoing journey that's exhilarating and endlessly fulfilling. I'm not sure exactly where it is that I'm going and how I'll get there. All I know is that I go to seek a Great Perhaps and I'm excited to find out where it will take me.
Calling all HuffPost superfans!
Sign up for membership to become a founding member and help shape HuffPost's next chapter