This article was originally written for and published by The Fashion Law and edited by The Fashion Law founder/editor-in-chief, Julie Zerbo.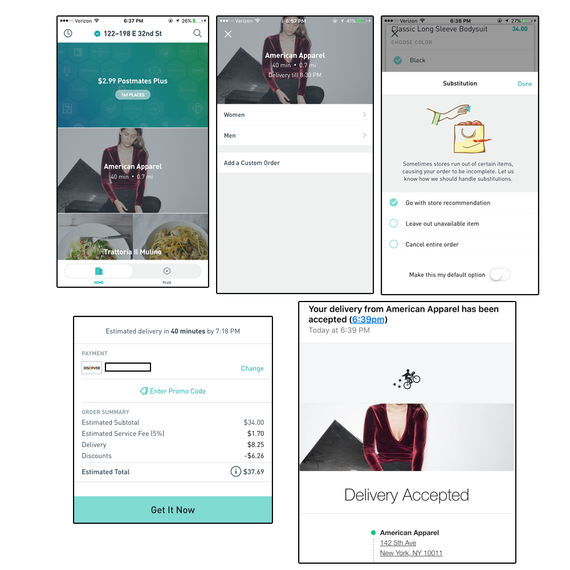 The See Now-Buy Now movement is not just for the runway, and American Apparel is at the forefront of the off-the-runway push. The troubled retailer, which ousted its founder and CEO and filed for bankruptcy in the past couple of years, is staging a revamp and apparently speed is to play a noteworthy role. The Los Angeles-based brand has announced that it is partnering with on-demand logistics provider, Postmates, to offer on-demand delivery to U.S. customers looking to buy and receive basics within an hour.
According to a statement from the brand, the new service will be offered in 79 of the clothing brand's stores nationwide, and spans 31 metropolitan areas. Consumers will have the ability to order over 50 of American Apparel's core items for men and women. In an effort to grow the clothing company's mobile and user experience, the consumer will receive their order within 60 minutes - for a mere $1.99 delivery fee, instead of the traditional four to five days it takes through standard shipping methods.
"American Apparel is improving its omni-channel consumer experience via Postmates by becoming their first major fashion retailer to offer 'on-demand basics'," said Thoryn Stephens, American Apparel's Chief Digital Officer. "You'll be able to receive hoodies, t-shirts, socks and more within a sixty minute delivery window -- it's great for traveling or last-minute needs.  For the second phase we're integrating the experience with RFID for real-time inventory availability."
Sound too good to be true? Maybe. A bit skeptical ourselves, we put the newly launched American Apparel delivery service to the test on Monday evening, and all went just as expected. After browsing the selection of American Apparel garments on the Postmates app (think: t-shirts, bodysuits, leggings, denim and dresses, etc. for women; and hoodies, tees, and underwear for men), we placed our order, for a long sleeve bodysuit, at 6:37pm.
Just before placing the order, we were prompted to a "Store Recommendation" option, which, if selected, will replace your order with a similar "store recommended" item in the event the one you chose is sold out. We selected to "go with store recommendation" but received the exact item we ordered. Guess our bodysuit was not out of stock!
As for the delivery, it ended up costing $1.99 after an automatically applied discount. The original shipping cost before the discount (and the one American Apparel seems to be aiming for after the introductory period) appeared to be $8.25. At 7:20pm - less than an hour later - our bodysuit came by way of a messenger in a traditional American Apparel bag. Viola!

This article was originally written for and published by The Fashion Law and edited by The Fashion Law founder/editor-in-chief, Julie Zerbo.
Calling all HuffPost superfans!
Sign up for membership to become a founding member and help shape HuffPost's next chapter