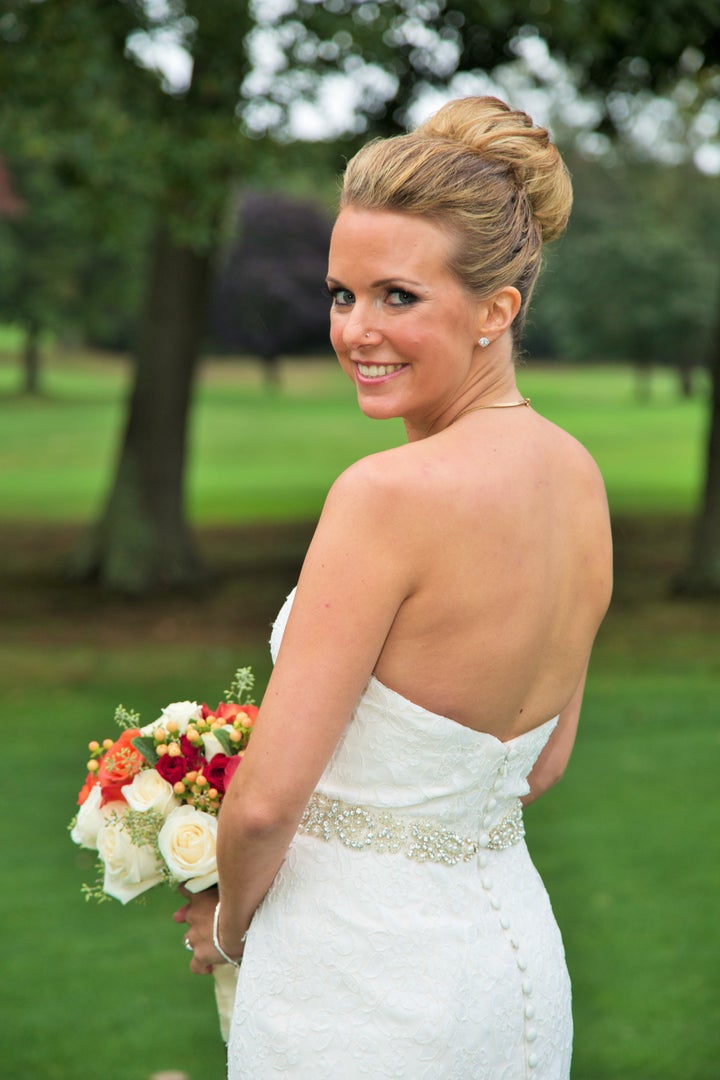 The weather in Connecticut is usually lovely during wedding season. The summer is warm but the breeze from the Sound provides a welcome respite from the humid air, especially in the hotter months of July and August. The fall is an especially desirable season for weddings, with mild temperatures and beautiful, picture-perfect foliage. That's why I chose October 3 as my wedding day—the tress and leaves would look gorgeous and the weather would still be warm enough for an outdoor ceremony.
But Connecticut is not immune to inclement weather, and not just regular rain. Flash floods, hurricanes, and even tornadoes are among the possibilities that any bride needs to consider. I chose my wedding date precisely because the chances of great weather were in my favor. Little did I know that there would be a major hurricane warning on my wedding weekend!
While I prepared with a Plan B in case it rained during the ceremony, I was not prepared to deal with a hurricane and all that meant for my wedding! Luckily, I had about a week's notice to make some last minute changes and make my wedding happen despite Mother Nature.
Here is what you can do to prepare for the weather and make sure not even a hurricane will ruin your big day!
I planned to have my ceremony and cocktail hour outside and the rest of the reception inside. I was so confident in the weather that I almost didn't reserve a tent. What were the chances it would rain during the short 15 minutes of my ceremony? Also, like most rental companies, the company I was working with required a non-refundable deposit for the tent, meaning that even if I canceled the tent a few days beforehand, the entire initial deposit is forfeited. As most brides will discover, that initial deposit for a tent can be hundreds of dollars, money none of us want to lose.
My mother ended up convincing me to reserve the tent about a month before the wedding, and I ended up getting lucky because most of the tents in the area had already sold out. Do yourself a favor and reserve a tent well ahead of time—the peace of mind from knowing you have a Plan B is worth much more than the deposit you might lose if you end up canceling the tent.
Unfortunately for me, having only a tent was not enough to keep my guests and I protected from the high winds and torrential downpour that were predicted on my wedding day. And because it had been raining so heavily the days leading up to it, the grounds were muddy and slippery. Even if the weather magically turned beautiful the day of, my guests would have had to trek through a very wet lawn to get to the ceremony site. For women in heels, this could have been a disaster.
Because of the conditions outside, I had no choice but to move the ceremony inside. With the help of the venue staff, our vendors, and my family, we were able to construct a beautiful site in the same room we were going to use for the cocktail hour. I was lucky that I was working with great people who were able to make this happen for us on such short notice, but every bride should prepare for a Plan C well in advance of the wedding day, and always have an indoor option.
While planning and preparing can certainly help, the best way to deal with bad weather on your wedding day is by staying positive and accepting that the weather is simply out of your control. I agonized over what I was going to do when I began hearing the hurricane reports my wedding week—I was so disappointed that I wouldn't be able to get married outside, which is what I had always envisioned for my big day. I worried about the photography, since most of my photos were planned for outside. And I wasn't exactly sure how the indoor ceremony spot would work, since the concept was so new to me and everyone involved, as we all had been planning for an outdoor ceremony.
But when I finally accepted that there was nothing I could do about the weather, I felt much better. I began to focus on what really mattered—friends and family from all over the country were traveling to be with us on our special day, and I was going to marry the man of my dreams. What was happening outside had nothing to do with the abundance of love that was inside.
It turned out that getting married inside wasn't so bad after all. Because the room was small, the venue had to set up the chairs theater-style, which created a really intimate feel. Many of our guests remarked that they appreciated that part of the ceremony and the close, personal vibe of it.
The weather also let up a bit after the ceremony, and we were able to get some photos outside before it began to rain again. Overcast, gray weather can actually make for beautiful, romantic pictures, because the softer light is often more flattering.
Ultimately, we can never predict what Mother Nature will bring on our big day, but we can make smart preparations and keep a positive attitude. As with marriage itself, not everything is going to be perfect on your big day, but it's your own attitude and outlook that will ultimately make it or break it.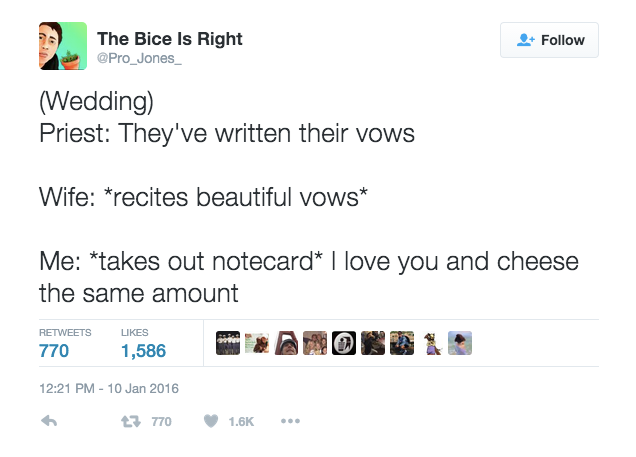 LOL-Worthy Wedding Tweets