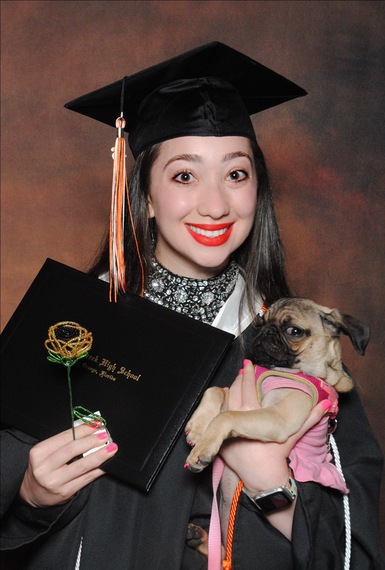 It's high school graduation 2016 in Daytona Beach, Florida. The 626 seniors were lining up backstage at the Ocean Center and I am one of the graduating seniors. The only difference is I've been asked not to line up and told I would not be able to participate in the ceremony. The reason? I have an emotional support dog with me, which was common knowledge within a matter of minutes. Surprisingly, there was a large amount of peer pressure not to include Penelope in the ceremony. Penelope is a pug puppy that has all of the legally provided papers with her as an emotional support dog. To be honest, I'm not sure which was worse - peers not understanding why a dog was at the graduation or the administration refusing to look at the paperwork! I'm here to explain why a pug was part of a high school graduation, what she represents and how it affects everyone. If you take a stand, than not only are you saving lives, you are also possibly saving millions if not billions of US dollars!
As a high school student, it was impossible not to see friends and other students who were stressed out with school and suffering from various levels of health issues. Society tends to generalize this time as "dealing with life" or "part of growing up" but the generation Z's of the world have problems that previous generations have not dealt with before.
The generation Z's never had a life without internet or social media. They have more issues with obesity than previous generations because of over-used technology and underused exercise. According to the Sydney Morning Herald, obesity and mental health are the two major health problems of my generation!
But lets look at a different generation because it isn't just the teenagers with stress, depression, alcoholism and drug addiction. In 2011, a study by AAMFT showed that middle-aged adults accounted for the largest proportion of suicides. And according to a report by CBS News, Florida ranked in the top 20 as the states with the highest rates of suicide. In 2016, US suicide rate climbed to a 30 year high and according to the National Center for Health Statistics, middle aged Americans - mainly white males, between 45-64 years having the biggest increase of suicide.
Elderly depression and suicide is also a major concern.
The depression and suicide count of soldiers and veterans are astounding! According to the stopsoldierssuicide.org , every day there are 22 veterans and 1 active soldier who commit suicide!
What do these studies on depression and suicide have to do with my high school graduation? There is one link that ties the two together. And that one link has four legs. Emotional support dogs can impact the quality of life for people of all ages. It's been documented that pets that are taken into daycares, nursing homes and other group facilities actually brighten up the day of the children or patients.
The Center for Disease Control (CDC) has address the health benefits of pets. It only takes a few minutes with a dog or cat or watching fish swim to feel less anxious and less stressed. According to Phsychomatic Medicine, your body actually goes through physical changes in the time that makes a difference in your mood. The level of cortisol, a hormone associated with stress, is lowered. And the production of serotonin, a chemical associated with well-being and happiness, is increased. Reducing stress saves your body wear and tear!
Research has even shown the long term benefits of owning a cat to include protection for your heart. Over the 20 years of one study, people who never owned a cat were 40% more likely to die of a heart attack than those who had. Another study showed that dog owners had a significantly better survival rate one year after a heart attack. Overall, pet owners have a lower risk of dying from any cardiac disease, including heart failure.
Now let's go back to my high school graduation. The seniors are lining up backstage. After I show proof(again) of Penelope being an emotional support dog. After I was told again if I didn't suffer from seizures she couldn't be considered an emotional support dog that they could allow at the venue! Finally, Penelope is admitted. The graduates in line pet Penelope and say how nervous they are about walking in the ceremony but just petting her help calm them.
The senior class walked through a packed auditorium of thousands and for the next 90 minutes, we listen to generic speeches of making your mark in the world, be bold, pursue your passion and treat your fellow citizens with respect.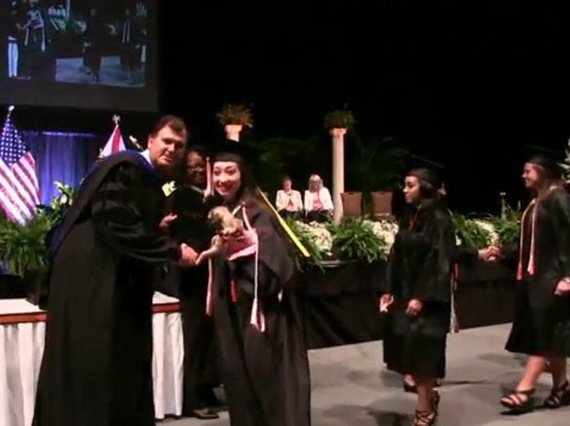 Animals have a huge impact on us. They are not only good companions to have but they also can directly help you emotionally and even indirectly physically. For this reason, I think it's important to raise awareness on the issue of emotional support animals. These registered pets can help their owners and everyone they encounter. They can make a person feel happier, loved and safe - from teens with stress of school and life changes to military veterans dealing with depression.
High school graduation is an accomplishment but it's also a bridge to the future - one of commitment between yourself and others to go out there and make a difference in this world. Maybe we can do that with a little help, one paw at a time.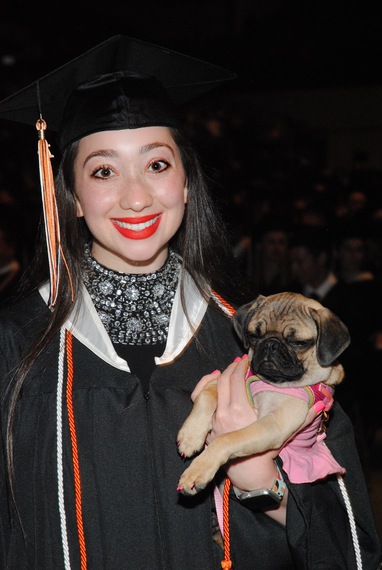 REAL LIFE. REAL NEWS. REAL VOICES.
Help us tell more of the stories that matter from voices that too often remain unheard.