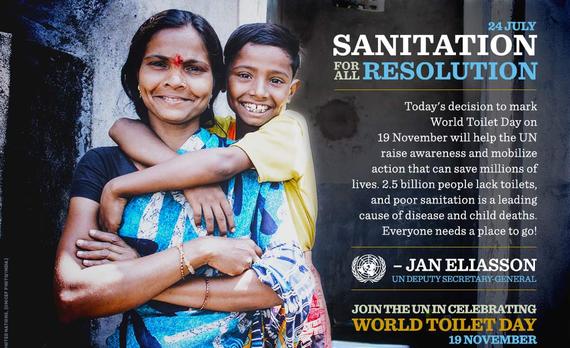 In my previous article, I described my experience at the United Nations (UN) during the Youth Assembly this past summer. I also presented my "Individual Development Goals". One of them was to enlighten initiatives taken around the world to reach the "Sustainable Development Goals" adopted by the UN last month.
What if I told you that with just a minor investment, you could significantly impact up to 40 % of the World's population? Would you take up the challenge and come to the aid of 2.8 billion people? These 2.8 billion people are among those deprived of basic sanitation, resulting in the death of an estimated 700,000 children annually. Funding for sanitation has been extremely low in comparison to water and almost negligible in comparison to funding received by development sectors such as health and education.
Of the world's seven billion people, six billion have mobile phones. However, only 4.5 billion have access to toilets or latrines - meaning that 2.5 billion people, mostly in rural areas, do not have proper sanitation.
For these reasons, the United Nations created the "World Toilet Day" on Thursday 19th November 2015 to raise awareness and incite us to take actions.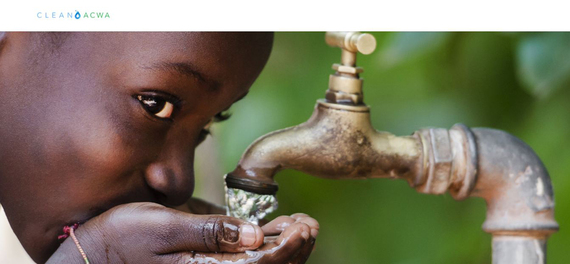 Cleanacwa is an NGO working in the Water and Sanitation sector in selected communities in the Eastern region of Ghana. The initiative started in 2009, when a pilot project was implemented in Agyementi, a community in the Akuapem South District. Various innovations were employed to address water, sanitation, and hygiene (WASH) challenges, particularly good hygiene practices and the management of human excreta, some of the current challenges in Ghana.
After the success of this pilot project, Cleanacwa expanded its work to two districts in the Eastern region of Ghana: Suhum Municipal and Ayensuano. Here, 120 communities were identified as not having received any WASH services in the past two or three decades. Due to the dire sanitation and hygiene issues faced in these communities, Cleanacwa brought together, in April 2014, some of the brightest minds in development to improve water quality, sanitation, and hygiene in Ghana. A "hackathon style" competition was launched, where teams of two or three competed against each other and pitched their ideas to a panel of renowned judges. The winning team was invited to present their idea at Cleanacwa's Innovation in Sanitation event in Ghana.
Once again this year, participants will present their ideas on how to tackle the sanitation issues in front of a discerning panel of judges. Among the important stakeholders present we can mention the Ministry of local government and rural development , the Ministry of water resources works and housing, the Community Water and Sanitation Agency, UNICEF, political parties, civil society groups, private sector, representatives from Harvard University and philanthropists.
One University, One Investor, One Architect :

The Harvard University Center for African Studies (CAS) - The Harvard University CAS is "fosters the creation and dissemination of knowledge about Africa and African perspectives, across the University's Faculty of Arts and Sciences and Professional Schools. As a University-wide entity, the Center works collaboratively with Harvard's many loci of Africa-related expertise to expand upon and create new opportunities and resources for education and research, and to enhance connections among and between scholars, students, and groups focusing on Africa-related knowledge at the University, in the broader community, and through partnerships on the continent."
Sangu Delle - Sangu Delle is an Entrepreneur, Author, Clean Water Activist, Soros Fellow and TEDGlobal Fellow. Sangu is Founder and Chief Executive Officer of Golden Palm Investments (GPI); an investment holding and advisory company focused on building world class companies in Africa. GPI operates companies in high growth industries and funds promising start-ups that can have social impact and generate jobs. Sangu is also the co-founder of Cleanacwa.
Maryam Eskandari - Maryam Eskandari is Educator, Entrepreneur, Aga Khan Program in Architecture Fellow and Rothschild Fellow. Maryam is Founder and CEO of MIIM Designs a multidisciplinary design studio that is in the vanguard of creating sacred spaces that reflect contemporary needs through environmentally sustainable materials. Prior to MIIM Designs, Maryam was the Director for the American Institute of Architect Associates. Currently, She serves on the Board of Directors of Harvard's Alumni Association, Franklin Delano Roosevelt Foundation and is an Ambassador to HRH Reema Bint Bandar's 10ksa Breast Cancer Awareness in the Middle East.
Calling all HuffPost superfans!
Sign up for membership to become a founding member and help shape HuffPost's next chapter