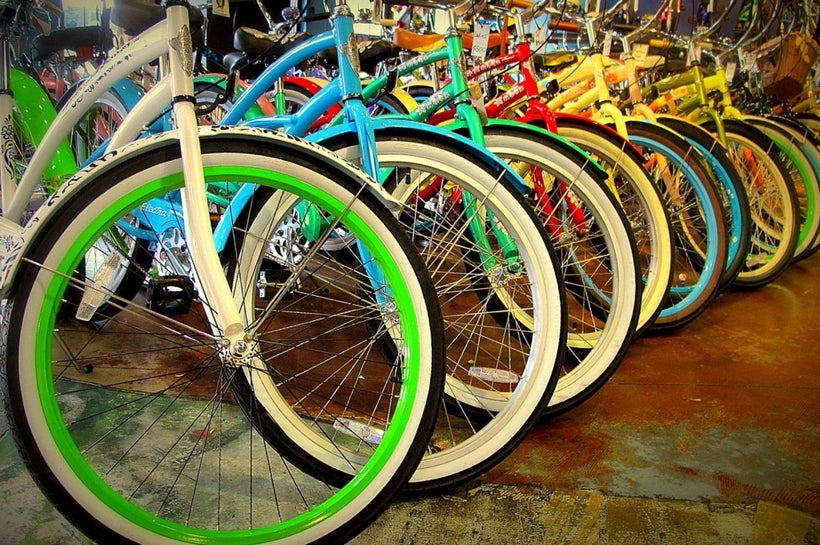 Riding a bike. "No big deal, right?" After all, how much more was there to learn after giving up training wheels at the tender age of six?
"No big deal, right?" I surmised, when curled up on the couch one stormy night, eagerly searching the Internet for bikes appropriate for those of us with creaky joints and jiggly kneecaps.
I ventured into my neighborhood bike store, which sported a dazzling array of two-wheeled wonders. I debated between bikes with just foot brakes – the only kind I had ever ridden – or leaping into the unknown world of bikes with hand brakes, which I'd never used. Pause for some thought, but "no big deal." And the whole gear issue? Whatever. I went with the recommendation from the nice bike guy, Paul, and settled for seven gears.
"Tee hee," I grandly announced. "One for each day."
My husband gave me his squinty eyed gaze (which always signified profound disbelief), pulled me aside and furiously whispered in my ear, "It doesn't quite work like that!"
"No big deal, right?" I muttered to myself and shot him back a dirty look.
What WAS a big deal? Picking out the color of my bike. I'm very particular about color. Some people may call it being shallow. I prefer to say I have discerning taste and take great pride in buying consumer goods consistent with my self-image. Anyway, I went with bright coral - with one additional show stopping feature: turquoise colored inner wheel rims. I figured the cruiser would look stunning parked in front of my salmon colored, Spanish style, urban two-story house. And bright enough so that both pedestrians and cars could readily see me coming.
The helmet was the next item of interest. To me it was, you guessed it: "No big deal." To my overprotective, safety-minded, realist husband it was "the biggest deal." Patiently and intently, he listened to Paul explain the myriad safety features of every helmet displayed. They debated the merits of each and finally my husband picked out one for me. It was by far the most hideous and unflattering of the bunch. But I didn't protest.
Picking out a water bottle, water bottle holder, front and rear reflectors, lights and bell ringer went quickly and smoothly. That was fortunate, because on the next item of accouterments, I was intractable: the basket on the front of my bike. I insisted on white wicker. Not brown wicker. Not a neon green plastic. Not metal. I only wanted a white wicker basket. Paul took off to forage in the back room and probably popped a few mood enhancing pills while there. My husband just looked at me with mild consternation, mixed in with a tad of wry humor. I got my white wicker basket.
I hadn't ridden a bike since tenth grade – fifty five years ago. Not since I had gotten my driver's license. Not since my blue bike morphed into a dust laden artifact in the back of the garage. "No big deal, right?"
"Try the demo out before we put in the final order," Paul urged. "See how you like it."
Gleefully and fearlessly I hopped on the demo, pedaling furiously (but wobbly) down the deserted side street next to the bike shop. I was quite impressed with myself.
The very day my bike was delivered, I responsibly walked it across the street to a nearby church parking lot. Empty. Devoid of cars, with long stretches of unbroken blacktop. Jumping onto my bike, I began pedaling furiously. My initial, unbridled burst of euphoria was short lived. Trying to ride in a straight line without veering crazily to the right and left was proving tricky. And executing turns using hand brakes was more challenging than I had breezily imagined. Nevertheless, every afternoon for the next three days, the parking lot was my training ground for re-entry into the real world of pedestrians, uneven sidewalks, and traffic whizzing by.
One evening, before sunset, I ventured out onto an actual sidewalk to test my biking skills. Choosing a short block, I scouted the sidewalk for cracks and fissures. None. Scanning the horizon in each direction for pedestrians assured me the coast was clear. I critically assessed the situation: to the left of the sidewalk was a heavily trafficked boulevard skirting the bay. BUT to the right of the sidewalk – fronting the entire perimeter of the sidewalk - was a grassy expanse of lawn devoid of trees and bushes – which, of course, in my idiot innocence, I never expected to utilize as a safety net.
I began to pedal – slowly. I gripped the handle bars tightly, I fixed my gaze straight ahead. Excited. Optimistic. Anticipating that wonderful sense of freedom that self-propelled movement elicits. Within seconds, the sounds of the cars flying by in such close proximity unnerved me. How much larger and more powerful they were than my fully adorned, coral colored cruiser with the white wicker basket. I started to wobble crazily. Panicking, I steered my bike onto the grass, lost control, and the bike and I came crashing down in one fell swoop.
The quickness of the crash shocked me. Critically, I looked over the bike. Thoroughly, I checked myself for glaring loss of limbs or broken, jutting bones. All seemed intact.
"No big deal, right?" I reminded myself, and determinedly climbed back on and began pedaling. Again cars whizzed by. Again I panicked. Wobbled like crazy. Starting veering toward the road. Sharply pulled in the other direction. And crashed onto the grassy pad area once more. Again, I picked up my bike, noted a few more grass stains on my white jeans, but no bodily or bike harm, and proceeded in the direction of home.
I'd like to say I got up the third time and made it to the end of the block successfully, without wobbling, panicking and crashing. In truth, I was simply too rattled. After the second fiasco, I did indeed pick up my bike and assess damages. But I didn't get back on it. Rather, I held onto it tightly. And I walked it back home.
* Riding a bike at age seventy for the first time in a very long time is "a big deal."
* I need more practice in the church parking lot before cruising in close proximity to pedestrians and other bikers.
* Sidewalks and street riding are off limits pending improved balance.
* Forget fashion and vanity; proper attire is a must in case of falls.
* I must solve the mystery of the "sweaty hands syndrome," which causes precarious, slippery grip of the handlebars.
* I ordered twelve orange plastic cones to practice maneuvering around, so that, hopefully, my balance would improve.
* I added twenty minutes of daily parking lot practice to my to-do list. * I took more seriously my oldest son's admonishments to be careful and aware.
* I ditched my sandals in favor of closed toe sneakers and limited my bike riding attire to shirts with long sleeve and ankle length leggings and jeans.
* I bought a pair of biking gloves – in white, of course, matching my helmet – to absorb excess hand moisture.
* If, after all my practicing, traffic still terrifies me, I will consider attaching a bike hitch to the back of my little red sedan and riding on dedicated bike trails only.
* What you do with great grace and minimal effort at age six takes practice, grit and mindfulness at age seventy. It's something you should know when riding a bike after fifty-five years.
Calling all HuffPost superfans!
Sign up for membership to become a founding member and help shape HuffPost's next chapter
This post was published on the now-closed HuffPost Contributor platform. Contributors control their own work and posted freely to our site. If you need to flag this entry as abusive,
send us an email
.