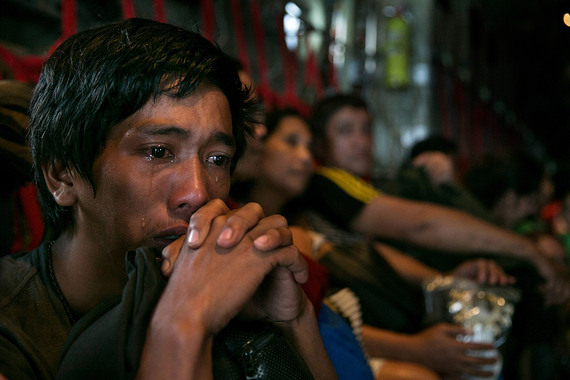 A man cries on a packed C130 aircraft as he and hundreds of other survivors of super typhoon Haiyan are evacuated from Tacloban. Image: Getty
Would you hand over thousands of dollars to a stranger on Facebook out of desperation and hoping he would do as promised? I did and this is what happened.
On November 8, 2013, I was on the phone to my mum at dawn. She and Dad had recently retired and had been making regular trips to the Philippines where they regularly stay in their second home on the island of Samar, my father's hometown.
That day was different though, and my phone call was a mixture of worry and anger. A super typhoon was at their doorstep and they decided to sit it out. It was a short conversation. I don't remember much of it, only mum saying there was water rushing into the house. We said "I love you" and then the phone cut off.
By noon, I would sit in my living room staring at the satellite weather as the eye of the super storm and its terrifying force slammed into their little coastal town and flattened everything in its path.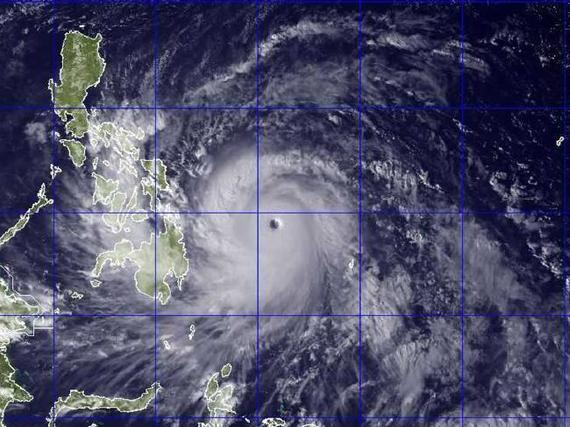 News.com.au: This image provided by the U.S. Naval Research Lab shows Typhoon Haiyan taken by the NEXSAT satellite Thursday Nov. 7, 2013 at 2:30am. EDT. Picture: US Naval Research Lab / AP Source:AP
And my parents were right in the eye of the storm. I tried to call them again and again. I couldn't get through.
By the second and third day, and with yet no word, worry turned into fear and panic as I watched the destruction unfold live on TV.
With little information coming from western media, I tuned into the Philippine local media and joined various Facebook groups for live updates. I would learn horrifying stories and familiar places that now resembled a war zone -- roads littered with bodies of men, women and children, entire towns and villages swept away, a once bustling city brought to its knees.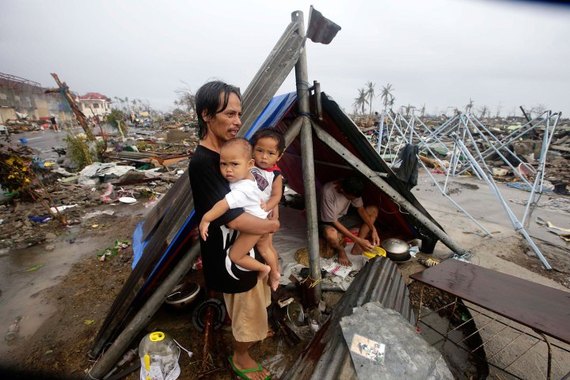 A father and his children wait for food relief outside their makeshift tent. Image Source: Dennis M. Sabangan / EPA
On the outside, I remained hopeful and upbeat, afraid that if I entertained the smallest of doubts, I would fall to pieces.
I turned to my new found friends on Facebook for comfort. Strangers from around the world who call Samar and Leyte home. Brought together by a disaster that smashed our childhood memories to pieces, we bonded immediately like long lost friends each carrying a piece of the puzzle that would make us whole again.
We shared a common goal: to search for our loved ones. Sharing comforting words, encouragement and every morsel of information we could find, we grieved together as we witnessed our childhood city bow to Haiyan.
On the inside, I felt hopeless, helpless and selfish; wishing for some miracle that would somehow spare the lives of the ones I love.
Much of the media coverage focused on Tacloban City which was the epicentre of the disaster, however, the destruction extended much farther. My parents were in the historic, coastal town of Balangiga located in Eastern Samar, just 86 kilometres from Tacloban.
Various reports indicated that Balangiga and many of its neighbouring towns in Eastern Samar were simply gone. Local radio stations reported that neighbouring town Giporlos suffered complete destruction with 98% of homes destroyed.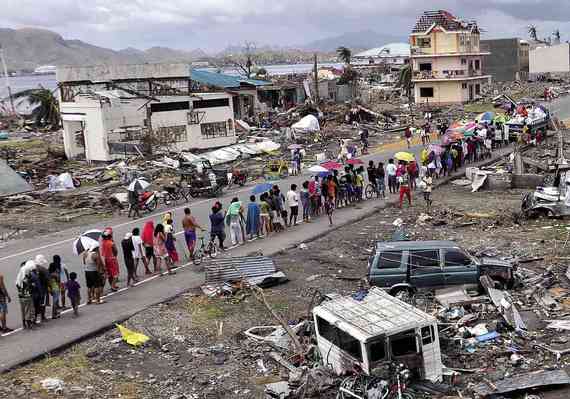 Super typhoon Haiyan victims queue for food distributed by a government agency truck. Image: Richard Reyes/Inquirer
There was just too much destruction everywhere. It was clear help was not coming for them any time soon.
So together with my brother and sisters, we decided to take action. We met a man on Facebook who was living in Cebu -- an island lucky enough to escape the full brunt of Haiyan. He claimed to be from Balangiga and also claimed to know our parents. He offered to organise a private convoy to deliver much needed relief packs. But he needed money to fund the operation.
Would you empty your bank account and hand over your money to a complete stranger you just met on Facebook hoping he would do as promised? As a digital native, I am acutely aware and vigilant of internet frauds and the various scams targeted at vulnerable and unsuspecting people on social media. My siblings and I deliberated. But time was of the essence.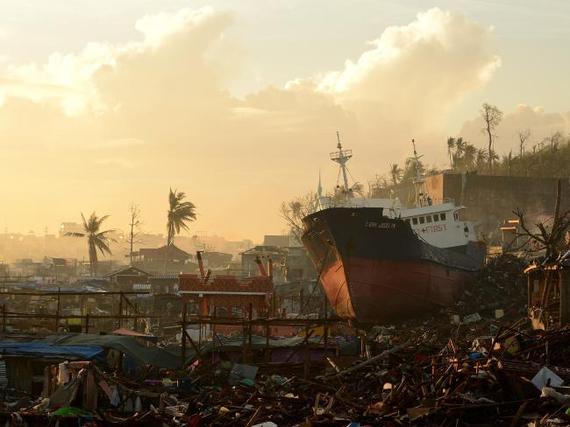 A ship is washed ashore crushing houses in Tacloban, Leyte Province. Picture: Noel Celis / AFPSource:AFP
Getting there ourselves to organise relief operations would take far too long and require local contacts and connections we didn't have. Commercial flights to the island had been suspended indefinitely; it was near impossible to travel.
What would you have done?
We simply asked ourselves "What are we willing to risk to rescue our parents or to simply find out if they had survived?" What are we willing to give to help this little town our parents love so much?"
The answer was simple; we would keep on giving until it stops hurting.
That day, we made a decision that would change us forever. We handed over thousands of dollars to a complete stranger resolved with the possibility we could lose it all. We were desperate and we had no other choice. The only choice before us was to lay our trust in humanity.
Four days later, a private convoy of relief goods for approximately 1,500 families sailed for Balangiga. The operation was led by Oel Carisma; he was no longer a stranger. He was a friend. True to his word, he found my parents and sent us a photo of them via Facebook.
If there is one thing I learned during this tragic event, it is that the world is full of kind-hearted, generous souls, willing to extend a hand and risk their own safety to help others in need. And our story is just one of hundreds of thousands; many are yet to be heard.
My parents came face to face with the biggest typhoon on earth and they survived. With over 1.4 million people displaced by the super typhoon, we count ourselves one of the very few who were simply lucky.
I urge you to do something different this coming holiday season. Give instead to these charities and organisations. They need our support so that they can continue the tireless and transformational work they do for communities that need help.
The original and full version of this article first appeared on www.woman.com.au. You can read it here.
Calling all HuffPost superfans!
Sign up for membership to become a founding member and help shape HuffPost's next chapter