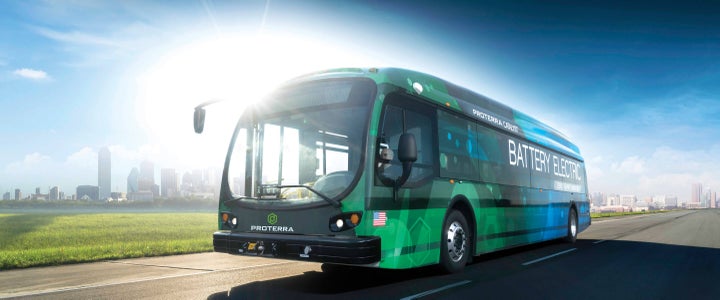 When's the last time city transit employees were so excited over a new bus, they publicly performed a line dance? Never.
But when Houston unveiled its first Proterra electric bus in November, Metro employees danced the "Electric Slide." (Go to 2:30 in the video; adorable.)
As Proterra CEO Ryan Popple recently pointed out to me, the US's "very pragmatic" transit market turns on the cool factor when deploying new electric buses, enveloping them in special "wraps," conducting press events, and placing these "heavy duty electric vehicles" on high-profile routes.
"Electric buses are a thousand times cooler," said Ryan, former senior director of finance for Tesla. "Does anyone do all that when they deploy a fossil fuel vehicle? Absolutely not."
Considering all the exciting things happening where transportation meets technology today, who knew giant city buses may set records and completely reinvent an entire market sector before the likes of self-driving cars, ridesharing apps and personal ("light duty") electric vehicles (like Teslas)?
Ryan, also a former partner at Silicon Valley venture capital firm Kleiner Perkins Caufield & Byers, believes city transit will be the first transportation segment to go 100-percent electric.
"The electric vehicle is such a perfect fit and makes so much financial sense for transit," Ryan told me. "I really do think this is a first vehicle category where the financial markets will conclude relatively quickly that there is no growth for fossil fuels in transit buses, that it's a dying market, that it's going to be 100 percent electric in the next 10 years."
Considering the average life of a city bus is 12 to 15 years, this wide-open market sector seems pretty exciting. Look out the window right now. If you see any city buses, they'll be out of service or a fossil period within Ryan's 10-year timeframe.
"Internal combustion is the worst possible technology for stop-start low speed urban mobility," said Ryan.
He points out that with the 4-mile-per-gallon fuel efficiency of today's average diesel bus, and with 70,000 buses currently in service across U.S. urban streets, American taxpayers are spending more than $2 billion annually in fuel and associated operations.
"Switching to EV would reduce fuel and maintenance costs by up to 80 percent," Ryan said. "Could you imagine if transit systems were able to reduce operating costs by over $1 billion per year? That would be like the FTA having an extra $1 billion every year for new routes and infrastructure."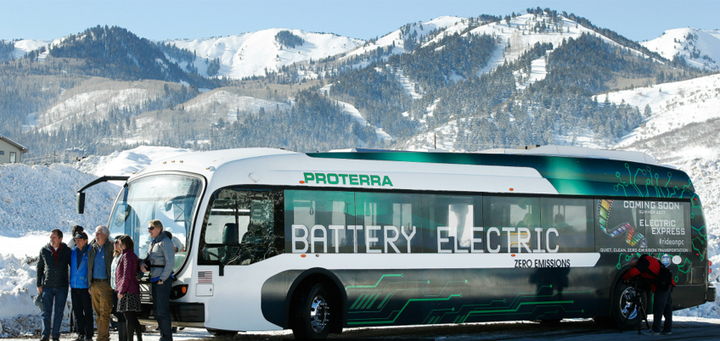 Houston Metro has leased just one demo bus (to test durability in local conditions before possibly procuring more), but Proterra already has deployments successfully operating in a dozen cities, and new orders from more than 26 agencies. In 2016, more than 5 percent of the volume for new transit bus orders went to Proterra. That's not 5 percent of EV buses, but 5 percent of the total market – including diesel, diesel hybrid and natural gas. More than half of the top 20 largest U.S. transit systems have a Proterra deployment already or vehicles on order.
"Something big in EV is happening, and faster than most people realize." — Ryan Popple, CEO, Proterra
Additionally, Proterra kicked off 2017 by announcing a $140 million equity funding, which it will use to boost manufacturing capacity with a new plant in Los Angeles County and to increase production at its Greenville, South Carolina, facility. Also this month, Proterra and King County Metro in the Seattle area made history by announcing the nation's largest electric bus procurement to date – an order for more than 70 vehicles.
Looking at announced deployments and orders, it appears that Proterra has about 75 percent of the market, followed by BYD of China and Canadian bus builder, New Flyer. Green Power Bus - similar to BYD - is also importing Chinese EV technology, and recently announced an order from Porterville, California, as well as a demo in its hometown of Vancouver, Canada. Proterra has to compete against both Chinese and Canadian rivals for the U.S. market, but considering our new president, I think Ryan and team may have a new advantage in the race to convert the U.S. transit market to EV.
Proterra was founded by bus manufacturing guru Dale Hill, who pioneered the manufacturing of hybrid buses and divides his time between Boulder, Colorado, and New Braunfels, Texas. Being a good Texan, Dale's especially proud cities like Houston, San Antonio, Dallas and Port Arthur have procured Proterra buses. However, and I do mean HOWEVER, how can it be that my hometown of Austin is not yet on this roster?
I asked Ryan what kind of city makes a perfect complement to incorporating electric buses into the grid.
"I think the ultimate opportunity here is when you go into a city that has a municipally owned utility and they have the opportunity to use their electricity demand to drive investments in clean energy or to decarbonize their grid," he said.
Hello. Austin? The other cool thing is Ryan envisions quick-charging stations that accommodate heavy- and light-duty vehicles at once.
"There should not be separate infrastructure for all these different types of EVs," he said. "A fast charge for a car works very well for a bus. Think about a 'park and ride' facility where you have solar covered parking, so you've got onsite solar generation, you have light duty EV charging so someone can drive even a short-range EV to the bus or train station and then that same infrastructure can be used to charge electric buses over night."
I admit it. I do not take the bus in Austin. I live in Hays County south of Austin and carpool in to Austin with my partner in a hybrid "light duty." But I promise, the minute we get a station like Ryan describes in South Austin, I'm on board! Exciting!
Related
Popular in the Community