Dr. Martin Luther King Jr. was one of the best orators in the history of the world and was one of the Top 10 Americans ever. Believe me, I'm not comparing myself to a legend like Dr. King, but I'm going to share my version of the "I Have A Dream" speech with all of you.
Before I start, let me give you some background.
I took time off from my corporate job for baby bonding with my 3-month old daughter. It's a lot of work being a stay at home parent, but it's so damn rewarding. My baby girl smiles at me nonstop these days and I know it's attributed to the one-on-one time I'm spending with her. It's a blast.
One morning last week, my MDW (Mommy Doin' Work) was running late for work and was worried that she wouldn't be able to get DDW1′s (Daughter Doin' Work) hair done before I had to take her to school. I told her that she could leave and I'd handle it. She countered by saying that doing her hair requires attention and the baby would get upset if I left her alone while I played the role of stylist. Again, I told her that I'd handle it. On the way out she said, "I'll believe it when I see it."
That's when I put DDW2 in the Ergo, stood DDW1 on a stool and worked my hair magic. During the process, I thought, There's no way my wife will believe me if I don't take a picture of this. That's when I set my camera up, put it on a 10-second timer, and took the photo you're about to see. After 15 minutes of multitasking, the final result was a nice, tight ponytail for big sister and a happily sleeping baby in the carrier. Mission accomplished. I emailed the photo to her with the caption "Boom." and we both got a good laugh out of it.
Little did I know how interesting things were about to become.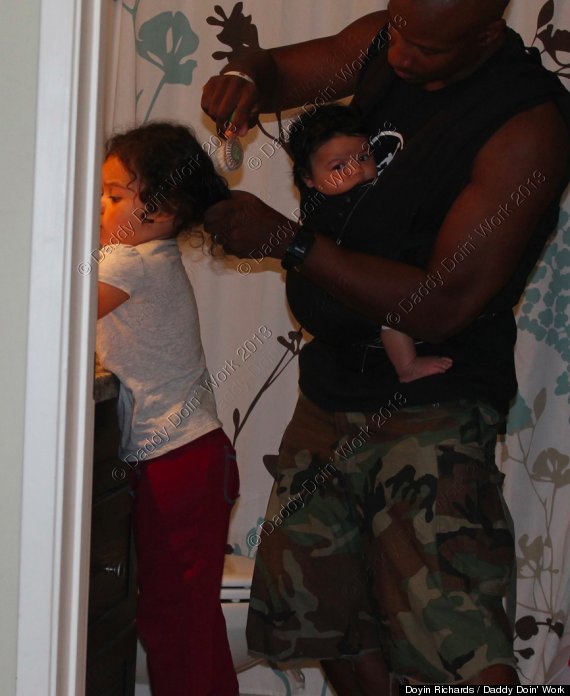 The calm before the Internet storm.
After eating some breakfast, I figured I'd post the picture on the DDW Facebook and Twitter feeds. Within hours, the picture went viral (well, at least "viral" for me). At last check, the photo was shared over 4,800 times, received over 3,000 comments, and was liked over 190,000 times. The photo was also "borrowed" by at least 13,164 Facebook pages before I could watermark it. (OK, maybe not 13,164 Facebook pages ... it was probably closer to 23,164 Facebook pages) That was a head-scratcher for me, because I never experienced something like this since I started blogging. The reactions, comments, and emails I received ranged from the overwhelmingly positive to the downright nasty. But as I went through everything, I had a chance to reflect on what I hope for the future. Let's do this.
I have a dream that insecure dads will spend less time hating on good dads and more time on getting their own shit together. I'd say 95 percent of the dads who follow me are actively involved in their kids' lives and view parenting as a 50/50 endeavor with their wives/girlfriends. They send me "Thank You" emails, they'll say it's refreshing to see a guy (me) who embraces fatherhood as much as they do, and they'll refer other good dads to my blog because they know I'll celebrate them. Words cannot express how much I appreciate those men because they will play a huge role in making fatherhood "cool" again. (Granted, I always thought fatherhood was cool, but that's another story).
On the flip side, there's a small pocket of men out there that can't stand me. Here's a sampling of some of the private messages and comments I received from them after I posted this picture:
- "He probably rented those kids. They don't even look like him."
- "I would bet anything that you're a deadbeat."
- "OK buddy, cute picture. Now why don't you hand the children back to their mom so you can go back to selling drugs or your bootleg rap CDs?"
- "So do you do this for all of your illegitimate kids?"
As I've said in previous blog posts, I'm not immune to hate mail -- and some messages are racist in nature and some aren't. It comes with the territory of doing what I do and I completely understand that. However, do you know what's funny? Oftentimes when a dude posts a public hateful comment on my FB page or Twitter feed, it's followed up by his wife or girlfriend emailing me privately to apologize for his behavior. These women will tell me that their men are angry that I'm making them "look bad" because they aren't holding up their end of the bargain when it comes to parenting. Here's the thing: I don't make anyone look bad. These guys are doing a fine job on their own according to the women in their lives.
Memo to the small pocket of male haters I have: Why don't you put big boy shorts on and get in on the revolution of good fathers? It's not a good look to tear down dads for doing the work your wives wished you were man enough to do on your own. If you don't believe me, just ask your spouses. They'll tell you.
But don't worry. I'll still be here whenever you're ready to step your game up and join #TeamGrownAssMan.
Again, to the amazing fathers out there reading this (which happens to be the overwhelming majority) -- much love to you guys. I appreciate you. Your spouses appreciate you. And most importantly -- your kids appreciate you.
I have a dream that people will be judged by the content of their character and not by the color of their skin. OK, so I had to paraphrase the great MLK on this one. Surprisingly (well, not surprisingly to me) in this instance, the majority of racist emails I received came from other black people. Again, here's a sampling:
- "This would be so much better if those kids were BLACK!"
- "Look at this Uncle Tom. No chance he would be doing this if his kids were black."
- "I'm sorry, but I can't support a brotha who didn't marry a black woman."
- "Your MOM is black and you dishonored her by marrying outside of your race? You probably can't handle a strong black woman."
***DDW steps away from his computer to check his calendar to ensure it's 2013 and not 1913***
Allow me a moment to address the small pocket of racists who share the same race as me.
Dr. King dedicated his life to ensuring people could live a life free of judgments based on skin color. He dedicated his life to ensuring future generations could marry anyone without dealing with persecution. But there are people "on his team" (yes, I know we're ALL on the same team, just roll with me on this, please) who are sabotaging his work. If the first thing you want to do is to criticize the skin color of my kids for not being as dark as mine, you have some serious issues.
Yes, I married a woman who is half-white and half-Japanese. Yes, the skin of my babies happens to be a few shades lighter than mine. Yes, my mom (a black woman born and raised in the deep south of Mississippi) loves my wife and kids because she's smart enough to know that love is colorblind. All of my black friends and family members feel the same way.
Grow up and stop being so f*cking ignorant. You're a damn embarrassment to Dr. King and his legacy.
To be clear, I'm not addressing all black folks here -- because the overwhelming majority of my black followers are kind, clear-thinking, and intelligent individuals.
It's just that the dumbest ones are usually the loudest ones.
I have a dream that people will view a man's love for fatherhood for what it is instead of thinking there's something "fishy" going on. A lot of people really dig the fact that I dig daddying (yes, I made it a verb) as much as I do. However, since I started my blog 17 months ago, I've come across some people who will look at me and think, There's no way this guy can be as passionate about fatherhood as he is. I bet he's using his kids in an attempt to become rich and famous. It's sad.
Think of the Mommy blogs you like to follow (some of which have a larger following than I have). If they share their love for motherhood, you probably wouldn't think twice about it because that's what moms are "supposed to do," right? But if a human being with a penis shares the same passion for being a parent, it somehow becomes strange and fishy? And that makes sense ... how, exactly?
I love being a dad and I love sharing my love of fatherhood with others. Shit, being a dad is one of the few things in life I'm actually good at. Of course I'm going to be passionate about this gig. My dream is that ALL people will embrace men who embrace fatherhood instead of wondering if they have ulterior motives. Remember, we're the good guys in this fight.
I have a dream that people will view a picture like this and not think it's such a big deal. Don't get me wrong here -- it's a very cute picture, and it's cool when people say so. However, I start to get a little uncomfortable when people want to start planning parade routes for me because of it. Somewhere there's a dad doing the exact same thing for his daughters. Somewhere there's a dad who put his foot down with his boss and refused to attend an "urgent staff meeting" so he could leave work early to attend his daughter's dance recital. Somewhere there's a single dad successfully getting his three sons ready for school. Somewhere there's a stay at home dad crushing all of the cooking, cleaning, laundry for his family. Somewhere there's a dad who would rather play catch in the backyard with his son instead of killing pixelated terrorists on his XBox.
In other words, there are plenty of good, involved dads out there. Many of them are reading this post right now.
I've posted hundreds of pictures of my family since I started blogging and I had no idea that this one would cause such a seismic shift on the WWW. But what if I posted a picture of MDW doing what I did in that picture? Many would probably think it's cute, but after ten seconds of looking at it, they would probably move on to the next shiny object on their newsfeed. Why? Because it just wouldn't be a big deal to many people if a woman did it.
Until we can get to the point where men and women can complete the same parenting tasks and the reactions are the same, we will have problems. If you want to create a statue for me for taking care of my daughters, create one for the moms who are doing the same damn thing everyday for their kids without receiving a "Thank you" or an "Ooooh" or "Ahhhh."
These behaviors should be expected of moms and dads. No exceptions.
For many of you, this is the first blog post you've ever read from me. Just so you know, I'm usually the lighthearted guy online and I'm rarely this angry -- but today I had to regulate a bit.
In time you'll determine if you love me or hate me. If you love me, that's good news because I'm going to continue doing the stuff you love. If you hate me, that's bad news because I'm going to continue doing the stuff you hate. If you fall into the "hate" category, just send my blog to all of your enemies (that'll show 'em). For the rest of you, I'm so humbled and happy to be a guy you follow and enjoy as we embark on this crazy road of parenthood together.
On a side note, I wrote this entire post while my baby girl was sleeping on me in the Ergo. It's not a big deal. That's just what a Daddy Doin' Work is supposed to do.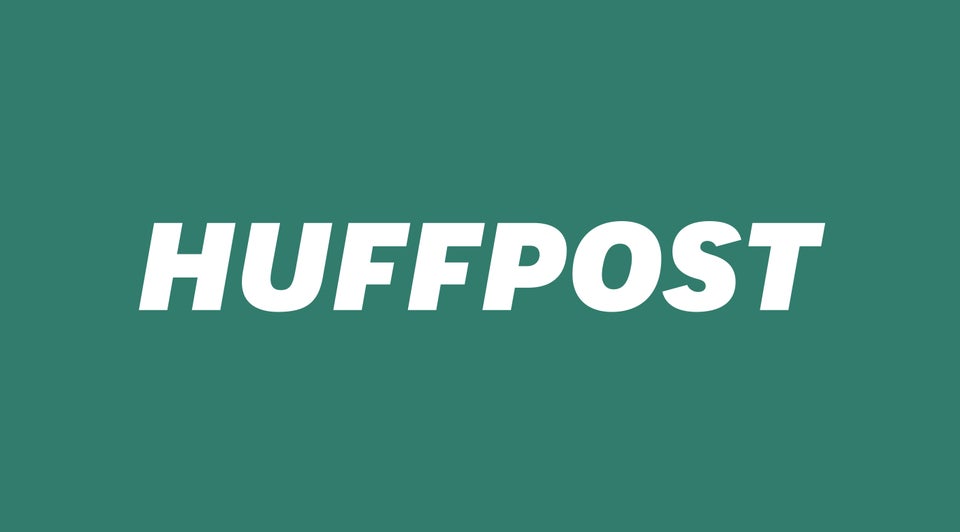 Awesome Dads
Related