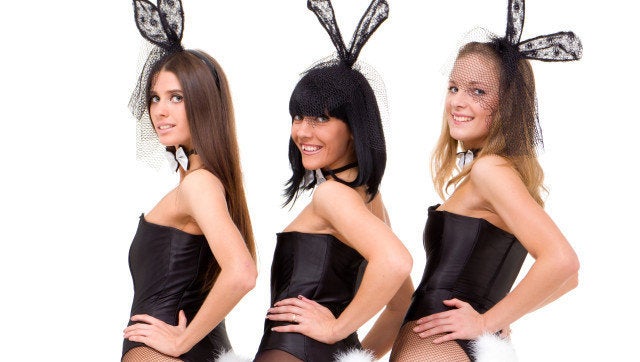 The completed sale of the iconic Playboy Mansion last month officially signaled the beginning of the end of the American dream. Well, maybe not the dream, but certainly a dream. Mine. Not, that I ever dreamt of one day owning the legendary estate, rather to simply visit- as a guest. Ever since I moved to Los Angeles 10 years ago, an invite to the House of Bunnies hopped to the top of my bucket list.
Just about any red-blooded heterosexual male growing up in the 70's, 80's and 90's fantasized about partying at the Playboy Mansion. Is it a little juvenile? Maybe. Then again, the Mansion was a sovereign place where boys could still be boys without having to apologize for it. Nestled in the pristine Holmby Hills section of Los Angeles just below the mystical Sunset Boulevard, dreams of frolicking young ladies and random wild animals roaming across the perfectly manicured grounds was a reality beholden to the privileged few. For a man to gain access he only needed to be incredibly famous or personally friends with the gentlemanly master of the residence, Playboy's O.G. Commander in Chief, Hugh Hefner.
Meticulously crafted guest lists for events at the Mansion often resembled a who's who of Hollywood's favorite playboys. Favorable ratio requirements ensured a plethora of Venus beauties on display. Despite all the uninhibited fun and games that accompanied the sultry late nights in the infamous Grotto, under Hef's manifest, sophistication always ruled over sleaze. Respect and spirited thoughts passed through its pearly gates. Racism, sexism, and certainly, fascism were prohibited at the Playboy Mansion.
On these revered grounds, an uncensored culturalism was as much engaged, as was explicitly encouraged. Know your neighbor. Love thy neighbor. Sure, there were rules to be followed, both posted and unspoken ones, but the singular rule of the day, above all else, was freedom. Freedom to be who you were. Freedom to say what you wanted to say. Freedom to explore. Freedom to learn. Freedom to play.
Today, much as the world's changed, so has Playboy. And not necessarily for the better. No longer publishing nudes for which the brand was initially built- the magazine, once boldly erected on the proper side of history, now finds itself withering on the other side of the line. Political correctness is once again reshaping the society Hef previously desperately steered away from. And mansion lure, along with many of its ambitions and desires, have been over-exploited, over-indulged and even harshly deemed "uncool" by the prolific selfie generation. What do we want, what makes us happy and how do we get there is more complex than ever. However you choose to define it, Fantasyland seems never further from most of our reaches than it is in 2016.
Incredulously, I've personally known a number of lucky guys, who have been to the Mansion. Oddly enough, none of them are famous nor texting buddies with the King of the castle.
An ex-roommate was hanging out one Halloween with an ex-mate of Mike Tyson. 45 minutes later Iron Mike was greeting his posse outside the Mansion gates and getting them in. I was in Florida at the time.
One friend gave a Playmate he knew a ride over one afternoon. When he announced his arrival to the talking rock outside the gates, he was urged to remain in his vehicle upon entering. He said it was the coolest 5-minute drive he ever made.
I know three guys who worked in broadcast TV and covered various events on the grounds as "official media." Upon getting the assignment one night, one of these friends called me up and said to meet him in 30 minutes off Sunset and I could go with him. Unfortunately, I was over an hour south wasting away in Margaritaville. If only I could've choppered back.
Another friend knew someone who had a connection and got him in to one of the big parties. He said it was everything he hoped for and more- he scored an unimpeachable hand job on the back lawn.
I was browsing through a record store the other day and came upon a stack of old Playboys. I picked one up from 1970 featuring one of the boss's ex-flames on the cover. Barbie Benton was no ordinary Playmate. Miss Benton was Hef's first and maybe most celebrated partner of all that graced the pages of the magazine. She was exceptional. I bought it. Not for the photos, although I was a little curious; not for the articles, though I will sift through them eventually; but, for the history. Playboy is a much a part of Americana as baseball and apple pie. Playboy of yesteryear stands for something. When dreams still mattered- when promise and hope nourished tolerance.
One of the cruel lessons of growing up is that you realize not all of your dreams will come true- While I'm now pushing the other side of 40 pretty hard and my gentle innocence a distant memory, I'm not ready to turn in my boy card just yet. I can't. I won't. Not today. I know I'm running out of time, but they say you're never too old to grow up...or dream.
Here's wishing for a glorious midsummer's night beneath the hills of Hollywood under an intoxicating bunny's tail. Even if it's not that cool anymore. And I'm not apologizing for it.
Me and a buddy outside the pearly Mansion gates
Calling all HuffPost superfans!
Sign up for membership to become a founding member and help shape HuffPost's next chapter