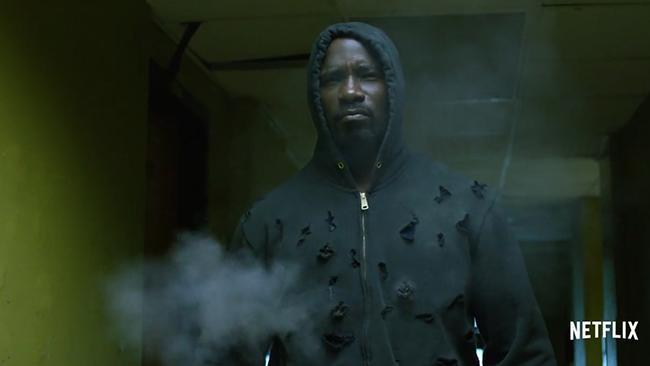 Disclaimer: I am a real nerd, closely bordering geek as it relates to my affection for all things sci-fi. My alter-ego is Eartha Kitt's Catwoman and I'm #TeamMarvel. I have serious conversations about the pending zombie apocalypse and make random Doctor Who references. Through the decades I found the greatest joy when I saw characters who looked like me. I am totally fascinated by Storm, Bishop, Martha Jones and the Black Panther. So when I heard Luke Cage was set to be brought to life I was head over heels excited; and then reality kicked in.
Carl Lucas aka Luke Cage aka Power Man was created in 1972 by Marvel. He was a young brother from Harlem running with street gangs. Sent to prison for a crime he didn't commit, in prison he is targeted and harassed by a racist guard who sabotages a prison experiment, but instead of killing him Luke gains superpowers. He then escapes prison, goes back to NY and becomes a superhero for hire, Luke Cage. *side-eye* Much later in his storyline he becomes more altruistic, gets married, has a daughter, and saves the world.
Now if you shift the frame from a comic to real life, for centuries the black man has been the overharvested strange fruit in this country. My fear is that the big black bulletproof man that is Luke Cage coming to life will perpetuate the very real misconceptions that all black men are superhuman, therefore dangerous and you should protect yourself from them with deadly force like Terrence Crutcher, Eric Garner, Michael Brown, Tamir Rice, Philando Castile, Trayvon Martin, and, and, and you see where I am going with this?
On some level this seems so absurd, because no one sane thinks an amnesic vet is suddenly going to impale people with internal metal claws (Wolverine) or that Siri is going to get transferred into humanoid form and become a crime fighter (Jarvis/Vision)…yet. My uneasiness is that this racial anxiety is real and affects every African American in the country, every day.
We saw this irrational perception play out at the cost of Michael Brown's life. Darren Wilson, the officer that shot and killed him testified that, "I felt like a five-year-old holding onto Hulk Hogan," adding, "That's just how big he felt and how small I felt just from grasping his arm." It is well documented that the two were the same height and the weight difference was less than 100 lbs.; they would have been in the same weight division as boxers.
Understand I am not criticizing or calling for a boycott of Luke Cage, I've binge watched the show with glee. I believe this story line is one of redemption that I, and many folks I know, easily relate to and see themselves in the complexity of Luke Cage and the place he calls home. With a black showrunner, an amazingly talented diverse cast and a dope hip-hop soundtrack, my heart wants this to be the best Marvel product on Netflix EVER. However, we must be mindful and diligent in making sure we separate make-believe from reality.
In real life, there are national organizations, run by black men, whose sole mission is to improve the outcomes for black men and boys. If we want to talk about heroes, these are the brothers that should have capes:
The Campaign for Black Male Achievement (CBMA), brainchild of Shawn Dove, is a national membership network that seeks to ensure the growth, sustainability and impact of leaders and organizations committed to improving the life outcomes of Black men and boys. CBMA is a growing network that currently includes more than 4,720 leaders representing nearly 2,577 organizations and programs across the country.
Launched in 2011, Cities United is a national movement focused on eliminating the violence in American cities related to African American men and boys. Their first CEO, Anthony Smith, assists 86 mayors participating in Cities United to work towards reducing homicides in their cities by 50%, by the year 2025. Moreover, they are committed to restoring hope to their communities and building pathways to justice, employment, education and increased opportunities for residents.
While the narrative is shifting, there is still an overwhelming perception that black men are less than human, inherently dangerous and prone to violence. This is proven by the near weekly slaughter of an unarmed black man (or boy) by law enforcement, the disproportionality of black men trapped by the criminal justice system, as well as the lack of serious holistic and comprehensive investments made in proven remedies to reduce urban and community violence (i.e education, public health and workforce development).
As Shawn Dove says, "we are who we've been waiting for." I ask that while you inhale episodes of Luke Cage, keep in mind all over the country there are black Clark Kents saving the day, every day, and they are not invincible.
Popular in the Community