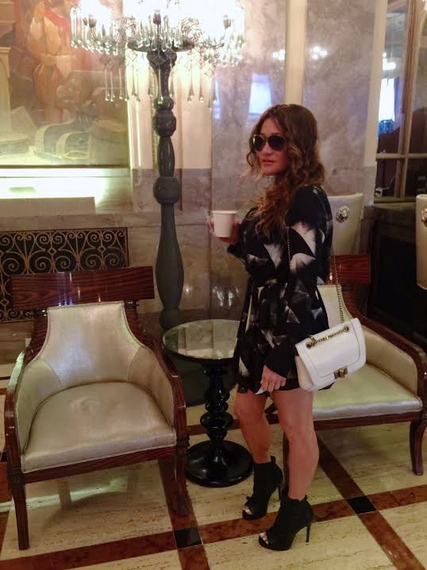 A few weeks ago, I was invited to a charity lunch and in typical Mara fashion I started getting ready 30 minutes prior to the event. Panic ensued when I realized I had not one appropriate item of clothing to wear. I have boxes of dresses, well in boxes. I sat staring at my temporary closet, which takes over my tiny bedroom, "aha", I thought, "I can throw on one of my Diane von Furstenberg wrap dresses!" As I tried on three, each one shorter than the next, it was obvious these options proved unacceptable. Between not having something to wear and my poor time management skills, I was displaying that behavior many of us women are familiar with... freaking out over something meaningless, i.e. "I have nothing to wear!".
With twenty minutes left before I would be rudely late, and between the kids bugging me, my hair soaking wet, and my makeup-free face -- I was beginning to stress. I threw on my old faithful, a Black A-K-R-I-S dress. A purchase made in "The Back-Room"of Loehmann's many years ago, a dress that has come to my rescue more times then I can count.
Granted, it was skin tight due to an overeating issue, but I had to literally "suck it in" and walk with pride. I figured it will just look like a Herve Leger number, and the crowd will chalk it up to me being from Miami.
As I sped off, I dialed my mother to discuss my dress situation. I called her partly because I knew it would validate her past advice concerning my wardrobe. "You are wearing that black A-K-R-I-S Dress, it looks gorgeous on you, perfect! Wait, isn't the hem loose on that dress? " "Yes, mom, but no one can see it unless I'm sitting, so it's really not that big of a deal." As the words left my lips, we both started laughing. It was that moment my mother offered to buy me a dress when she visits the following week.
As women, we can agree it's not shallow to want to feel like we look good. I didn't feel great at this event, and should have been focused on having fun, socializing and learning about a worthy organization. Instead I was focused on my looks, which is beyond boring.
So I walked into Intermix with my mother with the intention of finding an "appropriate" dress. On the sale rack (I know I'm good) was an unexciting, but pretty dress. When I tried it on, it looked fine -- it wasn't sexy or super stylish. It didn't show off any of my curves, but gave my curves plenty of breathing room. "Ma, what do ya think?" I said, "it's lovely, just get it and you'll have it in your closet for those moments like last week." As usual, this woman was right. This Intermix dress has been to a charity tea, to Broadway to see An American in Paris, to an Easter brunch and to a cocktail party. The point? Sometimes it pays to invest in an "appropriate" dress, because who wants to miss an amazing event for the sake of fashion? And MOST OF ALL, It's nice to wear a dress without needing the support of Spanx!