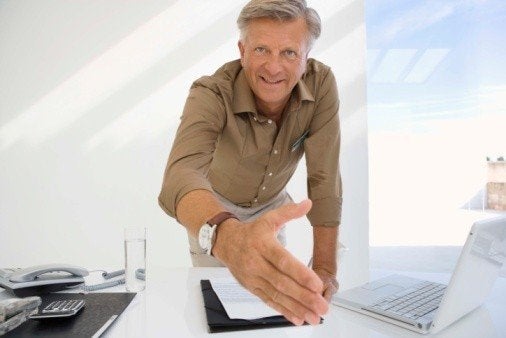 I just took the best plane ride ever. It wasn't the second best plane ride, it was The. Best. Plane. Ride. Ever.
On board were about 250 entrepreneurs who were headed from New York to London with the express purpose of taking their small businesses global. After London, they were individually headed to meetings in places as far-flung as Lagos, Australia, Paris, and Singapore.
I think we only sat down during takeoff and landing. The rest of the time was spent wandering the aisles shmoozing, networking, laughing, meeting new people, making new contacts, and learning new tricks. Sponsored and chartered by British Airways as part of its Face to Face contest (of which I was a part), the free flight was the contest award these great entrepreneurs won by showing how a free trip abroad would help them take their business to a new level.
You know, politicians love to say that "small business is the backbone of this country." They say it because (1) they want votes of course, and (2) because it's true. Indeed, President Obama just introduced a new initiative designed to bolster small business, and that's smart.
The best plane ride ever was indicative of why. The folks on board were savvy, passionate, and creative. They are going to create jobs, boost exports, invent new products, and facilitate new imports. They love what they do and want to do more of it. And the more they grow, the better it is for the rest of us. Want to help the economy? The best way is to help small business.
Consider this. There are about 30 million businesses in the United States. Of that number, 99% are small businesses, that is, business with less than 100 employees. Most actually have 20 or fewer employees, and, in fact, the vast majority have no employees at all. But no matter their size, these businesses are small but mighty. According to the Small Business Administration and SCORE, small businesses:
-- Employ just over half of the country's private sector workforce
-- Hire 40 percent of high tech workers, such as scientists, engineers and computer workers
-- Represent 97.3 percent of all the exporters of goods
-- Represent 99.7 percent of all employer firms
It used to be that big was Big. We had the Big 3 automakers, 2 giant superpowers, and 3 television networks. Today, small businesses are making zero-emission cars, capitalism and the Web are making borders less relevant, and everyone is their own network on You Tube.
Today, small is the new big, and the future of business is going to be what I just saw on that great plane ride: Small businesses going global.
Calling all HuffPost superfans!
Sign up for membership to become a founding member and help shape HuffPost's next chapter