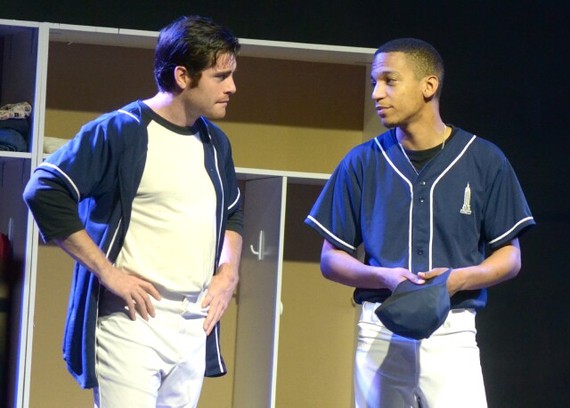 In his new book The Future of Men, Jack Myers looks at where guys have been, where they are now and, of most importance, where they are headed in the years ahead. In the introduction to the book Jack notes that "After being told all their lives to 'be a man' and 'man up,' men are now rejecting the macho stereotype and instead developing empathy, getting in touch with their emotions and becoming more sensitive in their relationships." Throughout the book he takes a deep dive into the circumstances that have prompted questions about the male of the species, including "Where have all the real men gone?" "Why is the era of the dominant male ending?" and "Who are the real men of today and the future?"
Those are certainly relevant concerns, but it's a comment he included on the dedication page that stayed with me from the first moment I saw it: "There is no male counterpart to sisterhood."
Merriam-Webster defines "sisterhood" as "the close relationship among women based on shared experiences, concerns, etc." Looked at in that way, one could argue that if the word "women" were replaced with "men" the definition would apply to the experience I have had during the last three months as creative consultant on a community theater production of Richard Greenberg's 2003 Tony Award-winning play Take Me Out at the historic Bijou Theatre in Bridgeport, Connecticut.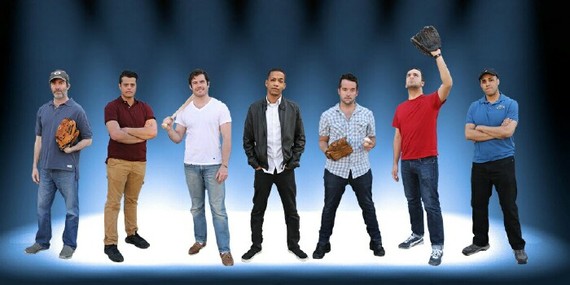 There were three women involved in the production, but the rest of the group was comprised of men. They included another producer, the director, the eleven members of the cast and another actor who joined the group after the show was extended and an original cast member was not available.
I have never in my adult life been involved in a theatrical production of any kind, but I have heard for years about the feeling of family that often develops among the casts and crews of shows. When the director of Take Me Out, Richard Mancini - a close friend since college - invited me to help out in an advisory capacity (because I had seen the original Off-Broadway production at New York City's Public Theater) several of the actors (not one of whom I had ever met) told me that there is nothing like watching a show "grow" from the seeds of awkward early read-throughs to the final presentation on opening night.
That was an understatement, in more ways than one. Which brings me back to the issues explored in The Future of Men. I knew I would find the theater process interesting - how could I not, given that Take Me Out is one of the best original scripts written for the stage in this millennium to date? But I was not prepared for the relationships that would form between the people involved - especially the men. I guess the most convenient term for this would be "male bonding," but that doesn't seem a sufficient description of what we experienced.
Outside of participating in sports on any level from amateur to professional, or gathering to watch sports on a regular basis with the same guys in the nearest man-cave, I'm not sure what options are available for men who might benefit from extended relationship-building of the kind we all experienced throughout the process of putting together our show.
I don't use the word "benefit" in a casual manner. To begin with, much of the group was comprised of men from very different backgrounds ranging in age from 20-70 who live in the Bridgeport area. Outside of theater I can't imagine how a group as diverse as this one would ever have come together, let alone bonded to such an extent that almost two weeks after the final performance few of them have been able to let go.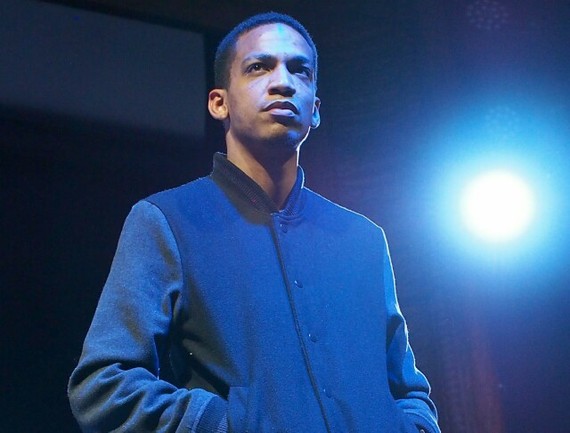 "Take Me Out" is about a professional baseball player named Darren Lemming (played by Ainsley Andrade, above) who decides one day to announce to the world that he is gay and the generally catastrophic impact that revelation has on his teammates. It is a play that asks a lot of its actors. One of them must come off as a racist and homophobe who because of his tragic past nevertheless demands some degree of sympathy and understanding. One must act as the narrator who moves in and out of the story and literally keeps the show moving. One must hit the floor like a ton of bricks at a key moment. And many of them must appear naked, some more than once. There is much explicit nudity in three locker-room scenes, one of them involving a sexual assault in the team's shower area. (Baring all on stage was a first for all of our actors, and an especially daunting challenge, given that they were performing in their own community, often in front of audiences filled with family, friends, classmates and business colleagues.) Meeting the demands of any intense character-driven drama is tough enough. But Take Me Out can be especially difficult - and this group of local guys, some with very limited experience, stepped up in a way that can only be described as humbling.
Nobody comes off particularly well in this story except for Lemming's new business manager, Mason "Mars" Marzac, a lonely gay man who comes excitingly alive after falling in love with the game of baseball. (The role led to a Tony Award and a giant career in television for Denis O'Hare. In our production, it was played with similar sparkle by Geoffrey Gilbert, the most experienced actor in the cast and something of a legend in the area. He is pictured below.)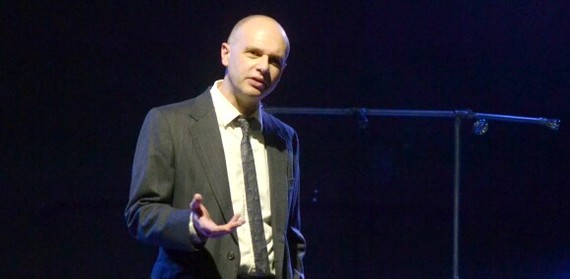 During the development of our production there were external events that brought everyone together even as they threatened to pull the show apart. One actor was unexpectedly thrust into a sudden legal struggle to secure custody of his two children. The guys instantly rallied, doing what they could to ensure that he had the time and resources required to do so. One needed time away to appear in another play at nearby Housatonic Community College - his last theatrical project there before his graduation, when he became the first person in his immediate family to earn a degree of any kind. (Somehow he juggled the demands of appearing in two plays at once while working part time and finishing up his school work.) Another confided that his eyesight, which is compromised by a rare genetic mutation, had begun further deteriorating, necessitating trips to New York for special treatment. One was juggling several part-time jobs to pay for school expenses as well as his rent, having been cut off from financial support from his family when he said he wanted to study theater. One was recovering from a painful breakup with his longtime girlfriend. One was working on his law degree by day - at a school more than one hour away from the theater - and rehearsing every night, even during final exams.
Through it all, the emotional support the men in this group gave to each other - despite the fact that most of them didn't even know each other three months ago - was profoundly moving. Anyone who might argue that men of all ages and backgrounds do not have the capacity to demonstrate great compassion, patience, understanding, support and love for each other would have been forced to re-evaluate basic assumptions after witnessing the behavior of the Take Me Out cast and crew.
I had never experienced anything like this. I didn't see it coming; in fact, I didn't know what was happening until about half-way through the process. I then recognized it as one of the best things that has ever happened to me, largely because of the joy and sense of accomplishment being experienced by everyone around me, in part because of my contributions to their collective efforts, and my realization of what everyone involved was in turn giving to me.
In school as in life, sports and theater are generally looked upon as polar opposite experiences. (Fox's Glee probably illustrated that best.) But it is likely not a coincidence that the play that provided the opportunity for all of us to have this experience was set squarely in the world of professional baseball. Take Me Out would have us believe that this particular sport is capable of bringing every kind of person together on a deep level that can only be described as spiritual. It seemed to me that the play itself proved capable of doing the same, for cast, crew and audience alike. Did I mention that it set house records at the Bijou Theatre and was extended for a third weekend even before its second performance was finished? In addition to Mancini and the cast, credit for that must be shared with producers John R. Smith Jr. and Tanya Feduik-Smith and Assistant Director Cindy Hartog.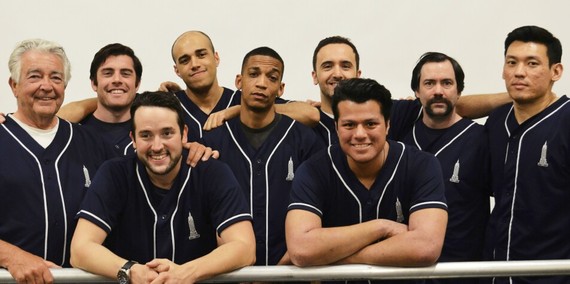 In addition to the leads, the actors in this production included (above, back row left to right) Tom Torpey, Chris Finch (also pictured at top), Enrique Rivera (to the right of Andrade), Qesar Veliu, Tim Brandt and JiMin Moon and (front row) Mike L'Altrella and Juan Ayala. Brian Alvarado (below with Finch) and Jhulenty Delossantos (not pictured) were also featured.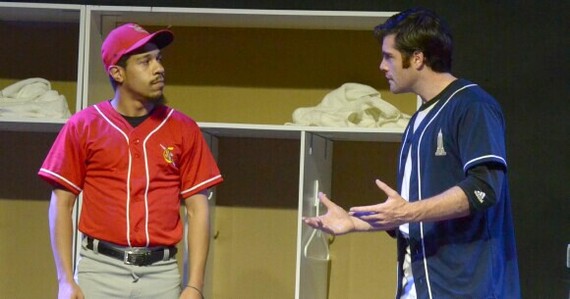 I like to think people beyond Bridgeport will know their names in the years to come. Currently, none of them are by the standard definition "professional" actors, but in terms of their talent they could be. They were busy by day with their jobs, their families, their schooling and whatever else they had going on in their lives. By night they were in another world - one in which it was okay to behave in ways men have historically been advised against, or simply told not to. They all agreed that they had never had an experience quite like this one, even those who have worked in community theater for many years, and they all understood that they likely never will again. And they all knew they were the better for it.
If more guys had the experience I just had with this extraordinary group, the future of men might look brighter indeed.
Photos by Christian Taylor, Juan Ayala and Maig Smith. This column was originally published in the Future of Men community at MediaVillage.
Related
Popular in the Community