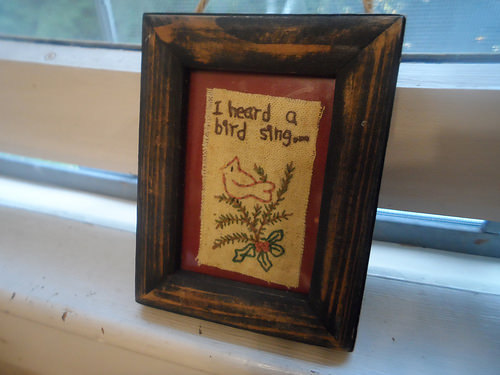 The very first sound I heard the day after Sept. 11, 2001 was that of a bird singing. Although heavy, my heart rejoiced at the sounds. The chirping was an indication that a new day arrived and that was enough for me.
It's all that should ever be enough for everyone.
The evening before, as everyone was getting ready to go to bed, I walked into my parents' bedroom (I was living with them at the time) and wrapped myself up in a blanket. Shaken by the day's events, I opted to sleep on the floor, surrounded by the comfort of family. Although more of an action reminiscent of a child than that of a woman in her late 20s, the peace of being near my family in the same room -- full of snores and sleepy breaths and mid-evening foot shuffles across the carpet -- was splendid. After all, not everyone would hear those sounds that evening.
The sounds were an indication that our loved ones were present and that was enough for me.
It's all that should ever be enough for everyone.
The love of an imperfect lawn
I left work early that dark day. At the time, I worked in a New Jersey town that was a mere 30 miles from New York City.
I don't remember much about the drive home that day other than the sights of people gathering along downtown streets, casting their eyes upwards at silent skies. I recall uneasiness while crossing the bridge over New Jersey's Raritan River. Of not really remembering the toll booth, the exit sign, turning right on the cul-de-sac.
All that mattered was getting home to see my parents, to smell the smells of home, to take in the sights of the lawn, perfect with its sprouts of onion grass and occasional bare patches, and to be enveloped by the security of it all.
That's all that should ever be enough for everyone.
Driving to work that day, I was playing my favorite radio station when I heard the announcer gently break the news about what was believed to be a small craft of some sort that had hit one of the World Trade Center Towers. There was speculation that it was perhaps a private aircraft, but nothing more was known at the time. Shortly thereafter, the same announcer came on the radio, her terror-stricken voice almost inaudible as she explained that a second airplane crashed into the second tower. From there came news of Flight 77 and Flight 93 too, of crumbling buildings, of jumping and screaming, of chaos.
My immediate neighbor at the time was in one of the towers. He later told of a meeting just starting, then of seeing a flutter of hundreds of papers outside the window. Of a loud noise and a tremendous shake. Instinct kicked in and he, along with some other colleagues, ran down the entire flight of stairs. He was one of the lucky ones; some of his colleagues were not so fortunate.
My parents told me of how his children ran down the street and into his open arms when he arrived home that day, happy to hold one another and linger much longer than usual.

It's my hope that of all the images seared into his head that day that the one that he remembers most is that embrace.
Such love is all that should ever be enough for everyone.
Birds over business cards
Those things -- the chirping, the sight of an imperfect lawn, family closeness and hugs -- are all that should ever be enough. Life is not about the title on our business card, the ebb and flow of the numbers in our bank account, or a purse that carries a brand name.
I heard a bird sing the morning after 9/11, symbolic of a calling steeped in yearning, of reaching out, of calmness. That bird told of a new day unfolding, sad and shrill and full of uncertainty as it was, it was still overflowing with the power of the human spirit.
This article originally appeared on BlogHer in 2014. This version contains some edits.