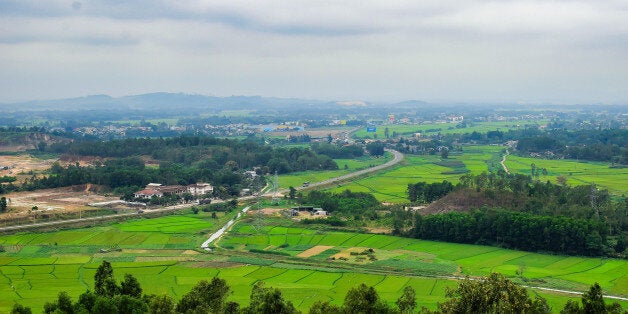 One of the best things about operating a small YouTube channel is that I receive messages directly from my viewers all the time. Mostly it's people giving me a few words of support for the Vietnam content that brings them closer to their motherland, or people seeking the best street food on their next trip. Sometimes people ask me relationship and dating advice with regards to Vietnamese women. I'm not the best at answering those kinds of questions. Nevertheless, I still appreciate the fact that people take time to write me, and I try my best to respond, even if the questions seem outrageous.
About a year ago someone from America wrote me with a request to help her find her long lost sister in Vietnam. I was skeptical at first because I wasn't sure if this was a serious issue or someone trolling me, which is not an uncommon occurrence. But in the end, they turned out to be sincere. Their story was one of two sisters separated because the one who lived in Vietnam had her phone number disconnected, and thus communication and whereabouts were lost. I successfully reunited the sisters and the video of that journey is still one of my favorites that I've ever created.
Not long ago someone viewed that very video and felt compelled to find her long lost aunt in Vietnam. At first, when Diana from Southern California wrote me, it was quite casual. She inquired about places to stay and where to eat in Vietnam as she was planning her first trip with her husband. Somewhere along the way the conversation shifted from street food to finding a missing family member.
It's important to understand that in the Vietnam countryside, before the popularity of cellphones, home landlines were expensive and unnecessary, so people would use neighbors' phones or local post offices. But when those neighbors moved or the offices closed down, the numbers go with them. With this in mind, it's not hard to understand how easy it would be to lose contact with family overseas.
Not long after my online discussions with Diana, I found myself sitting in a car with her and her husband in front of a police station getting ready to inquire about her estranged aunt, Tra Thi Kim Van. We had minimal information from Diana's mother, who hadn't been back to Vietnam in over twenty years and lost contact with her sister over nine years ago. We knew that her husband's name was Phan and her son's nam Son. The family hailed from Quang Ngai Province. Her house was located near a Cao Dai Temple and a coffin factory in Tan An Town, a small town in the massive Long An Province. With that information, I felt fairly confident that we would be able to locate her. Unfortunately this was quashed pretty quick as the police told us there were no names on record in Tan An Town.
After this disheartening start, we knew it would be challenging on our own. We spotted a Cao Dai Temple and a coffin factory next door to each other just down the street from the police station. We proceeded to ask dozens and dozens of people if they knew anyone by the name or recognized the photo we had. Some people said she looked familiar, but that's about all we could get. At times, I felt like I was reciting her name and information like a robot on a mission. Rejection and confusion followed. Even the elders who claimed to have lived in the area for thirty years still didn't recognize her. Without much progress, I was determined to keep searching, even though it didn't seem hopeful.
Finally, after hours of searching, we got a lead. All it takes is one person. The owner of a school supply store across the street from the temple pointed us to a back alley. We were a bit nervous to deviate off the main road, but people were as friendly as ever. Everyone wanted to see the photo, all trying to remember if they'd seen Diana's aunt before.
A man and a woman suggested that we go to another area of town that also has a Cao Dai Temple and an old coffin factory, even though earlier someone told us that there was only one Cao Dai temple in Long An Province. Another woman suggested that I call up the phone company and provide them with the old number that Diana's mother used to use to call. This proved to be an instant lead. The post office gave us number to call, which was registered to someone in Duc Hoa Town, about 37 miles away.
When we got there, the first person I asked was very unsure about the photo, but then his wife approached us and immediately recognized the picture.
Sadly, she informed us that Diana's aunt had passed away.
While finding out about her aunt's death was tragic, it helped Diana to find her estranged uncle and cousins. They'd never even met, but when they did, they acted as if they were best friends who hadn't seen each other in years.
Diana and her family felt very appreciative that I was able to help them, but to me, it was just another interesting day living in the motherland, reaffirming just how special the Vietnamese diaspora really is. It was an absolute pleasure to be a part of Diana's journey, and I'm grateful to her family for letting me share this video with you.
While this story may seem somewhat disheartening, I want this be an inspiration for you to travel to your homeland. Perhaps it's Vietnam and you've never been. Perhaps it's in Mexico , or anywhere else. It's important to see and experience where you came from and where your family originates.
Related
Popular in the Community