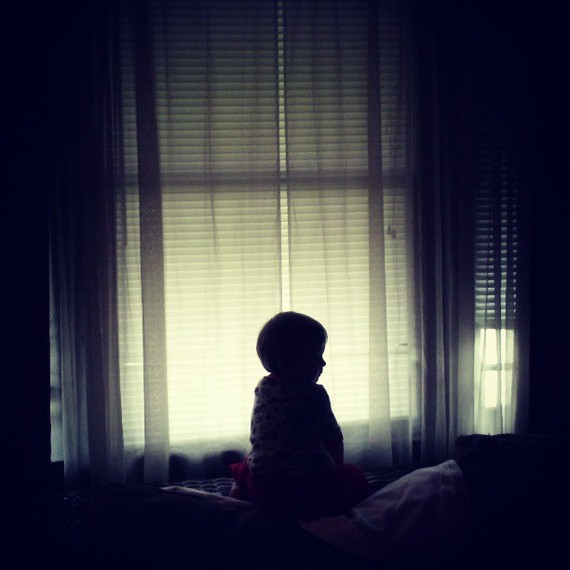 It's shocking right? To welcome hardship in my daughter's life? Many parents will say their one purpose is to help their children feel as few hardship or little suffering as possible.
Not me.
I've only scratched the surface of parenthood. She is three and a half years old and already I feel like when she cries her heart really is breaking. She feels her feelings so strongly, and I know through personal experience (and every mom-blogger out there) that it will only get more intense with time.
Because I hear 10 is the new 13, and 16 is really 20.
So with the world as hard as it is for us humans, why am I happy for my daughter to have these struggles? How could I want those things for her? What kind of parent does that make me?
When I think about parenting and think about preparing my child for life, there are a few things I want her to know. I want her to know that smiling is free and can be a great gift. I want her to know that she is the only one who can know if a choice is right for her. And I want her to know that she gets to choose her hard.
It is hard to be poor. It is hard to grow wealth. Relationships, socially conscious decisions, community, work, death, life...it is all hard. But she gets to decide which way her compass will point her. She gets to choose if she will build something that is worth the work, or if she will be satisfied to react to her circumstances.
I have become increasingly aware of legacy and how I can shape it for my family. My mother has taken the resilient nature of her parents and enhanced it with her life story. My mother cannot be held down. It is impossible.
I in turn will add my layer to the legacy. I am working on building strength. Not just strength to survive incredible hardships like my mother, but strength to thrive. I have the audacity to reach and fail, and come back reaching higher.
I am looking forward to seeing my daughter find her way. I am looking forward to hearing her dreams and seeing her steps.
If there is anything I have learned along my wild and twisted path to today, it's that there is always something to be learned from a situation. Now at 32 years old, I didn't see all of the lessons right after I lived them, but they are there for a time when I am ready to heed their teachings. When the student is ready, the teacher appears, and all that jazz...
My desire for my daughter isn't that that she doesn't feel hardships, but that she chooses to keep going afterward. That is a skill I can help instill and a strength I can encourage.
I wish for her no fear of the hardship, because that work is worth doing. I wish she feels free to make hard choices, to fail, to explore, and to reach outside of what the world tells her is appropriate. Because there is nothing wrong with any of those paths. Because those will become her story, and only she gets to write it.
So to my darling daughter, if I knew I could protect you from ever feeling broken I would. With all my heart and soul I would keep you safe and protect you. But because I know I can't, I want you to know that you will always have a soft place to land with me and I will help you get up again.