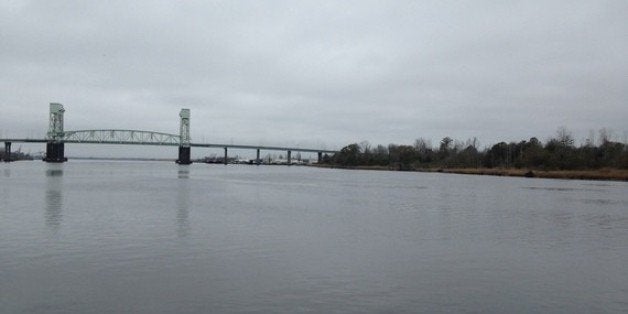 This morning, you and I walked to the water before the world woke up. I sat on a bench and you sat beside me, nursing a cup of milk. I sipped hot, hazelnut coffee and we gazed out at the gray sky, cool air rising from the river like smoke.
We live in a Southern, coastal city. Take a right off our street and you end up at the beach. Take a left and you end up downtown, with shops, restaurants, and riverboat cruises. It's the best of both worlds, some say. We were downtown today, breathing in the early morning.
Nobody passed by. It was silent but for the birds circling overhead and the sound of your shoes tapping on your stroller. We were both lost in our own thoughts. It's what I love about mornings: the quiet, the stillness. The chance to just "be" before we have to be anywhere, the blank slate of a day ahead. The possibility.
Your dad finds that kind of bliss at night. He relaxes into the couch or buzzes around the house, working eagerly on projects. They say opposites attract. I can't wait to collapse into bed at night. And on the rare occasion when sleep is hard to find, nighttime provides the perfect space to worry, while I toss and turn, trivial concerns -- will it pour all week? -- or practical -- when will I pay off my student loans? -- but often existential -- will I outlive my mother and see you into adulthood?
It's different when I wake up. Hope rises with the sun, inspiration steaming from my cup of coffee, last night melting away like frost on the windshield, a fresh start forming like dew on the grass. In the morning, contentedness comes easily to me; so does productivity. No matter how early I have to be somewhere, I'll wake up hours before just to have this time to myself. Of course, now that I have you, it's time to ourselves. Morning-time with a toddler is a bit less tranquil, but a ton more fun.
What will your favorite time be, little one? It's too soon to tell, I think. You scamper about in the early morning, reuniting with your toys, bouncing between Dad and me, staring out the window, searching for the neighbor's cat. At night, you tear around the house, asking us to chase you, choosing book after book, delaying your bedtime as best you can. In this stage of your life, the whole day is yours, except, of course, those annoying errands I drag you on.
As you grow, though, your days will become busy, jam-packed with school, after-school activities, and likely too much homework. It's a privilege to lead a life full of fruitful things, but you will have to carve out free time when you can, time to breathe. My hope is that you find and nurture a time that is all yours -- a time that nourishes and inspires you, calms and comforts you; time to reconnect with yourself, with what you love most; a time to reset.
You and I listened to a TED talk recently on a morning walk. It was called, "Before I Die, I Want To...." TED Senior Fellow, Candy Chang, reflects that, "Two of the most valuable things we have are time and our relationships with other people. In our age of increasing distractions, it's more important than ever to maintain perspective and remember that life is brief and tender."
My son, may you find your favorite time and make it count as best you can. I'm so lucky to share this time with you.
Readers: What is the best part of your day?