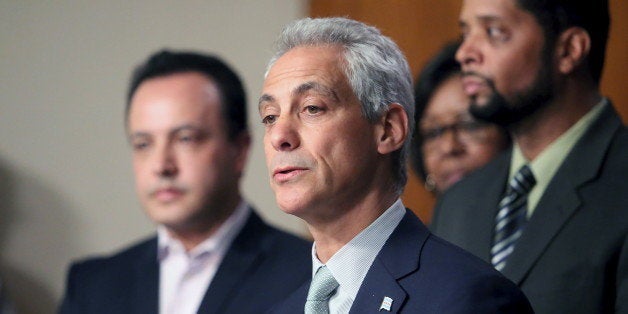 You live in a fantasy world. Don't you realize that by canceling school and making teachers take an unpaid furlough day on March 25th that you shortchange the learning of our students? Yet now you want to criticize us for having no options left but to strike.
We teachers have tried darn near everything to get you to realize that there are many ways to get additional funding for our schools and you refuse to do them. So we are left with no choice but to strike.
We do not want to strike. We wanted to negotiate with you, which is why there are 50 teachers representing us on the big bargaining team (that is called Democracy) when we negotiate.
We teachers work with students every day. We communicate with parents constantly.
Unlike you, we are parents of children in CPS. We work in the neighborhoods that you only visit when it is time for an election photo op.
So Rahm, we will shut down Chicago on April 1st in attempt to force you and your buddy Bruce down in Springfield to hear us.
Make no doubt we would rather be teaching our students. Make no doubt that we do not want to strike, but we will do it because we know that seems to be the only option left to get you to hear us.
There are ways to fix this and avoid future strikes. Start with finding funding for our schools.
Here are some options on how to fund our schools.
1.Ask your buddy Rauner to stop with his austerity budget.
3.Use TIF surpluses to help our neighborhoods and schools instead of just siphoning the money downtown in an attempt to beautify an already beautiful downtown. There is $350 million in unused TIF money.
4.Cancel Aramark's contract. Clearly our schools are dirty and privatizing our custodial services cost the district money and does not keep our schools clean. This would save $260 million. Yes, we would need to hire back many custodians, but they would be hired back by the schools and it would still be less expensive.
5.Relinquish your power of Chicago Public Schools. Your last CEO cost our district $20 million and the CEOs (I hate that title, no one in charge of schools should be called that) you appointed before as well as your current appointment continue to harm, not help our city.
6.It is time for an elected school board. The voters who have been allowed to have a say overwhelmingly demand an elected board. 90 percent of voters who were allowed to vote on this issue want an elected school board.
7.Stop paying the military $17 million a year to be in our schools. Our streets are violent enough, we do not need the military model of solving conflicts taught to our students.
8.Require that the Mercantile Exchange pay a transaction tax. This would create $2 billion in revenue annually.
9.Take the Chicago Police out of schools and instead train teachers on Restorative Justice practices so we can teach our students how to de-escalate situations more effectively. This would also reduce some of the violence across our city as well as save money.
10.Don't fund DePaul (a private university) to build a basketball stadium. This would save $173 million.
11.Stop building the new Obama High School. Savings of $60 million.

12.Get Teach for America out of CPS. The majority of them are only here for two years anyway. This is not the way to build relationships with parents and students. This would save $1.5 million.
13.Stop the incessant amount of standardized testing that wastes instructional time and costs the district millions.
14.Listen to the people, if you would've done that you wouldn't have closed 50 schools. This contrary to your lies actually cost and still costs the district money. Still costing CPS $3 million per year.
I am sure there are many more ways to save money. I just wrote, researched, and brainstormed this list during my lunch period. This list not only saves money by cutting costs, but it also creates revenue options. Now you don't need to threaten to cut our paychecks by 7 percent. Schools can hire back all the staff that has been cut. We can fully fund our schools with teachers, counselors, security, and librarians. We can have programs and opportunities for our students.
Surely your "experts" can come up with your own or figure out ways to make these ideas work. Or better yet you can listen to the experts, us teachers, who through the Chicago Teachers Union's research have come up with solutions.
Teachers are problem solvers and we are working to solve the issues that your policies have created. But until you listen to us we will have to Shut Down Chicago on April 1st to fight for funding.
P.S. Rahm if you do decide that you like my ideas, you can show your appreciation by paying me for this lunch period. I could've been planning or grading papers, but I was instead solving your problems.
Support HuffPost
The Stakes Have Never Been Higher
Related
Popular in the Community