In his 1991 pre-TED Talk "talk", John Cleese, of Monty Python fame, delivers countless "light bulb" jokes, all while detailing ways to foster creativity. The main take-away for me is that creativity is not a talent or ability. Creativity flows, Cleese believes, when you are in an open, expansive and relaxed state. And the more playful you are, the longer you can maintain this state.
To get into this "Open Mode" Cleese recommends these conditions:
Space: a secluded oasis of quiet where you are sealed off from the pressures of daily life
Time: limit the time in your space to a pre determined beginning and end
Time: allow yourself enough time to ponder before accepting your creative choice
Confidence: while you are experimenting, nothing is wrong.
Humor: humor is an essential part of spontaneity and helps get you into the Open Mode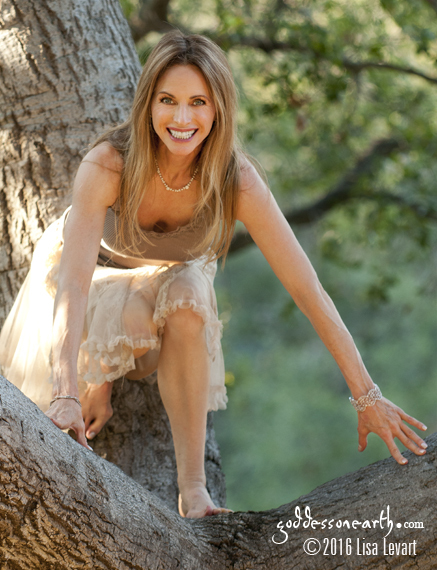 John Cleese also spoke of another condition that resonated with me. He recommends that your "play friends" be people you like and trust; individuals who will support and encourage you during your unedited exploration. Which brings me to Karen Lorre, actress, love goddess, and founder of Yummy Meditations. I met Karen serendipitously two years ago in a Santa Monica restaurant and immediately felt a divine connection. Several days later, an Aphrodite portrait emerged from the foamy waves of Malibu. (You can read about the making of her Goddess on Earth Aphrodite portrait here). Karen inspires me deeply; she lives life with an abundance of joy, unconditional love and vibrant spontaneity. Her trust in me always fosters my creativity.
On a recent trip to Los Angeles, Karen and I mused about making another Goddess portrait. The result of our play time together is "Lila." In the Hindu tradition, Lila is a way of describing our human reality and the result of spontaneous, divine play.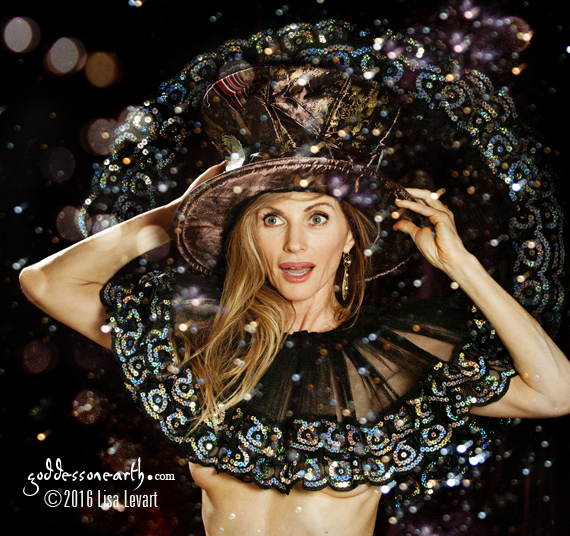 On portraying Lila, Karen wrote;
"When I look at the wildly innovative creativity that is in nature, I see how much this divine universe loves to play in new and fresh ways! Being playful allows me to be an open conduit for this unbounded, novel, ingenious divine, and feels fun, effortless, exciting, and full of laughter and wisdom! Being playful makes everything easy. Being playful brings out the best in me and in everyone I encounter. I love embodying the essence of Lila! I love you! "
During the process of creating Karen's Lila portrait, were John Cleese's conditions present? Indeed they were. Our creative space was nestled in the magical Hollywood Hills, perched high above the din of Sunset Boulevard. The end time was pre-determined; we were going to a dinner party together AND the sun was setting! We gave ourselves extra time the next day once we had a clearer concept of the Lila image. Karen's unconditional love and support gave me the confidence to try anything. And humor? Adorned with a tutu around her neck and a Mad Hatter's hat floating on her head, our sense of humor was in full throttle.
Which reminds me; how many Goddesses does it take to screw in a light bulb? Answer: None... they are already enlightened!
This piece first appeared in GoddessonEarth.com

For more information on Goddess on Earth, visit the project's web site, Facebook or Twitter page.
REAL LIFE. REAL NEWS. REAL VOICES.
Help us tell more of the stories that matter from voices that too often remain unheard.