I must admit, I've been spoiled growing up in Southern California. We have good weather. Usually on New Year's Day, it is glorious, causing even more people to visit and move here. I'm aware how greedy and conditional are my desires. It's gotten so bad, for the past few decades I really only LOVED time between The Ides of March and Independence Day.
I'm not much for extreme weather. As the years have been flying by, I've discovered I'm most comfortable between a small number of degrees. As the planet heats up, as summers and winters get more brutal, I find myself impatient whenever it gets to 85 or above. Some people aren't happy unless they have that kind of heat and love baking when it gets much hotter. Not me. As for those polar vortexes or the Boston pile up, I honestly wouldn't know how to survive.
My brother, who lived in Jersey for many years and then a few in Florida, is back in California. Oh, he does love the weather here again! I feel so fortunate I've had over fifty years on this side of the country, even though I've become persnickety about the temperature.
Yet, this spring the year is growing on me again. I live across from a Japanese Maple tree. There are others on the block. It isn't all palm trees, tall and small. This wondrous tree isn't changing her timing, even though the Monarch butterflies hardly ever flit by anymore. The 18th of February saw her tiny white buds, barely visible but present nonetheless, growing quickly into green. Each year for seven years I've become more aware of this divine timing and slowly started watching it ever more attentively. Promptly, on the 18th of August which was the day I moved in, the orange red and brown colors start artistically emerging from the rotund green that has been gloriously stable for six months.
Seasons, in Southern California. Who knew?
I remember when in college my first year I found a friend in a Berkeley class. We jogged consistently two miles around the big track together. She was kind of famous in my mind, a model going steady with Leonard Nimoy's spawn. That spring I was able to take off the freshman ten. For two decades I felt that urge to move more in the spring. It was never to get bikini ready. I just wanted to feel life renew itself.
The last four years I let something inside me shift too far into fear. Fear can kill you, but it can also put you to sleep. This last year I felt new life beginning long before the spring. I felt a new calling, never considered before. Recuperating, slowly, I desperately started putting energies into new activities. It wasn't familiar nor anything I ever thought I'd do. It was uncomfortable and butted up against that fear again. Sloth and significant rebellion knows if it yells loud enough, I listen.
On the 18th, my behavior manifested a significant jolt. It was the Chinese New Year. Two days later, I got off the horse and started walking with a wood sheep. Chinese astrology proclaims this coming year will be a calmer existence. I welcome this wholeheartedly, though, unfortunately, calm is also unfamiliar these days.
Since the 18th I've felt intimately the fear of change. Yesterday, I pulled out my tennis shoes. I actually walked an hour to the museum and back. Once I moved, I received the call. I went to a conference with authority figures and was reinstated. Another chance to give it a go - more time to make more effort, necessary to master rage, in order to live productively.
Why, oh why, when we are afraid, do we do what at other times we're too lazy, rebellious, reticent or unrealized to do? Just as during so many Spring days in the past, I was fascinated by the many beings out there; walking, running, squatting, lunging, stretching, airing out their dogs, talking with their friends. I even saw a man jumping up and down, on and off a silver box of some sort, which was about four feet tall. Over and over again. The performance of fit energy, healthy vibration, and determined ambition was on stage--two blocks from home. No monthly fee. No ticket to buy and no need to pay at the door.
I went even earlier this morning. I listened to an Aussie couple talk about PMS and menopause. They said I don't need blood tests to tell me what is happening with my body. My body is giving the exact examples they spoke about, thus the foods to remedy such situations were easy to contemplate. With each step, I remembered how the spring always felt NEW to me.
Until last year or the few before it. I knew the tree was transforming but the tree was not in me. When researching cancer options I remember reading in the alternative literature that chemo kills the tree. This is opinion, not fact. I don't need to quote who said it. It is a thought, a mental concept, but one that is hard to forget once it has entered the brain.
As I got to the end of Bluff Park I saw a baby walking with her mommy on the grass. I stopped as I got close, took out my ear buds, and had a conversation with mother and child. The baby's middle name was Grace. She was 14 months old. She started walking at 10 months. She has about 17 words now. I asked the baby many questions. Yes, the sun was 'bight'. She was so thrilled, distracted, and completely focused whenever another stroller wheeled by as she squealed out, 'Baby."
When we said our goodbyes, little Grace blew me a kiss with sound effects.
A month back, a kindergarten class of 27 children spontaneously and simultaneously gave me a group hug.
New feelings of bliss can be introduced into the day, unexpected and simple. Life does go in cycles and circles and it shifts as we evolve. I've known about the healing potential of synchronicity and see it now unfolding daily in my life.
Dr. Christiane Northrup has a wonderful new book called Goddesses Never Age out now. She explains, "The state of our health is dictated far more by our beliefs than by our biology."
Dr. Sara Gottfried said, "Grace can't coexist with blame" -- two goddesses (OB/GYNs) working hard to educate women how wonderful life can be, not just preparing them for the inevitable difficulty of aging.
This year I am spending much more time truly enjoying SPRING, even extending the beginning of it, and who knows, maybe the end will be farther from now than Independence Day. Instead of fuming inside that it is going on and I'm not much in the mood to enjoy it, I'm going to remember this. Sometimes all it takes is that first step to remind ourselves what we already know.
Each day is a new beginning, and each moment, however stressful the current emotion is, it is OUR CHOICE how to handle it, how to hold it, and how to let it go.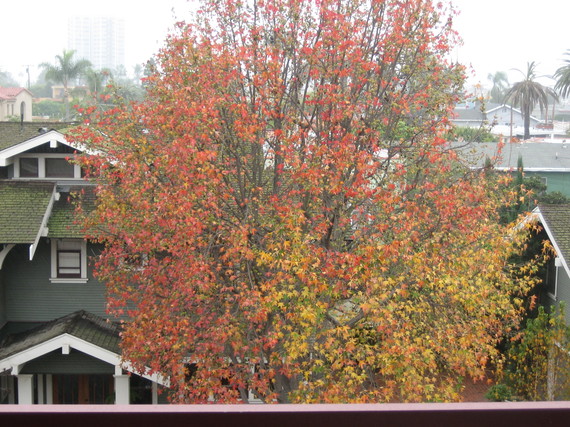 REAL LIFE. REAL NEWS. REAL VOICES.
Help us tell more of the stories that matter from voices that too often remain unheard.