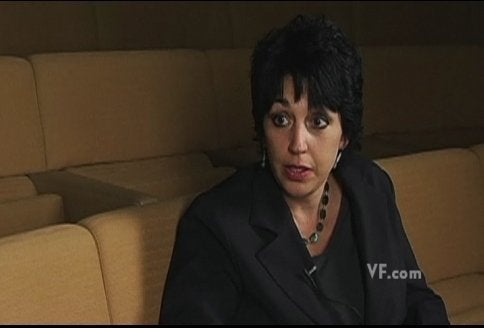 Bernie Madoff was a sexist, egomaniacal, short-tempered control freak -- yet everybody loved him. That is according to his secretary of more than 20 years, Eleanor Squillari, who co-authored a 9,000-word article in the June issue of Vanity Fair. The article is entitled "Hello Madoff."
After spending two months helping the F.B.I. gather evidence against her former boss, Squillari, a 59-year-old mother of two from Staten Island, returned a call from V.F.'s Mark Seal, and they ended up collaborating on a first-person account of Squillari's time with Madoff, whom she knew as well as anyone outside his family.
In the days after her husband's arrest, Ruth Madoff called Squillari multiple times and encouraged the secretary to provide her with certain information without notifying the bankruptcy trustees, which Squillari said she couldn't do. "Instead, I told the F.B.I. what had just happened. I was working for them now, not for Ruth and Bernie Madoff." Don't forget Bernie himself was a former NASDAQ chairman, so being in bed with a regulatory agency doesn't hold much water these days.

I am not buying her "I knew nothing" story. It just doesn't add up. If she knew him as well as she said she did, wouldn't you sense something fishy was going on?
I was a secretary to a CEO of a Wall Street investment company for 5 years and I knew him better than anyone else. It goes with the territory. Your boss relies on you, they learn to trust you and confide in you. You hear their private conversations, open their mail and sometimes hear secrets nobody else knows about. You have an inside track to the psyche. So, even if they don't confide in you, connecting the dots becomes very easy. As one of my FaceBook friends said, "I am an Executive Assistant and I know EVERYTHING that's going on, sometimes before anyone else does". Amen sister.
Weeks before the Madoff shakedown, Eleanor noticed how her boss was changing. Not only was his health being affected, his whole personality was morphing. She responded to these red flags, but over the years saw nothing in the business that was suspect? It just doesn't make sense.
Anyway, that's her story and she's sticking with it. In the long haul will it make a difference to the people who fell victim to this horrendous ponzy scheme? Probably not. If Eleanor did know what was going and said nothing, she has to live with that guilt for the rest of her life. Perhaps that's punishment enough.
Linda Franklin is the founder and director of The Real Cougar Woman www.therealcougarwoman.com. She is a speaker, writer, and advocate for women over 40.

Related
Popular in the Community