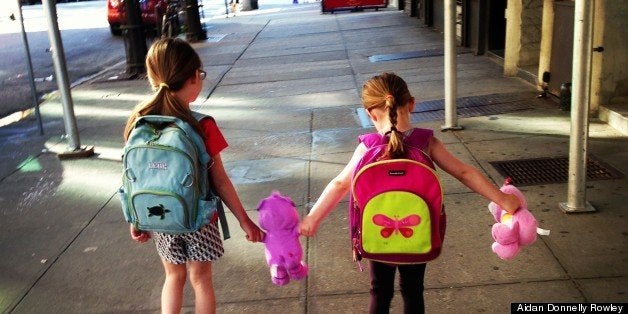 This morning was a typical morning. Probably as typical as they come. I slept a bit too late and surrendered my chance to shower. I threw my hair back in a pony, slipped on workout clothes, ran around chasing kids with bits of breakfast (well, that was more Husband) and clothes and sunscreen. We were late getting out the door and the big girls insisted on bringing their Care Bears to school. Fine, I said. And we were off.
We walked the blocks we always walk. We got on the bus we always get on. The girls bickered over who got the window seat as they always do. On the East Side, we said goodbye to Big Girl. With a kiss and a bunch of smiles and waves, she was off to her day. And then Middle Girl and I walked more blocks, the ones we always walk, up Madison Avenue. I held her hand and she held Cheer's hand. I stopped for a coffee. While I sprinkled in some Splenda, she kicked a basket full of Lay's potato chips. I told her to stop. She kept kicking, eyes wide and mockingly blue. Typical morning, I tell you.
And then we caught another bus, the bus we always catch at this point in the morning, and headed back to the West Side. It was crowded and we didn't have seats and Middle Girl ate the banana I bought her at the coffee place and I clutched the slimy peels. She handed me the rest of her banana because she was finished. I reached into my pocket to see if I could score a napkin and my hand closed around a pacifier. Ah, my life. Typical morning.
As we approached our stop, the bus stalled. I squinted and tried to look out the window and just saw tons of traffic and also flashing lights. It was then that I heard the helicopters. The bus stayed stopped this way for a long time. Out the window, Middle Girl and I saw several of her friends with their parents, headed for school. After more time passed, the driver opened the doors. That's a very nice driver, I said to my girl. They don't normally let us out early!
We walked to the corner. It was my girl who noticed the police. A police car, she said. And another! Another! I clutched her hand harder and we turned the corner and I saw all the flashing lights, all the people, all the police.
Something was very wrong.
At the entrance of school, I whispered my question to our wonderful guard and toward an administrator who was there too. What happened? I asked. A car accident, they said. I took my girl upstairs. She showed her teacher her pink Care Bear and oh, how the teacher loved this because she remembers Care Bears! My girl settled into her day, washing her hands, sticking her name to the wall, saying hello to all her friends. Her 4-year-old friends.
Just a year older than the little girl was. She was walking to school with her grandmother when an SUV jumped the curb and hit them. Per reports, the car was being chased by the police. Per reports, the offender was apprehended. Per reports, the little girl and her grandmother were whisked to a nearby hospital.
I just learned that the little girl didn't make it, the 3-year-old girl who was just on her way to probably one of her last days of school. I feel absolutely sickened. And very, very sad. In the last minute, I received a note from my girl's school that several members of the school community and their kids witnessed all of this happen this morning. I was not there; I was on that crowded bus, clutching that banana.
A friend just called. He read the news and he said that when he heard it was a woman walking her little girl to school in that area, he immediately thought of me. He wanted to know that I was OK. And I am.
My sitter was supposed to pick up Middle Girl today. I have a lot to get done and a big few days ahead. But I just told her that I wanted to pick up. Because I do. I need to. In a few moments, I will again walk those blocks I always walk, and cross those streets I always cross. I will again stand on that corner where I stood hours ago when my confusion had not yet morphed to horror.
I will wait outside her classroom. And the door will open. And she will bound toward me, her hair tangled, her cheeks pink from school and sunshine. I will scoop her up in a hug and kiss her little 4-year-old cheeks and in her ear I will tell her something I always tell her, something all of my girls joke I say too often.
She will probably ask for ice cream before we've left the school. And maybe today we will get some. But then she and I and her sweet little pink bear will walk blocks we always walk and cross streets we always cross, and make our way home.