More than 60,000 women work in the commercial sex industry in Kolkata, India. In 2006, Sari Bari was founded in order to help women trapped within this industry. Operating in two of the largest red light districts, Sari Bari provides a safe haven for survivors, allowing them to learn a new trade and gain an education. The women create beautiful, sustainable, handmade products, while building their lives anew. Each Sari Bari product bears with the name of the woman who made it, and collectively each purchase will becomes a part of a woman's freedom story.

Samiya* came to Sari Bari 8½ years ago, after years of exploitation from the sex trafficking industry. Today, Samiya is a production manager. She oversees various aspects of production, trains new women in sewing, and encourages the women of Sari Bari to believe in themselves. We had the chance to interview Samiya about her experience working for Sari Bari and her dreams for the future.

Where were born?
I was born in Orissa, India and now Kolkata is my home.

Do you have children? Relatives?
I have one son and six sisters who live all over India; two of them live in Kolkata.

If you were able to go to school, until what grade?
I went to school until 8th grade.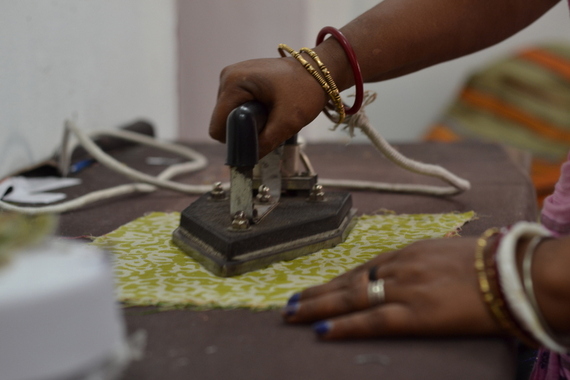 How do you feel when you're working?
Very good! When I come to Sari Bari, I want to work hard and do my best. I look forward to coming to work - I love the work, and I love spending time with the women of Sari Bari. I am happy and satisfied when I am at work.

I really enjoy being a production manager. I don't want to be arrogant about my position though. I don't think of myself as different from the other women. Everyone is equal here. I just know that I have to set a good example, and from the way I do things, the women will learn. I believe that whatever I do, everyone can do. Whatever I have learned, they can also learn. I want the women here to learn well, to have an open attitude about learning, and to believe in themselves.

I also believe it's important to keep learning. I am a manager, but when I don't know how to do something, or when I forget how to do something, I ask for help. I want the women to learn from this. I think it's important that they continue to learn and are never embarrassed about asking for help.

What is your favorite thing to make?
These days, I am mostly doing training and overseeing production. I don't have much time to sew on the machine, but I enjoy doing training and helping the women learn new things.

When I had more time to work on the machine, one of favorite bags to make was the Jiya Carry All. I also really enjoyed making new bags frm samples. In the beginning, Sarah (one of the Sari Bari directors) had to show me how to make new bags, but now I can just make a bag by looking at a sample.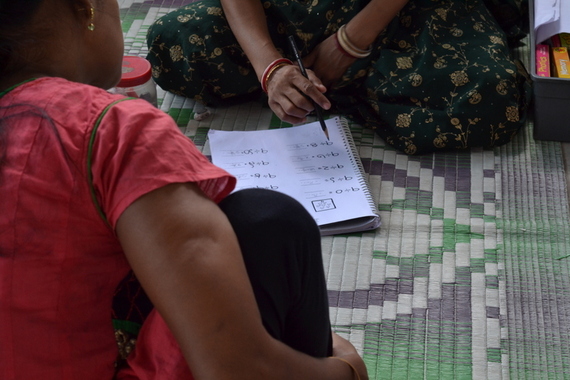 What inspires you in your work and/or your life?
Sarah (a Sari Bari director) inspires me - I learned many things from her, and she is like family to me. She taught me many things and she has been like a mother to me in many ways.

How has economic independence impacted your life?
I stand on my own two feet, and I can do everything on my own. I live in my own place. I do all my own personal budgeting and accounting. I make sure my son is getting a good education.

What are your dreams?
My dream is to live a beautiful life; a life that everyone can say is beautiful. I also want to read better - I have learned to read in Bengali and a little bit in English, but sometimes it is still difficult. I want to be able to read without any difficulty. Another dream I have is to buy my own flat in Kolkata. I would invite my friends to my flat. Actually, anyone would be able to come to my flat, and I would want to serve them a beautiful meal.

What is a story you like to tell about your life?
In the past, I was another Samiya. Now, I am a new Samiya. I know my dreams will come true and my life will be beautiful. I can show others how beautiful my life is, and from me, they can be encouraged to hold on to their their own hopes and dreams.

To learn more about Sari Bari, click here.
*Name changed to protect identity
Calling all HuffPost superfans!
Sign up for membership to become a founding member and help shape HuffPost's next chapter