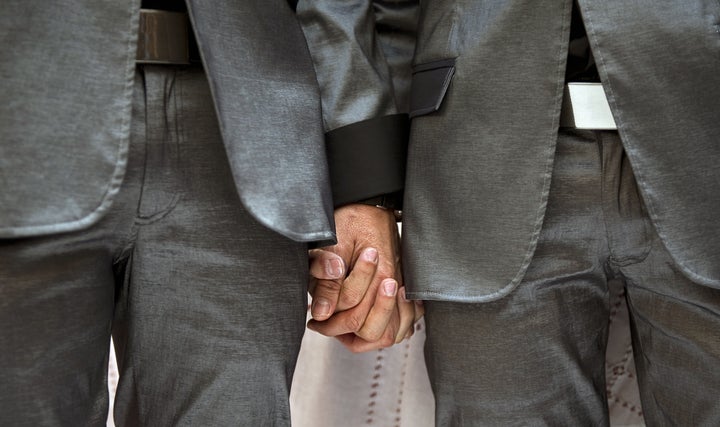 "Let's have a moratorium on marriage," I suggested to my boyfriend. We were in bed in my bedroom, the only room in my apartment with real air conditioning, and we weren't touching. It was hot, still, even with air conditioning; the heat wave was expected to break any day.
Not that he and I are or ever were engaged. But at some point, past the getting-to-know-you point but before the we-may-as-well-make-this-official point, someone brings up marriage, in cute ways, usually: suggestions for possible honeymoon locations or who will perform at the ceremony, or laments that your parents will never get a chance to meet unless you get married, or any number of ways you tiptoe around the idea of forever-and-always without using the words "forever" and "always." The idea of marriage phases into the reality of marriage.
A wedding in Central Park, where he was best man, and the two women wore one-of-a-kind dresses, preceded our conversation about weddings and marriage. He'd never had someone to bring with him to a wedding before, he said, which snowballed into a series of conversations that ended in my bedroom.
I've been married. The attorney I used for my divorce said she does not believe in marriage, though she has been married twice and is still married. During one of our last meetings before the blink-and-you'd-miss-it appearance before the judge who agreed to end my 11-year marriage, my divorce attorney said that no one should get married unless money is involved. She laughed when she said that no one should get married unless money is involved, but I think she meant that no one should get married unless money is involved, and I've started to agree with her, not about the need for money to be involved (though I wouldn't turn down the involvement of money) but about the unnecessariness of legally promising to be there in the morning.
I feel like I should want to get remarried someday. My first marriage was mostly OK, and she and I are better friends post-marriage than we were during our marriage. She, he, and I have done several things together -- concerts, dinner, even a long weekend getaway -- and she and he are forging a friendship that is not based on me. It's important, their getting along. If she didn't like him, I'm not sure my relationship with him would have gotten past the getting-to-know-you point. And I should want to get remarried someday because I can, in some states, including Massachusetts, where I live.
Except I don't think I want to get remarried. I like the idea of someone choosing every day to be with me because he wants to be with me, and not because some outdated legal contract binds us together. That's unromantic, thinking about marriage as a legal contract, but underneath any marriage is that contract of fidelity and honesty and till-death-to-us-part.
I suggested a moratorium on marriage, and my boyfriend said OK.
"Would you be OK with some ceremonial something at some point?" he asked. I think he likes reaching compromises more than he wants to get married, which he does, at some point. And I knew what "ceremonial something" meant: a treehouse in Hawaii or Paris, Tex., near enough to that city's Eiffel Tower (which is topped by a cowboy hat) for it to feature prominently in wedding photos.
"I think a ceremonial something would be fine," I said. "Someday." Semantics, the division between marriage and a non-binding ceremony in some place like Hawaii or Paris, where it would legally mean nothing but would emotionally mean everything. Rings and vows. A first dance. Birdseed -- never rice -- thrown after.
My bedroom, decades ago, was a porch, and the only porch-like part remaining are two glass doors that slide open and shut. The glass is always dirty. Depending on the light -- harsh overhead or natural, through opened blinds -- you can see reflections in the glass, if you know to look. This day, he and I were in bed, not touching, wearing as little as possible while remaining PG-rated. He was on his back, and didn't know I was looking at the glass door, so that I could see him, or his reflection, mulling my suggestion. He looked at me, which I could see in the glass, and I turned to face him.
The temperature in my bedroom had now reached a the point of bearability. Outside always looks better when you're inside, during moments of extremes. Hot and cold, flip sides of the same seasonal coin. Marriage and not-marriage, a different coin.