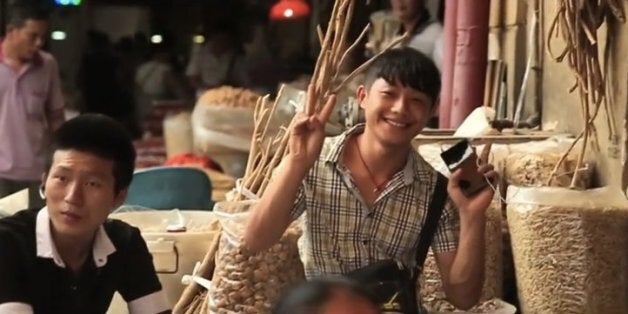 A small story that may shed light on the Chinese government's fear of the protests in Hong Kong: Five days before pro-democracy activists took to the streets, calling for the reinstitution of the Basic Law guaranteeing free and open elections in 2017, with a slate of candidates chosen by the people rather than the Communist Party, I received word from the U.S. Consulate in Guangzhou that our cultural diplomacy tour was in jeopardy. Chinese officials had pressured one local partner to pull out of our collaboration -- threatened, so it seemed, by the prospect of American artists conducting workshops in creative writing, dance, and composition for university students, independent artists, and members of the disabled community -- and soon after we arrived in China the Ministry of Public Security issued a directive canceling the rest of our program.
This was disheartening. For the International Writing Program (IWP), which was co-founded by the Chinese novelist Hualing Engle, has since 1979 brought scores of distinguished Chinese writers for residencies at the University of Iowa, including the Nobel laureate Mo Yan, best-selling novelists Su Tong, Wang Anyi, A Lai, and Yu Hua, and poets like Bei Dao and Xi Chuan; for The Life of Discovery, an innovative cultural exchange between the IWP and the Chinese Writers Association, American and Chinese writers traveled together in both countries, working side by side to make poems and stories; and even as our program was being shut down in Guangzhou, Beijing Normal University was sending its president to Iowa City to sign a memorandum of understanding stipulating that the IWP and the International Writing Center at BNU, under the direction of Mo Yan, will collaborate on a range of projects.
Now this. Tempting as it was to pack our bags and leave, we decided instead to improvise a program at the Consulate, and over the course of three days we worked with a hundred eager participants to create new poems, dances, and songs, which were showcased at an event on the last night of our tour. We were especially gratified to draw into this circle of artistic activity many disabled students, since their educational and employment opportunities in China are quite limited. James Palmer, an American journalist living in Beijing, has documented their plight, noting that institutional problems, corruption, and cultural prejudices conspire to stigmatize, marginalize, and abuse the disabled. Chinese law may offer strong protections for the disabled, but the facts on the ground tell a different story. Palmer paints a grim picture:
Ambitious government pledges go unfulfilled across the country. The law says that children with special needs are entitled to proper schooling, but there are no provisions for funding. Local authorities regularly turn away children, telling them to go to "special facilities" elsewhere that don't exist, or that are far out of their parents' financial or geographical reach. As a result, according to a 2013 report by Human Rights Watch, 43 percent of disabled Chinese people are illiterate, compared with 5 percent of the general population. Only a third receive the services they need, according to Handicap International, and only a fifth get assistive devices, such as walkers, prosthetics, or adapted software.
This was an audience we hoped to reach--which may have led the authorities to cancel our program. But what harm can there be in teaching someone how to dance, or sing, or write? Stephen Kuusisto, whose books include Planet of the Blind and Eavesdropping: A Memoir of Blindness and Listening, asked his students to write a poem describing something they had learned during our time together. "A rose is the legend in my heart," he wrote. "I know this now."
Here is a trailer of a forthcoming documentary about our tour:
Christopher Merrill's recent books include Boat (poetry), Necessities (prose poetry), and The Tree of the Doves: Ceremony, Expedition, War (nonfiction). He directs the International Writing Program at the University of Iowa.
Calling all HuffPost superfans!
Sign up for membership to become a founding member and help shape HuffPost's next chapter